Greta Thunberg Is Getting a Her Own Mural in Union Square, San Francisco
Published Sun Nov 10 2019 By Sea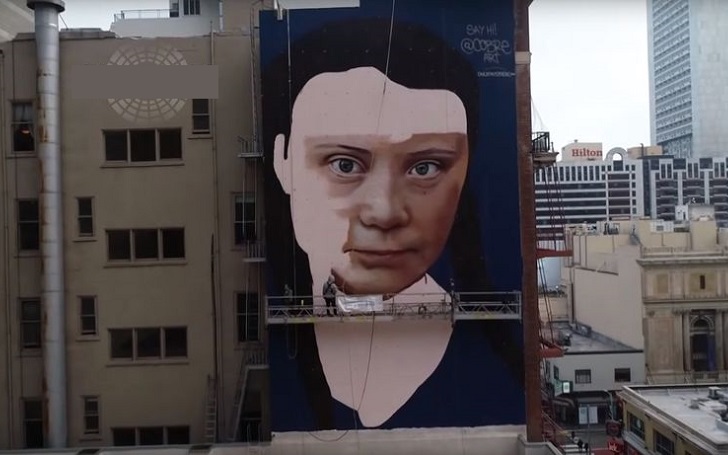 Greta Thunberg is getting another mural of hers, this time in San Francisco.
San Francisco boasts a number of murals of stars like Robin Williams and Nipsey Hussle. Although the Robin Williams mural was gone when the building in downtown, San Francisco was demolished, artist Andres Iglesias is adding another one on a building in 420 Mason St., near Union Square.
The Argentine muralist is painting a massive mural of 16-year-old Swedish activist, Greta Thunberg, on the building set to be completed by and presented on Tuesday, November 12. The non-profit that's funding the project, OneAtmosphere.org, wanted to focus on art to celebrate climate activists, and she was the first one to cross their minds.
Watch: Reported Greta Thunberg's mural in San Francisco
The painting features her from the chest up, looking down at the passersby. It is 60 ft. tall and 30 ft. wide, signed by Iglesias under his pseudonym Cobre.
One Atmosphere approached Cobre last year after they saw the Robin Williams painting. They helped him get permission for the wall and covered the expenses of his painting materials.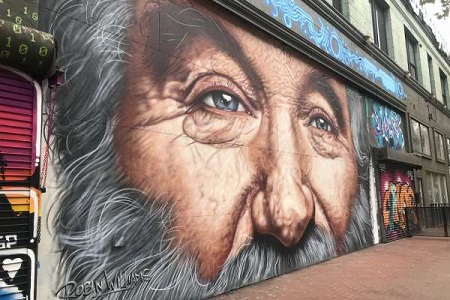 The Mural of Robin Williams has been taken down because the building was demolished.
Source: Alyssa Pereira, SFGATE
While this may be a feature moment for Thunberg's mural, it's not the first. Her activities have inspired millions around the globe, and they have replicated it in murals as well.
One is located in Bristol, England, which features her face partly underwater, made earlier this year. Another one was made on a free wall in Canada a few weeks ago. But not everyone has been appreciative of the paintings.
Jody Thomas drew the mural over a tobacco factory in Bristol.
Source: The Independent
The one in Canada has been defaced, people are calling her out and mentioning various reasons to call her accusations of 'climate change' nothing but lies.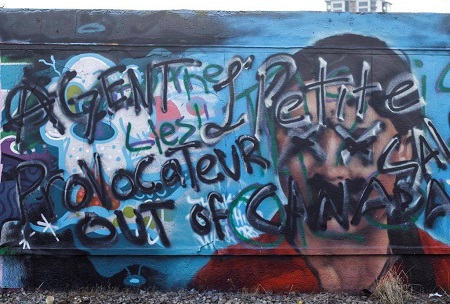 People were telling her to go back and do something for her own country.
Source: Global News
Those actions haven't stopped her own though. She is already nominated for the prestigious Nobel Peace Prize for her years of action. Her speech at the UN Climate Action Summit last month prompted the nomination. Also, demonstrations were made across 185 countries at the time.
Although she was featured heavily in the tabloids only since that speech and the online war with US President Donald Trump, she has been protesting the actions of the world leaders for ignoring the environmental issue for over a year.
These actions, too, despite being lauded by many student protesters around the world, have been criticized by many other individuals. But the supporters include actor Leonardo DiCaprio, an environmentalist himself, and several others in the industry.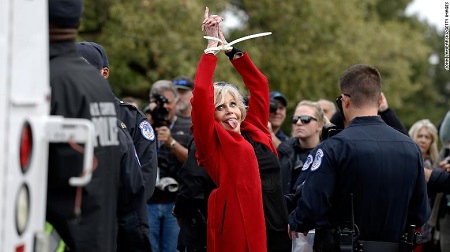 The 'Grace & Frankie' star was arrested three Fridays in a row for her demonstration.
Source: CNN
Actress Jane Fonda even replicated her Friday protests with the same of her own in front of the Capitol building. She insists she will continue to do it, in spite of her arrest in the past few weeks. She also fears for her safety.
Stay tuned and connected to GlamourFame for more Entertainment updates.
-->