Is Griffin Gluck Dating Someone? Find Out About the Young Actor is in a Relationship or Still Single
Following the steps of his parents, Gluck Griffin debuted in the entertainment industry just at the age of three. The actor got his big break after portraying the role of Michael in the film 'Just Go with It' (starring Adam Sandler and Jennifer Aniston) in the year 2011.
Since then, Griffin has been melting the hearts of millions with his incredible acting skills and charming looks. And now, with his recent hits like 'Big Time Adolescence,' 'Tall Girl,' 'American Vandal,' and 'Locke & Key,' Gluck has been making girls go head over heels for him.
Many fans ship him with his reel life girlfriend, Sabrina Carpenter, but the question comes, are they really dating or only share the bond as a close friend. So, let's find if this 19-year-old handsome hunk is available or not?
Griffin Gluck Girlfriend- Is He Dating Someone?
Bad news, girls!!! Your favorite Griffin Gluck is currently dating his fellow co-star, Sabrina Carpenter. They starred together in the Netflix original Ava Michelle starrer movie 'Tall Girl' and fans couldn't help but fall in love with their chemistry.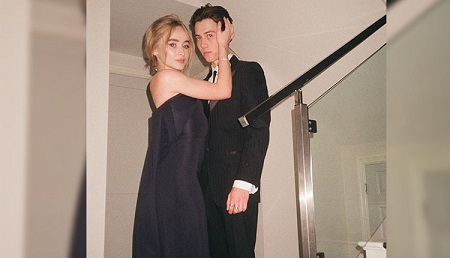 Griffin Gluck is dating his fellow actress and singer, Sabrina Carpenter.
Source: Drakanator
Though the pair never confirmed nor denied their relationship, they post the picture of them hanging out together occasionally, which only lead to rumors of them dating. Moreover, the fuel of their romance started after the snap of them kissing during lunch at Sweet Butter on Thursday afternoon (December 19, 2019) came out.
Prior to Carpenter, Griffin was romantically linked to marathon swimmer, Charlotte Samuels. Well, it seems like the 19-year-old doesn't mind packing on the PDA, as he posted a picture of him kissing then-girlfriend, Samuels.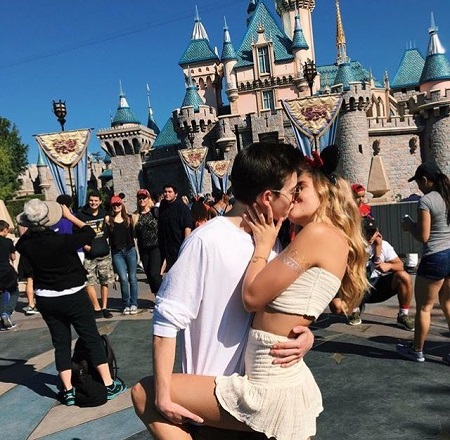 Griffin Gluck and his then-girlfriend, Charlotte Samuels kissing on their romantic date in Disneyland.
Source: Pinterest
Before Charlotte, Gluck was dating another blonde beauty, Sofia Valiani. The couple dated for a few months before they called off their relationship. The reason for their split is yet to be disclosed.
Talking about Sabrina, she was rumored to be dating her fellow star, Corey Fogelmanis. The co-stars became inseparable after bonding in the show, Girl Meets World, and fans couldn't help but ship them together. Well, Sabrina never admitted their relationship and always considered Fogelmanis as a close friend.
Likewise, Carpenter previously dated Disney star, Bradley Steven Perry. The former pair even made their relationship Instagram official, but then things did not work out, and they parted their ways just after a few months.
Griffin Gluck was slammed for his Racist and Transphobic Post.
Just after LeeAnne Locken bid farewell to the Real Housewives of Dallas after being slammed for her racist behavior, another celebrity, Griffin Gluck, was accused of being racist, transphobic and sexist. Griffin came under fire after the series of tweets containing spouted anti-transgender, fatphobic, and racist sentiments liked by him got resurfaced online.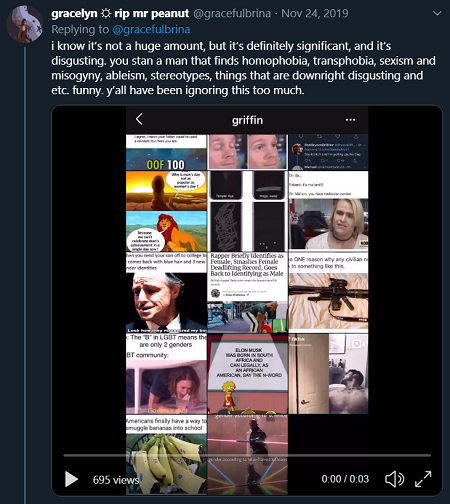 Griffin Gluck was accused of racism, transphobia and sexism.
Source: The Geekiary
Not only that, the 19 years old even used the n-word on his old Instagram comment, which left the fans devastated. What's more, they were some fans who actually supported Gluck using his age as an excuse. While Griffin is yet to realize his mistake, his girlfriend, Sabrina Carpenter, issued a so-called apology in a statement.
Also Read: SNL Fires Comedian Shane Gillis Over Racism Controversy - 5 Fast Facts About The Man!
This apology came after some fans question how Girl Meets World star could be in a relationship with such a racist person. In the statement, Carpenter didn't mention the reason for which fans were complaining but blamed other people for blowing the entire thing out of proportion only further fueled the fans' rage.
Sabrina Carpenter apologized for her boyfriend, Griffin's racist act.
Source: The Geekiary
Ultimately, its Gluck's responsibility to address his action and apologize for his horrendous and prejudiced behavior even if its in the past. Hopefully, Locke & Key star may realize his mistake and learn from his past as accepting your mistakes and addressing them properly is the part of learning and growing.
Don't forget to head to our Entertainment section for more exciting news and gossips. And stay updated with Glamour Fame to keep track of the entertainment world.
-->