Has Kinsey Wolanski Pulled Off Other Crazy And Ridiculous Stunts Besides Streaking The Champions League Final?
Published Wed Jun 12 2019 By Chester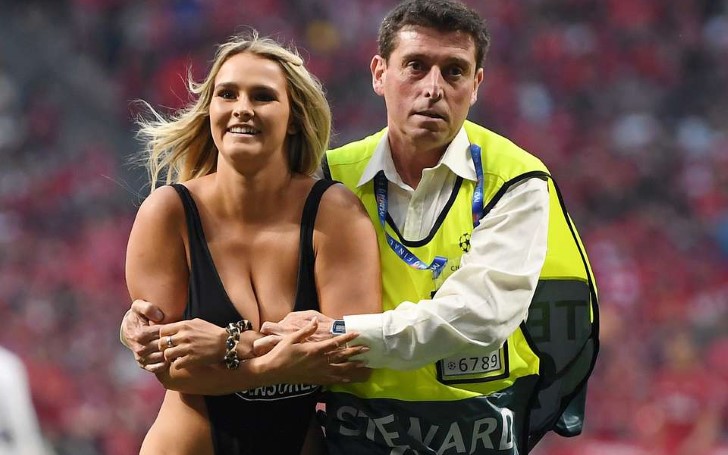 Learn Kinsey Wolanski crazy and ridiculous stunts besides the recent Champions League pitch invasion.
You might have been surprised seeing a hot blonde invading the Champions League pitch wearing a skimpy black leotard during the recent Champions League Final on June 1.
Well, after the recent brow raising prank at the Champions League Finale on 1st of June, a Russian model, Kinsey Wolanski is now trending all over social media from tabloids to the magazine.
Wolanski astonished us with something that most of us never ever in our wildest dream ever dare pull off.
View this post on Instagram
So in today's article, we have come up will all the crazy stuff Kinsey pulled off beside her crazy pitch run. Check it out:
I NEED VIEWS!
Kinsey, 22, joins a fun adventures trip on Mykonos, 'Par-Denise' Beach with her boyfriend Vitaly Zdorovetskiy - a Russian-American youtube personality popularly known for his crazy pranks and daring adventure loaded vlogs from his YouTube channel 'VitalyzdTv'.
The power couples enjoy the summer tanning on the beach jet skiing and later going wild on boozes. Check it out.
MY SEXY GIRLFRIEND TAKES OVER!
The daring love birds go on an adventure to Cape Town. Their blissful travel to South Africa gets some invasions as they get arrested for breaking the rules, going too near and taking snaps of Penguins.
BAD ACCIDENT WITH MY GIRLFRIEND!
Wolanski dresses up in a sexy swimsuit and the daring adventures begin! Vitaly rides and goes on to crash in a craziest bumpy ride. Check out if 'these watermelons will fall off or not' in their crazy exploits on Dubai.
EPIC VALENTINES DAY SURPRISE!
Zdorovetskiy blindfolds Kinsey and takes to a romantic city ride in a chopper. The disturbing weather stops their romantic trip to Malibu and ruins their dinner plans. However, they somehow manage to make their valentines special and epic.
Dan Bilzerian Gives My Girlfriend $30,000 If She Does This
While hitting a guy, Dan Bilzerian challenges a staggering $20,000 to Kinsey if she runs 5 minutes on a treadmill wearing a bikini. The hot blonde Wolanski then proceeds to run in a track wearing a sexy maillot.
-->