Here's What You Should Know About Hayley Erbert and Derek Hough's Relationship
Here's what you should know about Hayley Erbert and her relationship with "Dancing With the Stars" pro Derek Hough.
This couple is making a lot of buzz of late; Ever since the new season of "Dancing With the Stars" came, Derek Hough and his girlfriend, Hayley Erbert, are the talk of the town.
But before we jump right into their relationship, let's first know about Hayley a little. So, who is Hayley Erbert?
Hayley Erbert is a mentor at 'Dancing With the Stars: Junior," and her passion for dancing started when she was just three years old. Hayley, who hails from Topeka, Kansas, is well known for her stint on season 10 of Fox's "So You Think You Can Dance."
Hayley reached the top 3 on the 10th season of SYTYCD, following which she got a chance to perform on numerous award shows and films, like dancing alongside Pitbull, Carrie Underwood, and Paula Abdul.
Also, See: Who is Cosmo Jarvis of "Raised By Wolves" Dating in 2020? Here's What We Know
Now, coming back to Derek Hough and Hayley Erbert's relationship, here's how the couple met.
Hayley Erbert and Derek Hough Toured Together
So as we were talking about Hayley Erbert's popularity following her stint on SYTYCD, the professional dancer got a chance to tour together with Juliane Hough and Derek Hough on "Move Live On Tour." Nothing was between them at the time, but that's how the two got to know each other a little.
But there's a huge debate about when the couple started dating, some claim Derek and Hough started dating as early as 2015, but some assert not until 2016.
Also Read: Who is Ash Kaashh? Something You Should Know About the Owner of "Heaven Sent Nails"
But after a year or so, the couple went public about their relationship, and it seems they can't get enough of each other.
Hayley Erbert and Derek Hough's Instagram is Filled With Couple's Pictures
Well, needless to say, the couple is truly, deeply, madly in love, and it's all evident through their social media posts. It's safe to assume, half of the posts they have on their Instagram are filled with the couple's pictures.
Moreover, even the sister, Julianne, is supportive of their relationship. In fact, it was Hough's sister who helped Erbert launch her career.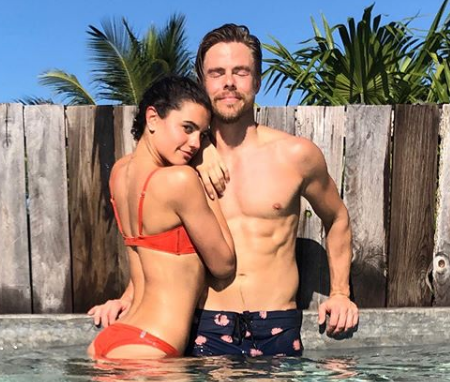 Some fans guessed Hayley Erbert and Derek Hough started after 2016, which makes sense looking at Hayley's Instagram posts.
Photo Source: Instagram
As we mentioned earlier about the Move Live Tour, It was Julianne who picked her as a troupe dancer for the tour, and thanks to the opportunity, Hayley was able to catch the eye of a producer for Dancing With the Stars and later recruited for the show.
You May Also Like: Who is Jordan Spieth Girlfriend? Find Out About His Relationship
For more information on your favorite celebrities' lifestyle and other news, stay tuned to Glamour Fame, and don't forget to sign up for the newsletter.
-->