HBO Cancels 'Crashing' After Three Seasons
Published Sun Mar 10 2019 By David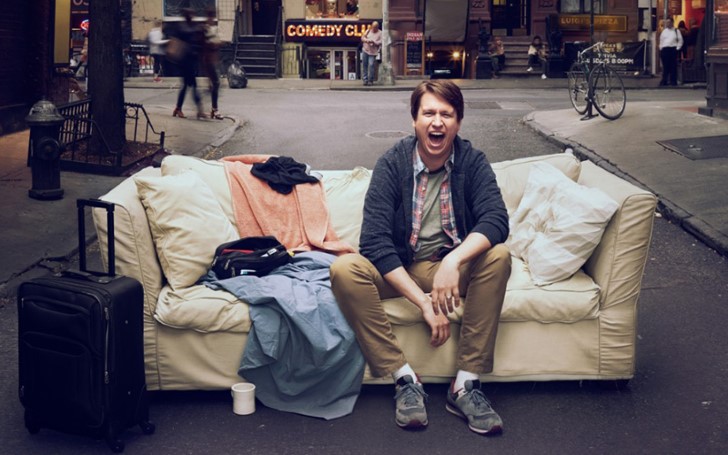 Crashing season 3 will be the last installment of the series; confirms multiple sources.
HBO has canceled its semi-autobiographical series, "Crashing" after two years of its run. Deadline claims, this Sunday Crashing will see its final episode premiering into the cable network.
Crashing is created by Pete Holmes and executively produced by Judd Apatow. Though the latter only has an occasional number of credits to the show. The series' first season aired on the HBO network in the United States from February 19 to April 9, 2017. The series mostly unfolds the behind-the-scenes look at the world of stand-up comedy.
Pete Holmes portrays the role of a divorcee in the series, Crashing

SOURCE: Variety
In the series, Holmes decides to pursue a career in stand-up comedy and is seen narrating his character's habit of sleeping on friends' and other comedians' couches after his wife divorces him. Several real-life comedians have played themselves in recurring roles including Artie Lange, T. J. Miller, Sarah Silverman, Artie Lange, Jeff Ross, Hannibal Buress, Whitney Cummings, John Mulaney, Ray Romano, and Amy Schumer.
Recommended: HBO's Leaving Neverland Leaves Viewers 'Seriously Traumatised'
The regular cast includes the likes of Lauren Lapkus, George Basil, Jamie Lee, Zach Cherry, Dov Davidoff, Jermaine Fowler, and Aparna Nancherla.
The audience poll for Crashing has actually grown slightly this season, according to Nielsen's linear ratings. The show, which has garnered cult followers is averaging 369,000 viewers for initial airings, which was 353,000 for its second season. In terms of multiplatform viewing and replays, the series has had a considerable surge in its Nielsen's ratings.
Don't Miss: Fans Threaten To Cancel Netflix Subscriptions After Punisher Gets Axed
Besides Holmes and Apatow, Judah Miller, Igor Srubshchik, Oren Brimer, Josh Church, Dave Rath, and Greg Fitzsimmons have also ventured their share into the series.
Apatow sort of announced the cancellation of Crashing on a recent episode of TBS' comedy talk show, Conan.
"Well, it's not really canceled. We're just going to stop making it."
Apatow humored it with the show's host Conan O'Brien.
When O'Brien asked what stopped Apatow and the team from making more, the producer said, "They told us we should never make any more. We were very happy that we got to tell the story that we wanted to tell, and we do have an ending."
Also Read: Jennie Garth Responds To Angry Fans Criticizing Her For Not Posting Social Media Tribute to Luke Perry
An insider from HBO confirmed the news, claiming the show will officially end its run on the network after the finale premiers this Sunday at 10 p.m.
While Apatow shared with O'Brien that he and the rest of the production team are "happy that they got to tell the story they wanted to tell," the end of Crashing on HBO doesn't necessarily mean the story is over. O'Brien pleaded Apatow to use his "pull in the business" in an attempt to save it—to which the producer quite seemingly concurred and said, "if that doesn't work, he has another idea: a Crashing movie."
-->