Jennie Garth Responds To Angry Fans Criticizing Her For Not Posting Social Media Tribute to Luke Perry
Published Sun Mar 10 2019 By Tess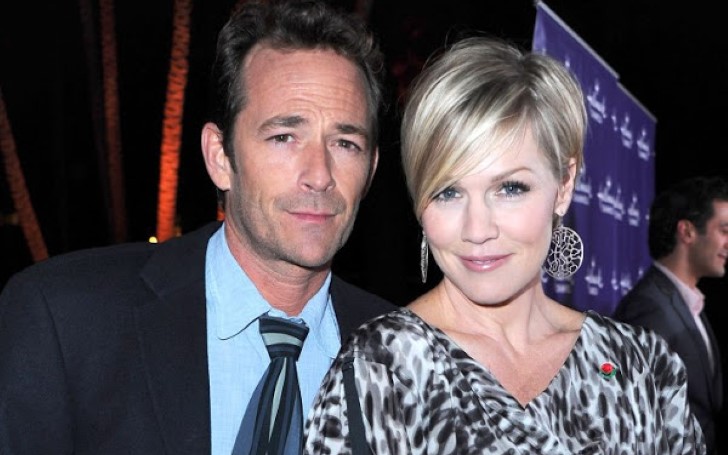 Jennie Garth finally responds to the criticism regarding her reluctance to post social media tribute to Luke Perry.
Following the sudden death of the famous actor, Luke Perry from FOX hit show, Beverly Hills, 90210 several actors and co-actors including Sharon Stone took to the social media platform to grieve over his death.
90210 co-star Jennie Garth, however, remained silent for sometime before finally breaking her silence through an Instagram post on Women's day where she featured her three daughters with the caption "These women."
Immediately, the actress was criticized for not paying tribute to her late co-star Luke instead of celebrating Women's day with a picture of her daughters Luca, 21, Lola, 16, and Fiona, 12, whom she shares with ex-husband Peter Facinelli.
A fan proceeded to write, "It's obvious her and [co-star] Tori Spelling didn't have a relationship with him. People who did have had something to say. They may be shocked but they're not mourning."
Addressing the negative response from several fans, Jennie finally answered the criticisms in the best possible way.
"Hey everyone … I chose to post a pic of my girls today. Because they are my life. Because today is a day to celebrate all women. It took a lot for me to want to celebrate anything. I thought about it and I know that's the way my dear friend would have wanted it."
Talking about Perry she went ahead and said:
"His kids were his life. And anyone who knew him knows that and knows he didn't give a f*#k about social media. So please don't assume or judge or make rude comments. That's really uncool. Sincerely, Jennie."
Meanwhile, both the actors Garth and Spelling earlier publicly released a heartfelt statement to People following the actor's demise.
Read more: Luke Perry Remembers Bidding Farewell To 'Beverly Hills, 90210'
Through the statement, Garth admitted feeling heartbroken and regarded his demise "a terrible loss."
"My heart is broken. He meant so much to so many. Such a very special person. I share my deep sadness with his family and all who loved him. Such a terrible loss."
Similarly, Spelling also lamented over Luke's death and expressed his concern towards the actor's family and kids through his statement to People.
"I'm in utter shock and heartbroken. I'm saddened for his kids whom he adored beyond words. He was so proud of Jack and Sophie. Luke was one of the kindest and most humble human beings I've ever known. I'm grateful for the years of friendship we had. He truly was family to me, a protector and a brother. I'm so sorry for the loss that everyone is experiencing."
Likewise, several co-stars from 90210 paid tribute to the actor since his demise on Feb 28 due to serious stroke.
Don't miss: Riverdale Pays Tribute To Luke Perry in First-Episode Since Actor's Death
So, just because someone opts not to post something on social media, it doesn't mean they don't care - the same seems to be the case with Jennie Garth's grief over Luke Perry's death.
-->