Sharon Stone Offers Supportive Words For Luke Perry After The Actor Suffered Massive Stroke
Published Mon Mar 04 2019 By David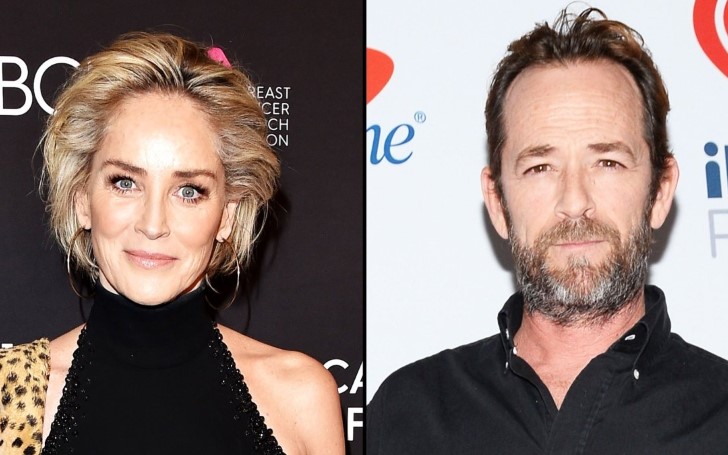 Sharon Stone conveyed a supportive message to Riverdale on-screen father of an actor, KJ Appa, Luke Perry after he suffered a deadly stroke.
In 2001, Basic Instinct actress, Sharon Stone suffered a massive stroke because of which she had to go through a long and tiring process of recovery. Now one of her friends, actor Luke Perry has found himself in a similar situation to that of Stones'. Being a compadre, the actress has left some very caring notes to encourage Perry in getting rid of the bleak situation.
The actor who plays K J Appa's on-screen father in CBS's Riverdale was rushed to a hospital this week after it was reported the 52-year-old was having a stroke at his Sherman Oaks, CA home on Feb. 28. Though many fellow actors have consoled Perry following his near-death-experience, Sharon Stones is uniquely aiding the actor given the actress really knows what it takes to recover from the plightful situation.
According to Hollywood Life, Stone herself had a deadly stroke back in September of 2001 after bleeding internally on the brain for about nine days. The actress underwent a full-on rehab process after which she had to again learn to walk, talk, and read.
Luke Perry is famous for having starred in Fox's hit drama series, 90210
SOURCE: Uni-lad
In the July 2016 interview with AARP, Stone accounted, "I feel very lucky to be alive — to have had a big stroke and a nine-day brain hemorrhage. To be able to put words together, to be able to talk and walk, to be able to continue with my career, which requires quite a bit of memory power. To be able to have the full inability of my body and my face."
Also Read: Nicole Scherzinger Comments on her Leaked Intimate Video with Ex Lewis Hamilton
And now that Perry recovers in the hospital under heavy sedation, Stone has reached out to being side by him saying that a full recovery is always possible.
While attending the Women's Cancer Research Fund's "An Unforgettable Evening" event on Feb 28, the 60-year-old said to Extra's Renee Bargh:
"I wish him all the best, because you can come all the way back even from the edge, from the worst things, I'm here to tell you."
Many of Perry's Riverdale co-stars are also pouring out their words of support. Among the casts, Cole Sprouse, who plays Jughead Jones in the reboot adaptation of the famous Archie Comics, posted a black-and-white photo of Perry staring out a window thereby conveying the message, "Love you bud."
Recommended: Why Did Kylie Jenner's Boyfriend Travis Scott Delete His Instagram Account?
Lilli Reinhart, the actress behind the character of Betty Cooper from the same CW teen drama, also uploaded a picture of herself with Perry and captioned, "Thinking of you, Luke. And praying for your safe recovery."
Many of Perry former co-stars from Beverly Hills 90210 have offered words of love and encouragement. Fellow actor Ian Ziering (Steve Sanders) took to his Instagram account to share a picture of himself frivolously giving Perry a peck on the cheek during their time on Fox's show, which ran from 1990 to 2000.
"No words can express what my heart feels hearing today's shocking news. Let us all say a prayer for his speedy recovery," Ziering wrote in the post.
Fellow 90210 actors also left some additional supportive notes, including Shannen Doherty (Brenda Walsh), who also played Perry's on-screen love interest in the role that later made him a household name in TV.
It is yet to be disclosed as what kind of rehabilitating measures Luke Perry could face while being under the sedation. On the other hand, several other reports are also claiming that the actor has been placed under a medically induced coma. As CNN said, an agent of the actor said that Perry was "currently under scrutiny at the hospital" on Thursday.
Don't Miss: Will Smith Supports Jordyn Woods Amid Cheating Scandal With Tristan Thompson
Though it is not known if the status has been good in the day that followed. There is still no word on how long Luke Perry could remain in the hospital.
-->