'He Said, She Said' Shows Progress For Comedies Talking #MeToo in 'Brooklyn Nine-Nine'
Published Sun Mar 03 2019 By David
Brooklyn Nine-Nine season 6 episode 8 showed a positive call for #MeToo issue.
Thanks to the ever integrating phenomenon of globalization, #MeToo movement is now more out in open than it was ever before. In fact, if it wasn't for all those TVs and social media, we would have never understood the volume and gravity of sexual violence in and out of Hollywood. Not only did this labeling act inspired a seismic number of women to grapple against the heinous act in one voice but over the course, it has also become a revolutionary trend that every bullied woman could easily get on to.
Also, this is not the first time the TVs have tried to address sexual abuse; who knows how early the harassments has been lurking into the society—until the artistic name, "#metoo" particularly made by women, became a handy means to turn the act into the everyday headlines. Up until this point, #metoo issue has grown into such a severe and well-established case, that many TV shows are struggling to best address the issue and as for the sitcom; being funny at the same time.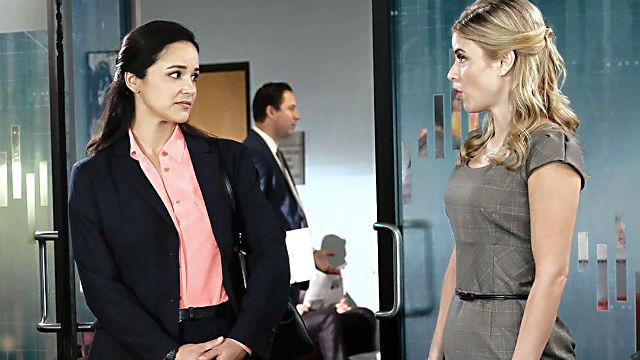 Briga Helena featuring in Brooklyn Nine-Nine season 6 episode 8

SOURCE: Coming Soon
Speaking of which, a modern-day comedy show Brooklyn Nine-Nine comes to mind when it's especially about jamming hilariousness with social issues. And given this NBC show has already tackled issues like racial profiling, LGBTQ, police corruption, the next-in-line topic couldn't have been anything else but the famous #metoo gesture. And so the show's next episode, "He said, She said" encompassing that subject was quite foreseeable from the beginning.
The 8th episode from the sixth season of Brooklyn nine-nine doesn't start until the case of the day is revealed to be about a complaint of a broken penis from a broker working in the Wolf of Wall-Street-esque firm. The victim says his partner and a female co-worker "flipped out" while the lady says the man was trying to assault her and she retaliated. But as so happens in the show, the case is not all about finding out the real culprit but also to get to the conclusion that's in best fit for everyone involved with it.
Don't Miss: HBO Released New 'Game of Thrones' Footage Featuring Arya and Drogon
Briga Heelan, who we saw previously starring in NBC's tragically canceled "Great News," gets some of the episode's best lines as the powerful yet unsentimental broker who committed the eventual hit, but is coaxed by her firm's million-dollar offer to sign a None Disclosure Agreement and hence let the matter slide. So comes Sergeant, Amy Santiago (Melissa Fumero) who convinces her to do otherwise, which unfortunately does not serve the justice for the bullied — at least, not right away.
Of all the officers, Santiago's is seen more emotionally attached to the case. And all this extra investment makes sense when the script deviates a bit by showing the moment— Amy's blunt reveals of her own #metoo story. Though the character could have been in one of that situation given she is a woman, but for some viewers, her story sounded as if it was just to coincide with the episode's plot. But skepticism looks palpable when Santiago says moments later: "this kind of incident has happened to literally every woman I know."
In addition, we can also see Fumero's tight expression, from nearly the very beginning of the episode, hinting all about the notion—the officer herself may have been the victim of the accident before. The episode subplot also deals with another lead protagonist, Captain Holt (Andrea Braugher) once again trying to track down his long-time nemesis, the Disco Strangler. The feud has become such a structural part of the season that even the rest casts, Boyle (Joe Loe Trugilo) and Terry (Terry Crews) with their involvement in the dispute are becoming more and more important to show.
Though the plot may be significant to the overall season's arc, for the time being, it is only serving as secondary humor and action-packed story to the main plot of the season—a narrative strategy which the Nine-Nine is often seen using deliberately. As for the moment, "He Said, She Said" is very much a showcase for Santiago and her detective husband, Jake Peralta (Andy Samberg/also the series' main protagonist). While Santiago's untold story may have brought some emotions into her relationship with Peralta but the show this time is focusing more on their reaction towards each other in terms of a colleagues' support.
And even though it's touching to watch Jake's reactions to this situation within the context of him being in love with his wife, not much would have needed to change in his viewpoint after his Mistress' confession. Yet after the confession, Jake's delivering moments of comic relief, is worth listening to; Samberg delivers just the right amount of affinity towards his love without pity, letting Fumero's to work all she can in confronting the penis guy (Jonathan Chase)— after which she ultimately becomes the hero of the day.
Recommended: Rosa Gilmore, Keon Alexander and Jess Salgueiro Set for Recurring Roles on the Upcoming Fourth Season of The Expanse
Santiago, from the very beginning, claims how resigned women have become to these stories — and she's not being edgy, but defensive; she knows women are the one who always gets shut down in this, especially when it's about trying to stand up for the thing. And as per her prediction, the very same outcome was about to happen with Heelan's character, Keri (she was angled to let go in return for some hefty amount and thus, the bully gets away every time). This never changes the system even by a bit, but instead, inspire it to become more of common practice and in no way does it make things any better for the victim.
Watch the official Trailer for Brooklyn Nine-Nine season 6 episode 8
In a note sent to critics, Stephanie Beatriz (Brooklyn Nine-Nine's detective Rosa Diaz) who marked her directorial debut with this very episode said, "don't take me otherwise. This isn't a very special episode. It is, I believe, Brooklyn Nine-Nine doing what it does best: discussing social issues in a subtle manner through a multifaceted and complex lens while still taking you on a comedy joyride." Though the term "Joyride" isn't strictly appropriate; it's a dark episode, one which may bring a lot of feelings in the women after she watches it.
Also Read: 'Barry' Season 2 Trailer Sees Bill Hader Trying Keep Murders and Theater Separate
Nevertheless "He Said, She said" shows an appropriate attempt in depicting the #metoo movement in the right way possible. It doesn't derail Brooklyn Nine Nine's typical structure neither does it sacrifice the series' joke flow even when it is emphasizing a very serious topic behind its story. It targets the people in power, not those who get victimized by them. It also kept the persona of its characters as usual, yet keeping them as sharp, empathetic, and smart as the show has been depicting them for over the years. So, If other TV shows are to keep bringing up the issue, #MeToo, "He Said, She Said" might just be one of the solid road maps to learn from.
-->