Find out all the amazing and affordable Primark's beauty products.
The UK's one of the most famous fashion retailers, Primark has launched some impressive beauty products and some of them are only available at the price ranging from just £2.50.
The recently opened Primark's store which makes availability of astonishing varieties of beauty brands also marks as the Primark's biggest store in the world.
As the new store of Primark which was only opened on 11th April in Birmingham, it has gained tons of attention and popularity from the locals for buying their cosmetic.
Anyway, get to know all the details to the products you might wanna consider adding to your makeover collection.
Recommended: Wanna Have A Glowy Look? If So, Then Check Out These Cool Highlighters
As a matter of fact, Primark's also selling their own brand's beauty products including their own highlighters the customer can purchase in less than £5.
Highlighters are a popular makeup tool used on the face and different body parts to flash a glowy shine.
SOURCE: Primark
Primark's highlighters which were first launched last year in 2018 are very popular among their customers and dearly admired by them.
Abu Clark, a beauty blogger who happens to be one of Primarks fans says: "The best thing about this new store is that there is now a bigger range of Primark beauty products available. And it's so affordable."
Unbelievably, Primark's highlighters which she finds them 'surprisingly good' come under her favorite beauty product' lists.
Don't miss: Kylie Jenner Announces The Launch Of Her 'KyBrow' Eyebrow Kits
The 19 years young makeup lover has, in fact, tried the highlighters for one of her makeup videos on YouTube.
"The best is the highlighter. It is seriously amazing - a must have and a great dupe for pricier ranges," said Clark.
Sales assistant at the Primark also recommends their highlighters claiming that they are the most popular ones.
"Shoppers love this product. The bestselling shades are Mink Pink and Brunch Club - they suit most people. They will be popular when everyone wants a nice glow for summer," said the rep.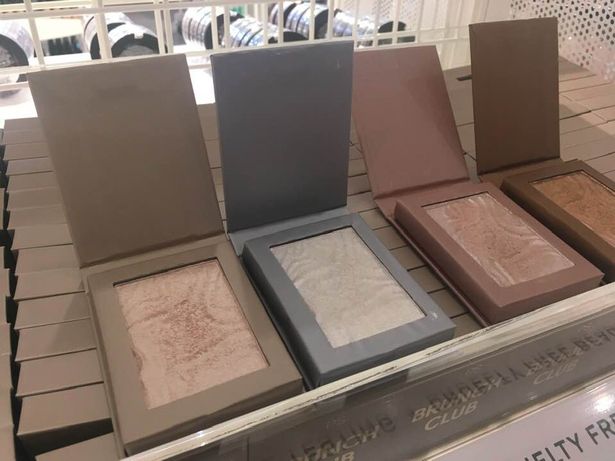 SOURCE: Birmingham Mail
Shoppers can get the Primark's highlighters' in four different shades; Gold Digger, Frosted, Brunch Club, and Mink Pink.
If interested to purchase all the shades, the product is priced at only £10.
Primark's highlighters are also famously compared to beauty brands like Kylie Cosmetic and Charlotte Tilbury.
Customers frequently talk the resemblance in Primark's highlighters to Bar of Gold highlighter palette, one of Tilbury's best highlighters.
The Bar of Gold highlighters which come in three different shades costs £49.
Whereas, Kylie Jenner's Kylighter's price ranges from £20- £30.
Whilst the other similar highlighters cost a hefty amount, Primark' doesn't even cost £5.
In other news: Bella Hadid Became The Face Of Dior's New Pump 'N' Volume Mascara
So, the next time you stroll around Birmingham makes sure to visit the store and get some of their reliable highlighters in your hands.
-->