Bella Hadid Became The Face Of Dior's New Pump 'N' Volume Mascara
Published Sun Apr 21 2019 By Jessica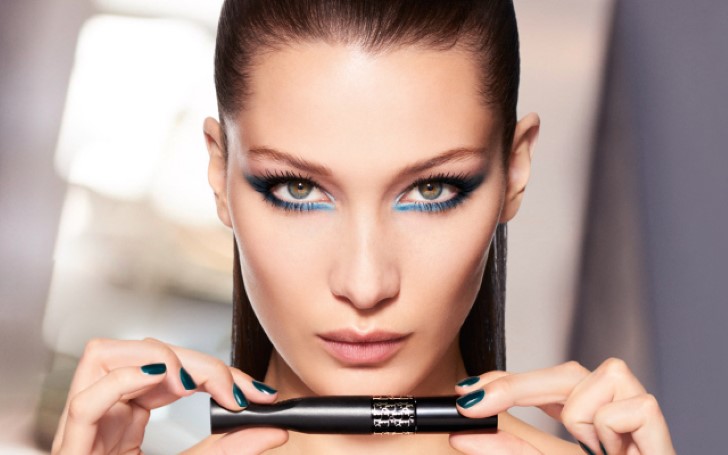 Dior's face of their new Pump 'N' Volume Mascara is supermodel Bella Hadid.
Bella Hadid looked super amazing in a new video released by Dior for their DIORSHOW new Pump 'N' Volume Mascara campaign. And this means you're only one step away from getting that supermodel makeover look.
As announced by Dior on their Twitter account recently, the multi-billion dollar beauty company introduced the worlds' most famous model to promote their new Mascara, created by Peter Philips.
Recommended: Hailey Baldwin Is All Set To Launch Bieber Beauty Line
In the shared video, the 22 years old model flatters her major thick eyelashes accompanied by grey glittery eyeshadow.
Bella Hadid as the face of DIORSHOW new Pump 'N' Volume Mascara campaign.
SOURCE: Dior
To highlight her eye makeover, the Victoria Secret's model is seen wearing black from top to toe that consisted of a fancy black netted beret, and a black matching choker as she flaunts the mascara in a long black sheer dress.
The camera then flashes her eye makeover as she displays the mascara whilst simultaneously showing off her black fresh manicure before she gets into a car to escape the numerous paparazzi taking snaps of the model behind her.
The video then ends with the window glass rolling up whilst the glammed up model gives a knowing bold wink at the paparazzi.
In addition, this is not the first time Hadid worked as the face of the French brand. The sister of Gigi Hadid started working with Dior two years ago since 2017 as the front star for the DIORSHOW's original Pump 'n' Volume mascara.
Besides, she also previously worked with Dior on ads for both lip, eye, and a spooky Halloween video. The recently introduced Mascara is only a comeback of the model to cover up the product.
Philips in a behind the scenes interview speaks of Bella, saying: "She really embodies the DIORSHOW woman. She's got a very positive, bubbly attitude...she's an icon, but at the same time, she's very approachable."
As for the price of the product, the Pump 'N' Volume Mascara enriched with the formula of cotton extracts which makes the lashes strong and vitamin B comes in a range of $30.
Don't miss: Make Up And Skincare Empties For 2019
To get the 3 Couleurs Trioblique mascara which dries quickly whilst giving a natural finish to your lashes, you can easily find them on Sephora.
-->