Hope Solo, former Soccer star, Reveals About her Painful Miscarriage with Twins
Published Wed Jun 12 2019 By Jessica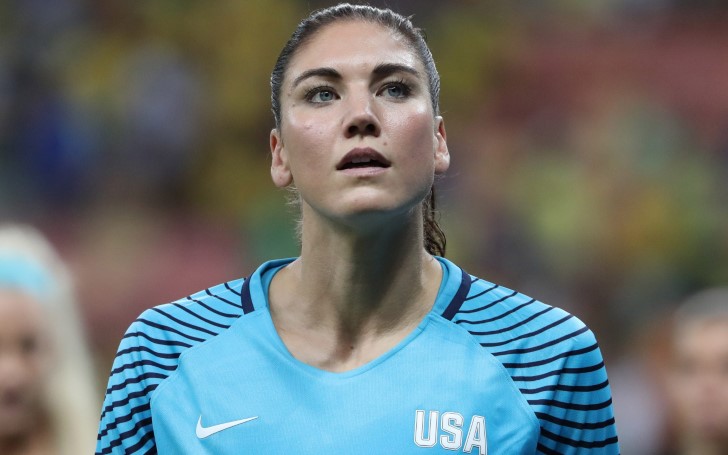 Former American Soccer star Hope Amelia Solo reveals about suffering from a miscarriage.
Hope Solo suffered a miscarriage, as the former Soccer star shares the heartbreaking news at her recent interview for the new issue of Elle magazine.
The 37 years old athlete who couldn't be happier to welcome her first child with husband Jerramy Stevens, unfortunately, lost them to miscarriage.
Related: Ryan Edwards Is Officially Returning To The Cast Of Teen Mom OG
The tragic loss dates back to February 2018 when Solo learned from the doctors after a month of the incident that she was, in fact, pregnant with twins and one of them was placed in an abnormal position inside her womb.
In her words, she told the magazine outlet: "The doctor said I was hours from dying. They ended up having to remove my fallopian tube."
Former American Soccer star Hope Solo suffered a miscarriage with twins.

SOURCE: Pinterest
Prior to the loss, Hope at the time was running for an election to win the position of the President at the U.S. Soccer Federation.
Hope ran the election for the equal treatment between both male and female regarding the payment policies and working conditions. In fact, she even submitted a gender discrimination lawsuit documents against the USSF last year.
Unfortunately, the former goalkeeper at the US national soccer team suffered another loss because she finished last in the election.
Also see: Moving On! Irina Shayk Posts Sexy Swimsuit Photo After News Of her Split with Bradley Cooper
Speaking of her election speech in Orlando, Solo positively says she knew her 'voice was important' and that the speech 'took a lot'.
"Even before all that, it would have taken courage," she adds.
However, this amazing woman didn't give up there nor she stopped raising her voice to fight for equal rights between men and women in Soccer.
Since her election journey, she received tons of support from women across the country including the twenty-eight U.S. Women's National Team members.
Hope Solo, a former contestant at the season 13 of 'Dancing with the Stars' is an achiever of the Olympic gold medals she won in 2008 and 2012.
Don't miss: Teen Mom star Maci Bookout Reveals her Struggle with Telling Her Son Bentley About Ex Ryan Edwards Arrest
Following the miscarriage loss, Solo and her partner of nearly seven years sought IVF treatment.
-->