Instagram Star Faked The Trip Of A Lifetime Without Anybody Realizing
Published Sat Apr 27 2019 By Jessica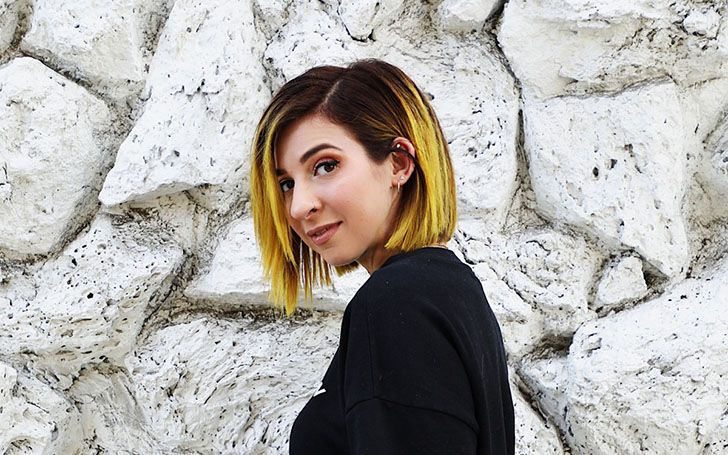 This woman lied to her fans by faking a Coachella trip on social media.
Meet Gabbie Hanna who tricked her three million followers on Instagram into believing she was having a blast at the recent Coachella events. When in reality, she wasn't even there.
So, how did she tricked her fans?
Hanna, a social media influencer who is also a singer came up with an idea to make a fool out of her fans with a prank.
As the Coachella, the biggest music festival in the United States has just started the past couple of weekend, the Instagram star found the perfect opportunity to use it as her weapon.
Recommended: Madonna Looks Sexier Than Ever At 60 As She Romps With Rapper In A Racy Video
Gabbie shared a series of awesome pictures that display the internet star sported in artsy costumes as she posed in front of Ferris wheels in the desert at Coachella.
Gabbie Hanna pretending to be at Coachella.
SOURCE: Yahoo
Each of the pictures posted by the 28-year-old interestingly surpassed over half a million likes on the photo-sharing platform.
Well, only if her fans knew she was just pretending to be at Coachella and that her pictures were edited and above all, she was at home.
Hanna accomplished to take the images with the help of her friends and edited them perfectly with Photoshop applications.
To be honest, someone shall give this lady an Award for fooling the hell outta everyone.
Hanna recently uploaded a video on her YouTube channel where she discusses why she made the fake pictures.
She says what really inspired her to do so is some of her friends who prepared for the festival spent thousands of dollars on hair, clothes, makeup and also spent most of their time at the festival to get the perfect shots for Instagram.
As a matter of fact, her friends also changed their outfits twice a day to make it look like they attended both weekends of the festival, although they only attended one.
Gabbie then realized how awful it was for people to see and believe everything on social media when in reality, they aren't.
Don't miss: What is Kim Kardashian's Net Worth? Find Out Her Sources Of Income And Earnings!
She started explaining: "People look at people on Instagram and social media, and they think 'Wow, their life is impossibly perfect'. That body, that vacation, that car - so much of it is fake, and that's ok,"
Further adding: "I'm not shading anybody who does that on social media because it is a viable career, but for an average viewer who's just watching these things and is aspiring for these things, just know that those things aren't always as attainable as they seem."
"If you're having trouble attaining these things or you can't afford to go to these big fancy festivals or you can't afford those nice clothes or your body doesn't snap into shape the way they do on these Instagram accounts, just know that it is ok and so much of this is just photo manipulation."
Hanna also apologized to her followers claiming that she felt bad for lying to them.
In her words, she continued: "I did feel kind of weird and guilty about this because I don't feel comfortable lying, even if it's a very harmless, however, elaborate, prank. So I'm sorry if you guys feel duped."
In other news: Is Lori Loughlin Secretly Returning To Fuller House?
The fans of the internet star have responded to her prank understandably in positive manners and, in fact, called her a genius.
-->