Iskra Lawrence Shows off Her Phenomenal Figure In a Skimpy Bikini
Published Mon Dec 31 2018 By Jessica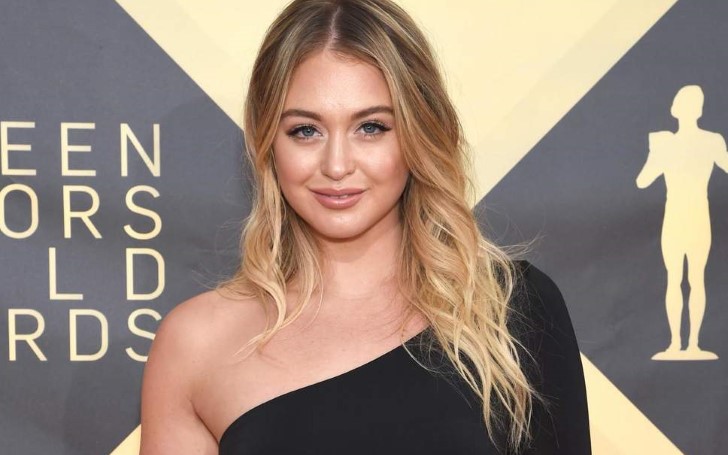 Our jaws dropped on the floor after seeing the pictures of model Iskra Lawrence showing off her phenomenal curvy figure in a skimpy bikini.
The confident model Iskra Lawrence doesn't want people to forget her curvy beautiful body. Since it's obvious that Iskra likes flaunting her body in bikinis, she once again ensured all attention is on her.
The British model also famous for her body positivity messages recently showed off her body in a skimpy black bikini to her 4.3 million Instagram followers. As a matter of fact, more than 268,000 of her fans liked the slow-motion flaming video clip so far.
SOURCE: Daily Star
Iskra who is currently in Vegas to celebrate her New Year chooses to show off her curvy sunkissed body in a black bikini. She showcased her figure as the cameraman films her getting out of the swimming pool.
You may also like: Ariana Grande Cancels Las Vegas New Year Eve Concert Due to Her Health Issue
Model Iskra Lawrence poses for a video
SOURCE: Daily Express
Furthermore, Lawrence captioned the pictures:
"Vegas I'm back and I'll be here till Jan 1st...
My only meet up is this Saturday from 2-4pm @aerie 's new store‼️
3791 S Las Vegas Blvd
❤️
Can't wait to see you all"
View this post on Instagram
And like any model, this 28-year-old frequently shares her bikini pictures on social media too.
See also: Lady Victoria Hervey Flaunted Her Sensational Figure While Soaking Up The Sun In Barbados
Pictures of the model posed in bikinis can be visible all over her Instagram feed. And, the inspiring model preaches body positivity messages on social media as well.
Despite constantly receiving hates from people on her 'thick body' Miss Lawrence still loves all of it. She mentioned in one of her photo captions:
"I love my real skin, lumps, bumps, scars, squish, fat, muscle, pigmentation allllll of it"
Besides, the National Eating Disorders Association (NEDA) Award winner model also disclosed she does not rely on filters to enhance her pictures. And further influencing her audiences to embrace their body, she added:
"you are good enough just the way you are🙌 your body or your life doesn't need airbrushing"
Seriously, the world needs more people like her.
Also read: Gigi Hadid and Zayn Malik Spark Break Up Rumors Once Again
Iskra, who has been an advocate on spreading body positive messages appeared in a 2017 documentary that focused on body image. Other than that, she is also a role model for Aerie, a lingerie brand of American Eagle Outfitters.
Whether the model poses in bikinis or jeans, she undoubtedly manages to flatter her curves and appeal flawless.
-->