James Charles Responded To Tati Westbrook's Damning Video About Him
Published Sun May 12 2019 By Chester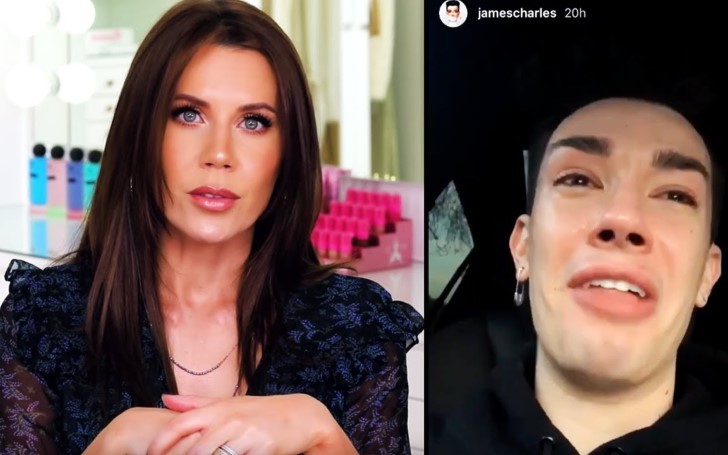 Beauty Vlogger James Charles responds back to Tati Westbrook's incriminating video regarding his selfishness and changes after stardom.
Howdy, fellows from the internet. If you are a regular follower from Youtube like we are then you all might be concerned with the recent feud between Youtubers Tati Westbrook and James Charles.
If you are not, well we will talk about all the recent trending brew between the two which ended up in tragedy with hurtful words and bumpy rides.
James Charles Loses 1 Million Subscribers Amid Tati Westbrook Feud
SOURCE: E!
Well, for those of you who are unaware of the two BFF's story - Tati was James' first mentor in the makeup industry. As we can often hear James crediting Westbrook for the things he was able to learn and share from her wedding makeup to the Youtube beauty community.
The Real Reason Lisa Vanderpump Is Feuding With The RHOBH Cast Finally Revealed >>>
Sadly, their story all changed soon as beauty vlogger Tati, 37, shared a 40 minutes clip titling it as "Bye Sister", which explains us the impact that arouses from the dispute that describes us her ties and with Charles.
Check out the exclusive video uploaded by Tati from her official Youtube channel which describes all the reason why he cut-off their immense bonding and friendship with James shared on May 10, 2019.
The main reason behind their emotional barrier was James not mentioning and acknowledging his so-called 'mom' regarding his upcoming Coachella festival that he was about to be involved in.
Consequently, Westbrook was hurt from the news as James, 19, kept all the details private regarding his upcoming project whereas Tati was the one to introduce him to the glamour industry since he was just 17.
Constance Wu Clarifies Her Displeased Tweets After 'Fresh Off the Boat' >>>
Soon as Tati confesses through her video about all her disappointment and hurt because of James' behavior, Charles within short moment takes it to his Youtube channel on the same day and apologies Westbrook for his discouragement.
Check out the video Charles shared from his Youtube channel as an apology to his sister on May 10.
Initially, the fashion icon starts the video saying 'I owe an explanation to everybody, especially to important people'. Then apologies saying 'I am Sorry' for everything and everything that is going through over the past three weeks.
He resembles all the favor Tati has done over the few years and how Tati and her husband supported him with love and opportunities during his struggling days.
Well, Charles emotional words are definitely touching as he constantly mentions Tati as his role model and seems emotional in the clip because of his acts that couldn't win their trust and friendship back as before.
How Long Nathan Schwandt Is Dating Internet Celebrity Jeffree Star? >>>
We hope the two shortly gets out of all their misunderstanding and emotional barriers and can see both the longtime friends happy again.
-->