James Charles Called Out By Former Friend Tati Westbrook In A 40-Minute Video
Published Sun May 12 2019 By Jessica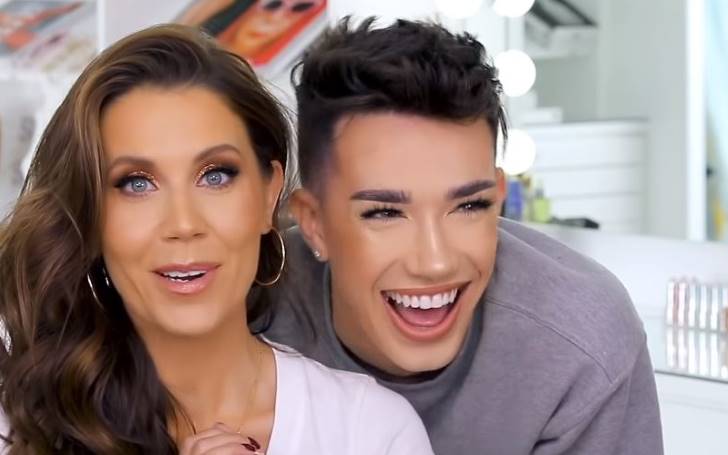 Tati Westbrook exposes former pal and fellow Youtube star James Charles as a sexual predator and a traitor in a recently uploaded lengthy video.
Just after a couple of days by spending a splendid day at the Met Gala, what only seems like nightmares for James Charles has begun.
Charles, a 19 years old Youtube beauty icon lost over one million followers on the video sharing platform and several other social media after a fellow Youtube star and a former pal of James, Tati Westbrook called him out.
Recommended: Constance Wu Clarifies Her Displeased Tweets After 'Fresh Off the Boat' Renewal
Westbrook, a beauty guru uploaded a forty-three minutes long video titled 'BYE SISTER ...' on her Youtube channel ostensibly making it obvious that she was done with the young YouTube star.
Tati also showcased multiple throwback pictures and video the two made in the past together at the beginning of the video.
Former pal Tati Westbrook and James Charles.
SOURCE: Tati Westbrook YT
In addition to the 37 years old makeup artist, she is also known as the mentor who has always been there for James who provided all kind of help since the beginning of his beauty career.
As a matter of fact, Tati and her husband even supported James in making money, business deals and endorsements, and open his own beauty lines. Besides, she even invited James to do her makeover for her wedding in 2017.
Also see: Britney Spears Appears In Cleared Court To Speak On Her Legal Status
However, what upset Tati is when James promoted a beauty product at the Coachella in April. The product James promoted apparently happens to be a rival to one of Tati's friends' company. And this, of course, hurt Tati and made her she feel used and betrayed.
Moreover, Tati also disclosed that she is more than done with James and keeping up with his sick behavior as a sexual predator.
According to the Halo Beauty founder, Charles, who openly claims himself as a gay recently tried to force upon himself on a straight waiter in a restaurant where they were celebrating Tati's birthday.
As for James, he then uploaded a video to apologize Tati and her husband the next day saying he is disappointed in himself for hurting the two.
"I hate knowing that I disappointed not only (my fans), but two people that have been role models for me doing this,"
"She has been like a mother to me since my first days in this industry and has given me more love, support, resources and advice than I could ever ask for," said Charles in the video where he even shows his crocodile tears at one point.
Don't miss: Rochelle Humes Looks Stylish in Orange Leather Mac As She And Husband Marvin Humes Attend The Aladdin European Premiere
Following the controversial episode of Tati and James that shook the internet, Charles' YouTube followers went down to 14 million subscribers from 16 million whilst Westbrook's subscribers on youtube boosted to 7 million from 6 million in just less than 24 hours.
Meanwhile, celebrities including, Kylie Jenner, Kim Kardashian, Katy Perry, Shawn Mende, Demi Lovato, Emma Chamberlain and fellow beauty star Jeffree Star has unfollowed James Charles on Instagram.
-->