James Murray "Murr" Girlfriend - Find Out Who the 'Impractical Jokers' Star is Dating in 2020, Are They Engaged Now?
Let's find out if James Murray 'Murr' from Impractical Jokers has a girlfriend or not.
James Stephen Murray is an American improvisational comedian, actor, author, and producer who is better known as 'Murr' as his teammate from Impractical Jokers loke to call him. The comedian who was born on May 1, 1976, is from Staten Island, New York, started his career as a producer, writer, and director in 1998 when he produced, wrote and directed a movie named 'Damned.'
But the comedian is famous among his fans for his appearance on most loved TRUTV show, 'Impractical Jokers,' along with his other three teammates, Sal Vulcano, Joe Gatto, and Brian Quinn. But their friendship goes a way back to their high school days when all four them were members of high school's improvisation club.
The four friends parted their ways after school, but they again reunited and started practicing improvisation at Joe's house. That's how it all started, the most loved show, 'The Impractical Jokers."
While it's obvious, fans need no introduction, as Murr is pretty popular among his fanbase. But there are a few things, even the biggest fans miss some time. Well, that's about Murray's personal life. So, Let's find out if James is dating someone in 2020.
James Murray "Murr" Girlfriend - Is the Impractical Jokers Star Dating Someone in 2020?
While we all know James Murray was previously married to Sal Vulcano's sister, Jenna Vulcano, in 2014. But their marriage ended the same year, though it did not affect Sal and Murr's friendship. After his split his former wife, Murray pretty much remained all this time, but not anymore.
James Murray' Murr' is in a relaitonship with his girlfriend, Melyssa Davies.
Photo Source: People
Murr is in a relationship with his girlfriend, Melyssa Davies. According to the reports, the couple met at a party back in June of 2018. It was a launch event of James one of the novels, 'Awakened,' in New York. Melyssa was one of the attendees, the couple somehow stuck in a conversation, and it was the beginning of their beautiful love story.
Also See: Who is Haley Pham's Boyfriend, Is She Engaged Now? Let's Find Out About Her Dating Life
Following their first meet, the couple started to see each other and went on their first date on Murr's favorite restaurant, Buddhakan, in New York, and later went on vacation together in February of 2019.
James Murray 'Murr' and Melyssa Davies are Engaged Now
Back in September 2019, James Murray surprised everyone with his engagement announcement. Murr proposed his girlfriend on August 30 outside their home in New Jersey, though James admitted it was not his original plan, according to the 'People.'
Murr and Melyssa are now engaged. The comedian popped the question on August 30, 2019. The couple also registered for their marriage on September 29, 2020.
Photo Source: Extra TV
Murr said, "I set up a picnic and champagne and a Scrabble board. I took her there to sign 'documents' [about the house] — there were no documents to sign. And thank God, she said yes."
The magazine further stressed Murr's original plan was to propose Melyssa while on vacation in Turks and Caicos. Still, they had to cancel due to Hurricane Dorian as it caused landfall in the Bahamas.
Also, See: Who is Inanna Sarkis Boyfriend in 2020? Find Out About Here Dating Life and Pregnancy
His initial plans failed, but his spontaneous popping the question to his girlfriend, Melyssa, was the most romantic thing ever. And since she said yes, we don't she there's any problem, these two just melts our hearts every time. The couple has already registered for their marriage on September 29, 2020, according to 'MyRegistry.' So, 130 days till their wedding.
But Who is Melyssa Davies, Murr's Girlfriend?
While not much is known about Melyssa, she just finished nursing school. And it seems she is much younger than Murr, but love sees no age, and they look perfect together anyway. So, let's not comment on those things here.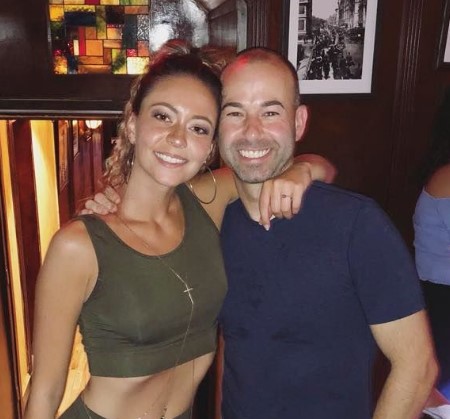 Melyssa is a nurse; she just completed her nursing school.
Photo Source: Extra TV
And when we stalked on her social media, we found Melyssa is a massive fan of dogs. She has a dog named Penelope to whom she calls Penny, and has started an Instagram account for her puppy with the name 'PennyThePoochMurray" which boasts 3K followers already.
You May Also Like: Who is Joost Luiten Girlfriend? Some Facts to Know About Their Relationship
For more information on your favorite celebrities' lifestyle, stay tuned to Glamour Fame, and don't forget to sign up for the newsletter.
-->