Jason Momoa Weight Gain & Loss — Check Out His Diet and Workout Regime
Published Mon Feb 03 2020 By Chester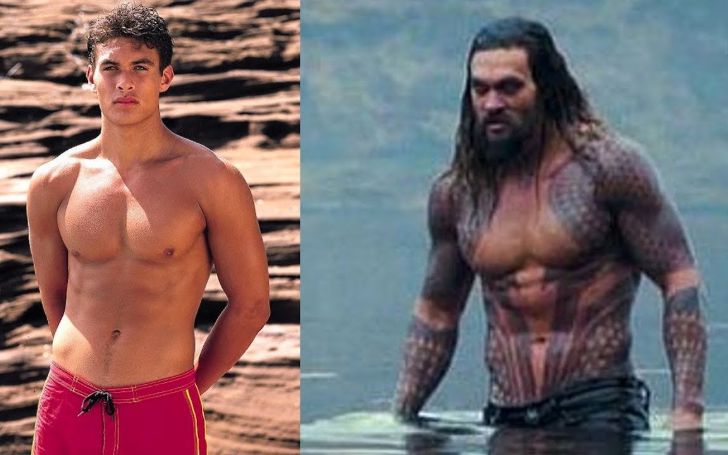 Learn the Aquaman, aka Jason Momoa flabbergasting body transformation.
Many of you might recognize Jason Momoa from his popular role as Khal Dragon in Game of Thrones and some might from his recent role as Baba Voss from Apple's SEE.
The 1.93 m tall star's ripped physique, and desiring height's always been one of his best features, no one can argue on that. And It is obvious that Momoa went through some major transformation if we zoom out and overview his two-decades-long journey in the evolving showbiz industry.
Snippet of Khal Dragon from GOT (Left) and Baywatch (Right)
SOURCE: Pop Workout
From Jason's first ever debut television series 1999 Baywatch to the recent TV series SEE, the American actor always fascinated us with his acting skills and mutating physique. So here we bring you with all the details including his working strategy, diet plans and so forth.
Jason's transformation could be surprising those who have seen him lately - not from his recent humorous super bowl advertisement which just a VFX effect which made him look unduly skinny.
Anyway, here we've presented you Momoa transformation timeline from bulky, bulkier to bulkiest, including some of his working techniques such as Accelerated Results and AR-7 workout.
Jason Body Transformation Journey
Despite the fact that rock climbing, surfing, and skateboarding is his top 3 sports. Jason precisely made headlines for his shredded transformation in the 2011 movie, 'Conan the Barbarian'. Over time he was trained by Eric Laciste.
Gained 25 Pounds of Muscle in a Month and Half
Many thought he couldn't gain much weight over such a limited time. But Jason proved he was not to be compared with the rest.
For the fast and effective transformation, Jason opts a special work out technique known as 'AR 7', which contains 2-3 workouts per day.
Over the time, the workout contained 7 to 6 sets for each lift. The exercise included 7 sets for reps, which had an interval of seven seconds, and as the set went by like five sets of 5 reps, there was a rest for 5 seconds descending for each set and going intense.
Then for the next session, there was a rest for just 1-2 minutes and move onto the next exercise. His workout session differs from the casual one you hit on the gym as it had different sessions of hardcore reps, low weight, and insufficient rest.
You May Like: Tahiry Jose Body Transformation - The Real Truth
After the method worked flawlessly, the actor now uses the workout technique to add some pound faster. Similarly,for the role of Khal Dragon, the actor used the same method.
AR-7 for Less Fat More Muscle
The upcoming 'Sweet Girl' star training had more than three training sessions a day, each containing different intense workouts.
SOURCE: Pinterest
Here are some of his workout routines of the star followed as per reports from Pop Workouts,
Starting from the Monday routine which included flat bench press, incline bench press, incline dumbbell press, plate push-ups, and sips.
Similarly, Tuesday session included, Normal Pull Up, Close Grip Pull Up, Reverse Grip Pull Up, Seated Pulley Rows, and Barbell Reverse Grip Bent Over Rows.
Wednesday workout included, Body Weight Jump Squat, Rear Squat, Stiff-Legged Deadlifts, and Body Weight Squat.
Thursday session included, Leap Frogs, Burpee, 40-yard Sprints, Medicine Ball Slam, Kettlebell Swings.
And finally, the Friday exercise included, Dumbbell Triceps Extension, Diamond Push-ups, Dumbbell Biceps Curls, Body Weight Dips, and Barbell Military Press.
Check Out: Mitchell Modell Weight Loss — The Real Struggle
As an interesting fact, when it was time to play as Khal Dragon, he was doing 3 of the above workout per day.
Momoa Diet Plans
Jason Momoa Diet Plans
SOURCE: Man Of Many
Along with a good workout session, a proper diet plan is also crucial thing that need to be accounted for.
The 2011 'Rising Star' recipient went through a consistent diet plan, which includes fruits, Veggies, Guinness Beer, Nuts, Chicken, Steak, Fish, and supplements such as mass gainer, protein powder, and creatine. Yes, supplements are also vital things which if you should know to blend perfectly, will come up with astounding results.
Did You Know: A New Study Claims Exercise Makes You Happier Than Money
It's not mandatory to follow all the steps as you can try the steps depending on the part you want to workout for.
We hope you enjoyed the article, stay tuned for more Celebrity Weight Loss and Body Transformation article on Glamour Fame.
-->