Is Jenelle Evans Back With David Merely Days After He Murdered Her Dog?
Published Sun May 05 2019 By Jessica
Could Jenelle Evans already get back with husband David Eason who murdered her dog, Nugget?
ICYMI, Teen Mom 2 star Jenelle Evans Eason' husband David Eason allegedly shot and murdered his wife's dog last week and if found guilty, he could be imprisoned for months.
Several reports claim that Jenelle told authorities that David killed Jenelle's dog named Nugget after she snapped at their 2 years old daughter, Ensley.
As a matter of fact, after the incident took place, Mason allegedly took Nugget to the woods two acres away from their house and shot her.
Recommended: Johnny Depp Is Unlikely To Return For Fantastic Beasts 3
On Wednesday, their Riegelwood home was occupied by authorities from the Columbus County Sheriff's Office and Columbus County Animal Control who carried an investigation on the alleged incident regarding animal cruelty.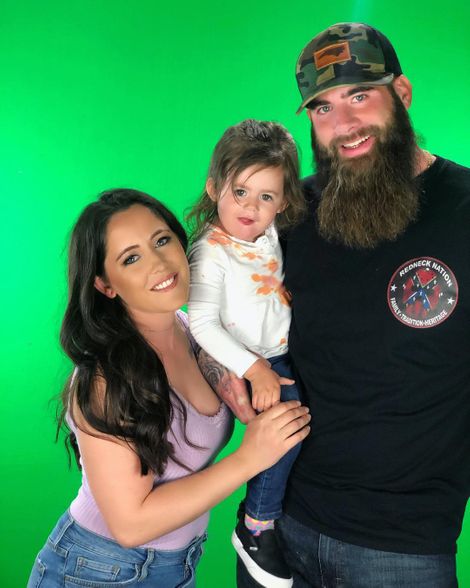 Jenelle Eason pictured with daughter Ensley and husband David Eason.

SOURCE: Jenelle Evans IG
However, no charges are made against Eason nor the reality star has been arrested. And if proven guilty, Eason might face jail time for 120 days for intentionally killing an animal (a class 1 misdemeanor).
Also if the murder of the innocent animal found wicked, the criminal could get be charged with class H felony that might get him to serve jail time for twenty-five months.
Fortunately, their children; Ensley Jolie Eason, 2, Kaiser Orion Griffith, 4, and Jace Vahn Evans, 9, Jenelle shares with her former partners weren't there to witness when the incident occurred.
Also see: Dannielynn Birkhead, 12, Attended The 2019 Kentucky Derby With Her Father And Paid Tribute To Her Late Mother Anna Nicole Smith With Her Look
It's been claimed that Jenelle was the one to call and inform the police after she found out her partner had shot and killed her dog.
Shortly after the incident took place, the 27 years old reality star paid an emotional tribute to her late dog on Instagram, writing: "Nugget...I'm crying every day. I love you so much and I'm so sorry. I'm speechless. You were my sidekick and knew the moment I felt bad and would cuddle with me."
"You still had a lot to learn and a lot to grow from your lessons. Every day I wake up you're not here, when I come home you're not here when I go to bed...you're not here. You're gone forever and there's no coming back." she said.
On the contrary, as for Eason, he doesn't seem to be bothered at all. In a now-deleted Instagram, he said: "I don't give a damn what animal bites my baby on the face... whether it be your dog or mine, a dog is a dog and I don't put up with that s--t at all"
"I'm all about protecting my family, it is my life's mission. Some people are worth killing or dying for and my family means that much to me. You can hate me all you want but this isn't the first time the dog bit Ensley aggressively. The only person that can judge whether or not an animal is a danger to MY CHILD is ME." he added.
Don't miss: Hayden Panettiere Reportedly Gets Beaten By Boyfriend
Meanwhile, it's revealed that Jenelle is pretty much considering filing for divorce to David and even pressing charges against him.
-->