Jenelle Evans Reckons Leah Messer Is A Worse Mother Than Her!
Published Mon Jul 22 2019 By Sea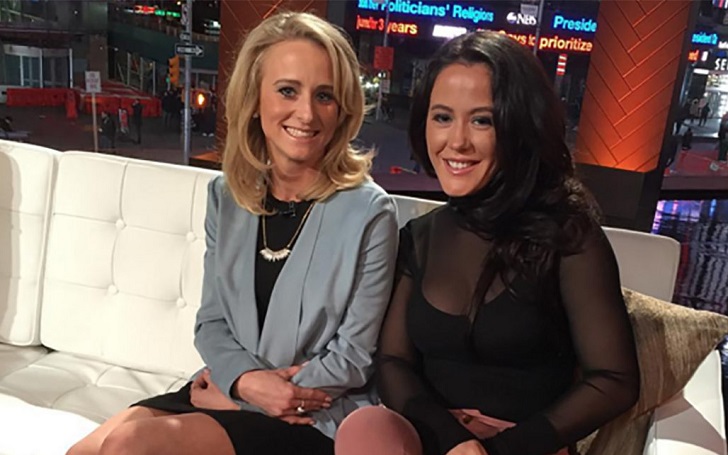 Jenelle Evans lashes out on Leah Messer for losing the custody of her children. Leah fights back.
It all started out with a tweet and Jenelle Evans claiming to be a very good mother. And during a series of replies with so many people, she related Leah Messer with the situation of being a bad mother. It's almost like she's comparing the situations the two were in for their children to be taken away from their respective custody. Is it the same?
Jenelle Evans lost the custody of her three children once back in May after her husband David Eason allegedly shot her dog Nugget in response to Nugget's aggression on their 2-year-old daughter Ensley Eason. She chose to stay with Eason even after all that, her dog dead and the man behind being a seemingly deranged man.
Find out : David Eason's anger problem and dog shooting incident
Fingers were pointed out to her for not being a good mother since she wanted her children to be given back to her and still remain married to the aggressive Eason. But instead of only defending her image, she is dragging someone else for the same title, like she and Eason are known to do.
But she eventually got the kids back on July 3, 2019 after the allegations were proven to be false since police found no evidence of an animal being shot in or around Eason's residence, even though Eason admitted of killing the dog. What?
Jenelle is continually considered to have fabricated the whole thing for a publicity stunt while she denied several stuff she'd said about the incident in the past. The dog is still nowhere to be found and the couple never comments on the matter.
Recently, Jenelle was fired from her work at MTV's 'Teen Mom' after she reportedly pulled out a gun on a pick-up truck driver for tailgating her in one of the episodes in front of her son Jace.
The troubled mother won't let anyone claim she's a bad mom but she did also point her fingers out to Leah Messer since Messer lost the custody of two of her three children, her twins to ex-husband Corey Simms, way back in 2015 while dealing with her anxiety and depression.
Watch: Corey Simms gets everything he wanted
The Teen Mom alum brought the issue up while her situation was discussed on social media following her reply claiming to be a good mother. When someone replied back, "Good moms don't get their kids taken away. Just saying…"; Jenelle hit back with,
So I guess Leah's not a good mom? She got her kids taken and given back just like me.
She even alleges the situation was the same for both of them. However, they can well be differentiated since Simms made the bid for the twins back then, and now Messer and Simms leave their kids' decisions to be made by themselves.
Jenelle is supposed to constantly keep the spotlight away from herself whenever she gets axed on social media or anywhere else. Messer is dragged into it this time.
Messer, however, doesn't need to hold back as well. In response, she tweeted back,
She's gotta pin her troubles on someone... why not it be me? Worry about what's good for you and those babies Jenelle. Stop attacking people on social media.
Last year, she cleared the situation of her children Ali and Aleeah with Simms stating, "It's always been 50/50. People were like, 'Leah lost custody' … I almost did, but I never lost custody of my children."
You may also like: Leah Messer says she wants more kids
Messer admitted everything that happened to her, openly discussing about the moments during her 'lowest point'. She didn't suffer a severe restriction of visitation rights after her children were not with her.
Even with Jenelle flaunting the acquisition of her kids back, getting new dogs and all, can the decision to be with David Eason who said 'she could die for all he cares' be called a wise one for her kids?
-->