Joaquin Phoenix Wins the Best Actor at the 2020 Oscars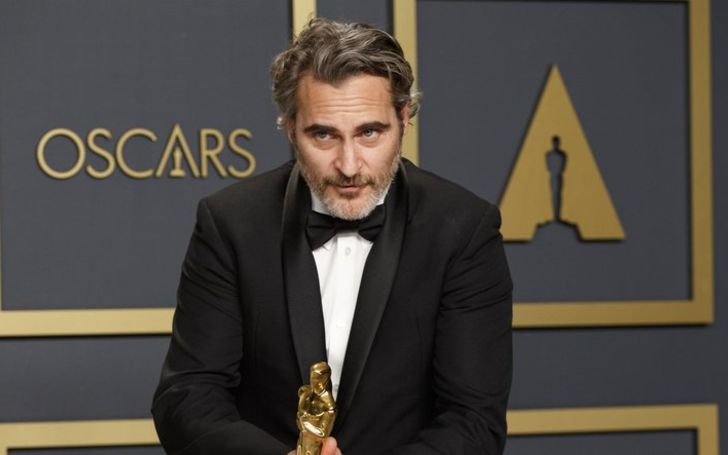 Joaquin Phoenix bagged the best actor award at the 2020 Oscars for his role in the movie 'Joker'.
The remarkable actor, Joaquin Phoenix, who shook the movie halls worldwide with his spectacular performance as 'Arthur Fleck' in 'Joker', took his first Oscar home on Sunday, 9th February.
Joaquin won the Oscar in his fourth time as a nominee. He was previously nominated for movies 'The Master,' 'Walk the Line,' and 'Gladiator.'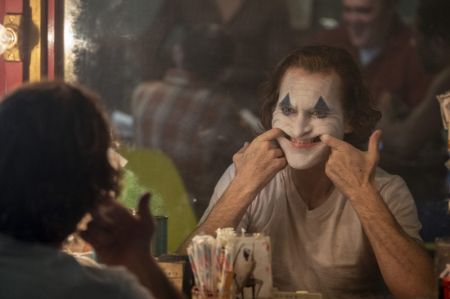 Joaquin portrayed the role of 'Arthur Fleck' a comedian in the movie, 'Joker'.
Source: Sun Gazette
Other nominees for the best actor were Antonio Banderas for 'Pain and Glory,' Leonardo DiCaprio for 'Once Upon a Time in Hollywood,' Adam Driver for 'Marriage Story,' and finally Jonathan Pryce for 'The Two Popes.'
Watch: Joaquin Phoenix's Award Acceptance Speech at the 26th Annual SAG Awards | TNT
While accepting the award, Phoenix gave quite an impactful speech. He honored his late brother River Phoenix who died in 1993 while also addressing the distressing issues, collectively faced by everyone, whether it be about gender inequality, racism, queer rights, indigenous rights, or animal rights.
You May Also Like: Joaquin Phoenix Developed a 'Disorder' Following His Weight Loss for 'Joker'
Joaquin beautifully expressed his feelings amongst the mass. In the actor's passionate speech, he urged human beings to use love and compassion as their guiding principle to create, develop and implement systems of change that are beneficial to all sentient beings and the environment.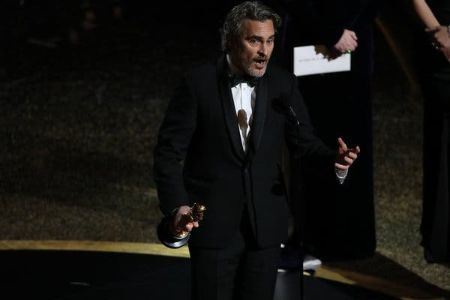 Joaquin swept multiple awards for the movie Joker.
Source: NY Times
Lastly, the Oscar winner ended his speech with a line, "When he was 17, my brother wrote this lyric, which said, 'Run to the rescue with love, and peace will follow.' "
Also See: Facts about Australian Actress Ashleigh Cummings
Joaquin's Oscar-winning movie, 'Joker', is about a young man longing to become a stand-up comedian in Gotham where he is isolated, bullied, and disregarded by society. Caught in the turmoil, the lead, 'Arthur Fleck', ends up being the most notorious and criminal mastermind i.e., 'Joker'.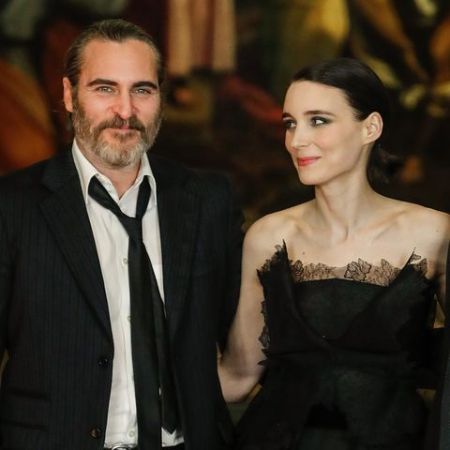 Phoenix with his fiance Rooney Mara.
Source: Harper's Bazaar
Phoenix not only took the Oscars but also won best actor at the BAFTAs, Critics Choice and Seven Actors guild awards along with best actor at the Golden Globes.
The winner for best actor is happily engaged with girlfriend, Rooney Mara. The pair dated since 2016, and he finally popped the question in 2019.
Don't forget to check out Glamour Fame for more of these news. Be sure to sign up for the newsletter.
-->