John Krasinski Is Officially Directing 'A Quiet Place 2'
Published Sun Feb 24 2019 By David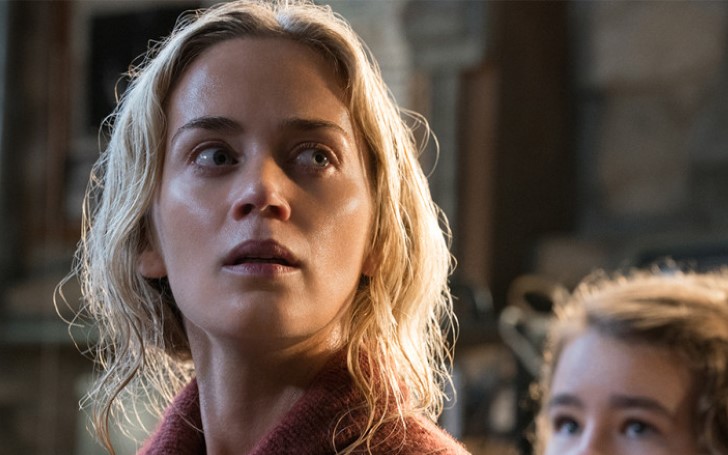 John Krasinski is directing a sequel for A Quiet Place.
On Friday, John Krasinski uploaded a photo through his social media account that Quiet Place fans will get to see more from the Abbott family home, with the caption that read, "… time to go back" along with a date, March 5, 2020.
It was already official that Krasinski would pen the sequel, but the actor is now confirmed to direct, and shortly after his posts, The Hollywood Reporter also aired the news that all three former stars — Emily Blunt (Evelyn), Millicent Simmonds (Regan), and Noah Jupe (Marcus) — are already in talks to return for part two. As per THR's claim, both young actors had an option through their initial contract from the very beginning, especially in the case, Quiet Place meets the expectation and Paramount Pictures wanted to make a franchise out of it. But the movie over-performed despite having received mixed reviews in the promotional campaign.
View this post on Instagram
For a while, John Krasinski was in the midst of pillar to post with the decision of directing the sequel for his 2018 directorial debut. But now, the actor has finally agreed for the gig. In addition, it has been reported Emily Blunt is also going to star in the highly anticipated follow-up. In fact, it was Blunt who pushed her husband, Krasinski to write the sequel, in the first place.
"In some ways, the idea of seeing who these people were before this all happened would be interesting, but I'm not quite sure because I think actually it's now what's the next chapter and what happens next."
Blunt commented of the planned sequel to EW. "I think people feel very invested in this family…. I think it's such an open book right now, and certainly for John who is lasering into something as we speak."
Don't Miss: Chinese Sci-Fi Blockbuster 'The Wandering Earth' is Coming To Netflix
According to reports, A Quiet Place 2 production starts this July, which is just around the corner and means it wouldn't to be too long before we get some more details on additional casts. Krasinski was initially reluctant to come back for a sequel since he felt that he included everything he needed to say in the first movie. The first installment was such a hit at the box office and amongst critics, so one can easily see why the director was the inevitable choice for the continuation of the project.
Recommended: Early Reactions For Captain Marvel is Very Exciting
When Paramount Pictures announced the sequel, they approached John Krasinski to get his views on where A Quiet Place 2 could possibly go. After thinking about it, Krasinski gave the studio some outlines and in turn, he was eventually given the offer to wheel the sequel in the subsequent meetings. Yet the actor was still showing some reticent of his own. And so came his wife, who convinced Krasinski to at least write for the new project. Though he was still against the idea of directing the sequel. The actor explained the viewpoint— he created a world in which anybody has their own story to add onto and where one could easily feature new characters, too.
"It's not like Alien or Jaws where the main villain is the thing you're repeating; it's an actual entire set of rules and the circumstance that the world has undergone that you can play in very different facets."
Added the 39-year-old actor.
After Krasinski's initial thoughts on A Quiet Place 2, all kinds of speculation regarding "how the movie will be executed" has been growing among the movie fanatics. But, for the time being, they know the sequel will have at least one familiar face; now that Emily Blunt is also back for the follow-up movie. Krasinski presented a unique post-apocalyptic scenario with the first movie, so it's going to be very interesting to see what he has added on that craft.
With the filming set to begin this summer, A Quiet Place 2 should have no trouble staying on track and ultimately making it to the release date of May 15th, 2020. Given, everything goes as planned.
Also Read: When Will The Terminator 6 Trailer Drop?
Released in April 2018, A Quiet Place starred Krasinski and Blunt as two parents protecting their family, including their son and deaf daughter, from alien-like monsters lurking in the woods. These beasts, though blind, possesses a phenomenal hearing sensation--a concept, which made the film a largely dialogue-less featurette where the humans struggle through a horrific silence.
Did You Know?
Blunt agreed to a much lower rate than her usual asking price for the first movie — doing her husband a solid and whatnot — and this time around Insiders claims she will once again be looking to take a cut to be part of the second movie.
-->