John Legend and Chrissy Teigen Celebrate 9 Years of Marriage
John Legend and Chrissy Teigen got married in September 2013: Complete story here!
John Legend and Chrissy Teigen commemorated their 9th anniversary on September 10- via a romantic music video. The couple, who met on the sets of John's mv Stereo, directed by Nabil Elderkin in 2006, starred in the Grammy-winning musician's latest mv Wonder Woman, yet again directed by their cupid in disguise Elderkin.
The Wednesday-released mv featured a pregnant Teigen, indicating a recent shoot; the former Sports Illustrated model announced she is expecting again in August earlier this year, the couple's daughter Luna Simone, 6, and son Miles Theodore, 4. Legend, 43, not only tributes to his wife in the song but also celebrates the strength of all women.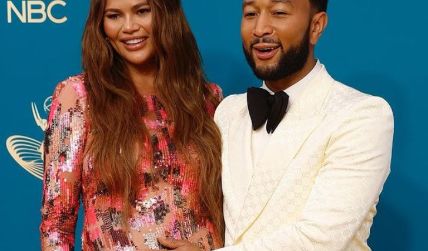 Legend released his new single, 'Wonder Woman,' on his and Teigen's 9th anniversary.
Photo Source: Instagram
"I married my wonder woman nine years ago today," the All of Me crooner wrote on a celebratory post, adding, "happy anniversary, my love. You never cease to amaze me." Wonder Woman was shot during Teigen and John's romantic stay in Italy, coinciding with Elderkin's visit to the city. "It was a surprise. It dropped on me last minute, Teigen says while revealing her husband's spontaneous decision upon hearing Elderkin's arrival in Italy.
Recommended: Is Leonardo DiCaprio Dating Gigi Hadid?
"The guy who introduced us, Elderkin, is an amazing music video director and movie director," the model further explains. Teigen played John's love interest in his Stereo mv nine years ago. This time, the model-turned-media-personality stood beside the famed musician as his real better half and the mother of his two toddlers.
Legend's mv also features their daughter Luna and son Miles.
Source: Glamour
Legend's heartfelt lyrics read, "you make me wonder, woman/ how do you do it?/ some superpower/ I don't understand." Dubbed the ultimate ride-or-die couple, Teigen and Legend have since exhibited their unbreakable chemistry in John's All of Me and Love Me Now. The mv comes almost two months after the model announced her pregnancy in August.
"One billion shot later, we've another on the way," wrote Chrissy, who suffered a pregnancy loss nearly two years ago. The model then revealed she and Legend lost a son, who would've been called Jack, at 20 weeks, due to complications. In a recent bombshell revelation, Teigen disclosed the miscarriage was an abortion.
Teigen explained, "it became very clear around halfway through that he would not survive and that I wouldn't either without any medical intervention." She adds, "(I) had an abortion to save my life for a baby that had no chance." Teigen's emotional revelation came at a conference session in the wake of the Supreme court's decision to overturn Roe v. Wade.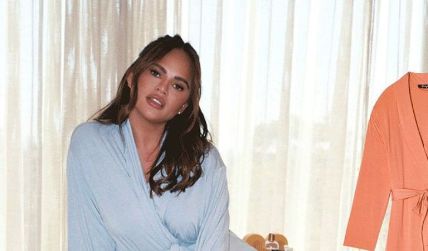 Teigen revealed a bombshell truth about her pregnancy loss two years ago.
Photo Source: Instagram
Teigen and Legend dated for four years before tying the knots in September 2013 at a New York courthouse, followed by an elaborate ceremony in Lake Como, Italy. The couple welcomed their firstborn, Luna, on August 17, 2016, and their youngest, Miles, on May 16, 2018. Happy anniversary to my absolute best friend, lover, and partner in life. Thank you for being with me through all my mistakes, ups and downs, growing with me, and raising babies with me, who are my proudest gifts," the soon-to-be mother of three wrote while sharing a clip of Wonder Woman.
Stay connected to glamour fame for more.
-->