Josh Duggar's Sentencing Hearing in Child Pornography Case Delayed
Josh Duggar's child pornography case has been pushed to late may: Complete story here!
Former reality television star and now an indicted felon, Josh Duggar, was arrested in April 2021 under two charges of child pornography. In December, he was found guilty of knowingly obtaining and owning the material. Duggar's impending sentencing said to be 20 years of imprisonment and up to $250,000 in fines for the crime, is now pushed to late May.
Duggar's legal team had reportedly requested 30 days of delay in his sentencing on March 18, citing, "The defense would benefit from a brief continuance to provide additional time to pursue additional information and documentation." The filed document further argues how scheduling meetings with Josh has been hard due to the Covid-mandate instituted at the jail where he is detained. "Certain scheduling issues arising out of unrelated cases would be more easily resolved if this Court were to grant the requested continuance," the documents reads.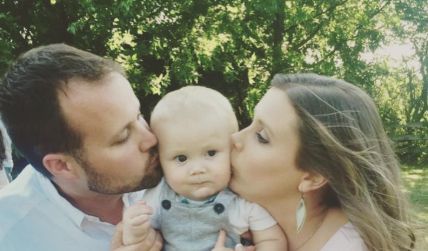 Josh's sentencing hearing is now scheduled for May 25.
Photo Source: Instagram
As per sources, Judge Timothy L. Brooks of the Western District of Arkansas Federal Court has granted Duggar's legal team's request to push back the date, originally scheduled for April 5 and now for May 25. The move comes weeks after the disgraced television star celebrated his 34th birthday in prison. "Josh's birthday will be a sad day," a family friend told Fox News, adding, "He has children, a wife, he has a family, and he doesn't get to see them, so his birthday is going to be tough."
Recommended: Shanna Moakler Says She Is Not Pregnant: 'Received a False Pregnancy Test.'
Duggar, the eldest child of Republican Jim Bob Duggar and his wife Michelle Duggar, has a lengthy rap sheet. Back in 2015, Josh was accused of molesting five underage girls, four of whom were related to him, between 2003 to 2004. Admitting to the allegations, the 19 Kids and Counting alum wrote, "Twelve years ago, as a young teenager, I acted inexcusably for which I am extremely sorry and deeply regret. I hurt others, including my family and"close friends."
Duggar was found guilty of two counts of child pornography.
Source: Entertainment Tonight
Josh's arrest last year came just days after his wife, Anna Duggar, announced they were expecting their 7th child. "It's a GIRL, we are overjoyed to announce baby seven is on the way and we can't wait to hold her in our arms this fall," captioned Anna, who married Josh in 2008 and has stood beside him through many allegations and charges.
Stay connected to glamour fame for more.
-->