How Long Have Josh and Anna Duggar Been Married? How Many Children Do They Share? Details Of Their Relationship!
Published Wed May 08 2019 By Jessica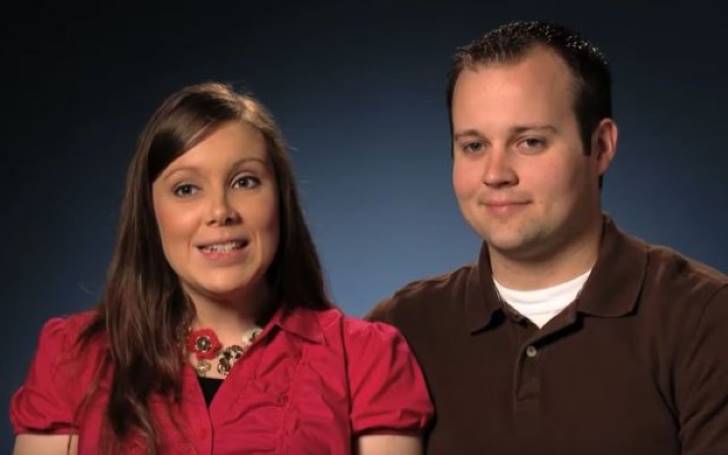 Happily married with five wonderful children, learn about the relationship timeline of Josh and Anna Duggar.
Joshua James Duggar aka Josh is a part of America's well-known super conservative family.
Born on 3rd March 1988 in Tontitown, Arkansas, in a religious family to parents Jim Bob Duggar, a former Republican member of Arkansas House of Representatives and Michelle Duggar, Josh made a name of himself after appearing in 19 Kids and Counting, a family reality show that aired on TLC.
Recommended: The Beloved Duggar Member Amy Duggar Debuts Baby Bump
The oldest child in the Duggar family, Josh shares a happy married to wife Anna Renee Duggar who only announced the wonderful news last month that the couple is expecting their sixth child later this year.
Josh Duggar pictured with wife Anna Duggar.
SOURCE: The Cheat Sheet
Of course, Josh and Anna both strictly follows the footstep of their parents to expand their Duggar bloodline, and it comes as no surprise at all.
Anna shared the news on Instagram: "We are so excited to announce that we are expecting a new little one! As we watch our children grow and thrive — we look forward to baby six joining us this fall!"
However, Josh and Anna's married life has not always been perfect and rainbows. Considering Josh's infidelity and the controversial sexual misconducts scandal that shook the Duggars in 2015, Josh and Anna have gone through their ups and downs too. But, the couple who believes 'beauty comes from ashes' worked out everything and are strictly going strong to this day.
Josh and Anna Duggar Affairs and Married Life.
Josh and Anna Duggar on their wedding in 2008.
SOURCE: Pinterest
Josh and Anna encountered at the Christian homeschooling convention in 2006 whilst they both were teenagers. Shortly after a few of their first meetings and with the permissions from both of their religious parents, they soon became involved in courtship.
In 26th Sept. 2008, Anna and Josh tied the knot after two years of courtship at the Buford Grove Baptist Church in Hillard, Florida which was televised on the season 2 of 19 Kids and Counting in 2009.
As they were not allowed to kiss let alone share side hugs, the two did not share their first kiss till their wedding day.
Growing up in a large family, both Josh and Anna always knew since the day one they would want to have as many children as their parents. And it wasn't after long since the couple exchanged their vows, they welcomed their first child, Mackynzie Renée Duggar, 9, in 2009.
Don't miss: Grey Worm Actor Showcases What He And Missandei Are Up To In An Alternate Universe
Adding more colors to their ever growing beautiful family, the pair had their second child, Michael James Duggar, 7, in 2011, followed by Marcus Anthony Duggar, 5, in 2013, Meredith Grace Duggar, 3, in 2015 and their latest addition to the family, Mason Garett Duggar, 1, who they welcomed in 2017.
Josh's Shocking Scandal Moves The Duggars.
Josh and Anna Duggar with their kids.
SOURCE: Wsb Radio
Back in 2015, when all of the things seemed fine for the Duggars with their family show running successfully on tv, a shocking discovery police reports suddenly emerged revealing that Josh, who happens to be in his mid-teens phase in between 2002 and 2003, molested five underaged girls including his own two sisters; Jill and Jessa Duggar.
Josh was working as a lobbyist for the highly conservative and controversial Family Research Council in Washington D.C. and Anna had only welcomed their third child at the time.
The same year, another scandal unfolded when it was found that Josh was a part of an adult website where he committed adultery on his wife.
A few months later in May, Josh released an apology statement on the Duggars family website accepting that he indeed committed the sexual misconducts and the infidelity on his wife.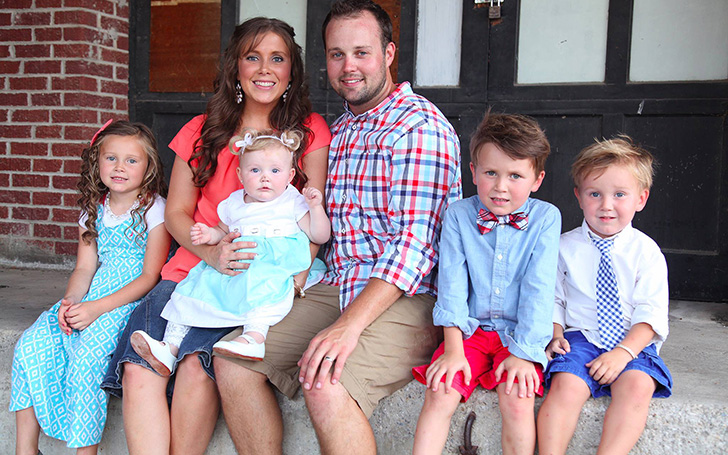 Josh and Anna Duggar with their kids.

SOURCE: People
The statement read: "I have been the biggest hypocrite ever. While espousing faith and family values, I have secretly over the last several years been viewing pornography on the internet and this became a secret addiction and I became unfaithful to my wife."
"I am so ashamed of the double life that I have been living and am grieved for the hurt, pain and disgrace my sin has caused my wife and family, and most of all Jesus and all those who profess faith in Him," the statement further read.
"I brought hurt and a reproach to my family, close friends and the fans of our show with my actions that happened when I was 14-15 years old, and now I have re-broken their trust. The last few years, while publicly stating I was fighting against immorality in our country, I was hiding my own personal failings."
You may also like: Kym Marsh Denies Coronation Street Is In Crisis As 'Six More Stars Plan To Leave'
"As I am learning the hard way, we have the freedom to choose our actions, but we do not get to choose our consequences. I deeply regret all hurt I have caused so many by being such a bad example. I humbly ask for your forgiveness. Please pray for my precious wife Anna and our family during this time."
Shortly after a week of confessing, his parents and the rest of his siblings admitted Josh to a faith-based counseling rehabilitation center in Rockford, Illinois for treatment.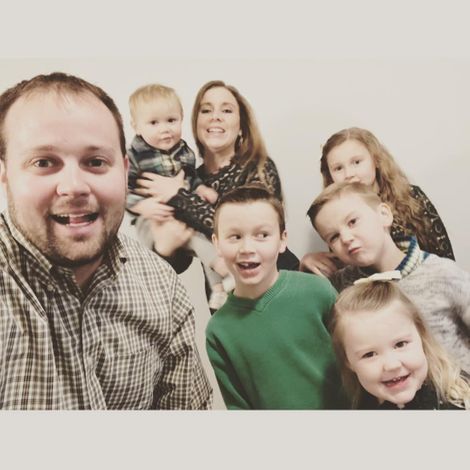 Family of Josh and Anna Duggar.
SOURCE: Anna Duggar Instagram
As for Anna, whose married life took a difficult turn released a statement for their fans to pray for her family. After returning to his parents home in Arkansas following his six months stay in rehab, Josh and Anna announced through a statement that they took refuge in their marriage through a counseling program in order to work out their relationship.
The statement read: "As we enter into a long family weekend together, we want to thank each of you for the prayers, love and encouragement you've sent our way."
Adding: "It isn't easy and some days are very difficult. It is a long road to rebuild trust and a truly healthy relationship,"
"We are very thankful for God's forgiveness, grace and help, as it is our strength and guide to rebuilding our lives. As the future unfolds, we are taking one day at a time and we are grateful for your continued prayers for both of us and our sweet children."
A Positive Beginning for Josh And Anna
A family portrait of Josh and Anna Duggar.
SOURCE: Anna Duggar Instagram
After keeping a lowkey life and the cancellation of 19 Kids and Counting by TLC, Josh and Anna starting making their public appearance later that year.
From attending a friend's birthday to celebrating their own eight year anniversary to serving at sister Jinger Duggar wedding to Jeremy Vuolo's wedding, things started going great for Josh and Anna.
Although keeping their distance from the public eyes, the Duggars family always made sure to make him feel special and that he was still a part of the family. They would regularly update on Josh and Anna on their birthday and on just any family ceremonies.
Whilst the Duggars and his wife Anna seemed to have move fast forward all the Josh scandal by forgiving him, the family announced through a blog in 2017 that the couple was expecting their fifth child.
The blog post read: "For nearly the last two years, we have quietly worked to save our marriage, focus on our children, and rebuild our lives together as a family. Doing so is never easy after a breach of trust. We've learned that a life of faith and rebuilding a life together is simply done one day at a time"
"As we continue our journey as a family and rebuild our lives, we are delighted to share with you that we are expecting a new baby boy later this year. Beauty comes from ashes and we cannot wait to see and kiss the face of this sweet new boy." concluded the post.
Also see: How Long Have Jim and Michelle Duggar Been Married? Learn The Details Of Their Relationship!
With the anticipation for the arrival of their sixth child this year, life couldn't be better for Josh and Anna Duggars at the moment.
-->