How Long Have Jim and Michelle Duggar Been Married? Learn The Details Of Their Relationship!
Published Tue May 07 2019 By Jessica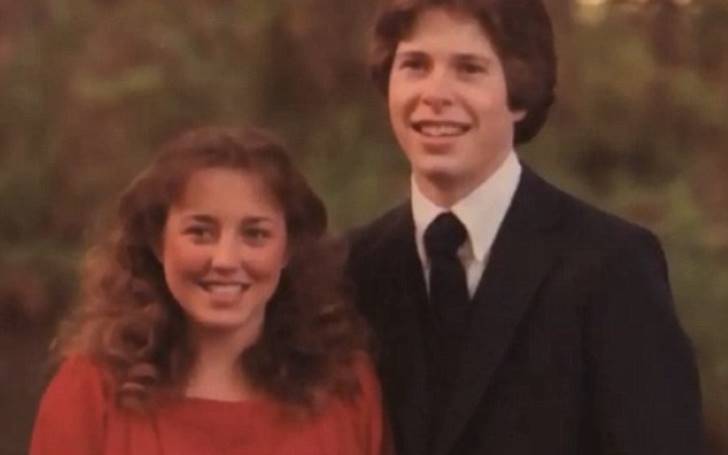 Learn every detail to Jim and Michelle's Relationship Timeline.
A long-lasting and happy married life in America might be rare these days. But not for this extraordinary couple who married thirty years ago and are still going strong.
TLC's 19 Kids and Counting's head Jim Bob Duggar, a well-known American reality tv star and a politician is married to the love of his life, Michelle Duggar.
The love story of Jim and Michelle who shares a devoted life to God and Christianity and expanding their bloodline is truly one of a kind.
Admittedly, the audience of the 19 Kids and Counting followed their usual lifestyle since 2008 and are pretty much aware of everything that concerns them.
Recommended: Whoopi Goldberg Weighs In On Meghan Markle And Prince Harry's Bundle Of Joy
Anyway, learn all the core information a Duggar fan shall need to know about Jim and Michelle's relationship timeline.
How Did Jim and Michelle Duggar link up?
Young Jim Bob and Michelle Duggar.
SOURCE: Duggar Family Blog
Obviously, if it wasn't for their faith, Jim Bob and Michelle would have never found their way to each other. It all began in the year 1981 or 1982 when Michelle, born on 13th September 1966 was only 15 at the time she discovered her spirituality through Christianity after attending a conversion school that led her to become a serious Christian.
In case you did not know it before, Michelle went to a public high school where she dated other guys before Jim and was even a part of the school cheerleading team, but that was until she found herself in Christianity.
On the other side of the story, for Jim, born on 18th July 1965, grew up in a religious family and, indeed attended a Christian school. As a matter of fact, as he took his religion to an extreme level, he would often visit people door to door to know and inform them about religious beliefs. And that was it, until one day, Jim and his friend Fred knocked into Michelle's house door.
Don't miss: Jenni 'JWoww' Farley's Emotional Message On Her Son's Birthday Detailing His Progress
Fascinatingly, at the time, Michelle has recently just involved in Christianity.
After a few conversations on God, Jim eventually ended up inviting Michelle to Sunday School he attends. Although Michelle spent most of the time talking to Jim's friend, as she did not even notice nor remembered Jim at all, Jim, however, on the other side, had instantly fallen in love with her on their first meeting.
Somewhere in an old interview, on his way back to his home, Jim Bob states that he prayed for getting to know Michelle better and to become her spiritual guide.
Beginning of Jim and Michelle Duggar's Relationship
Michelle Duggar kisses sweetly on his husband cheeks.
SOURCE: Starcasm
Every relationship starts with friendship. After visiting Sunday School and getting to know each other on a friendship level, things were going pretty smooth for these two. As destiny was meant for them to be together, Michelle then one day applied for a job at a yogurt shop which she had no idea that it was owned by Jim's grandmother.
The year is 1983 where Grandma Duggar plays a big role as she mentions Michelle's job application to his beloved grandson at home. And for Jim who couldn't be happier with the news, immediately insists his grandmom to hire her for the job.
Jim Bob would then regularly visit Michelle at the Frozen yogurt shop until one day, whilst working at the cash register he finally gathered his courage to ask her out to attend a Junior/Senior Banquet with him, to which Michelle merrily says yes.
If only they knew what was ahead of them.
Also see: Kris Jenner Insists Daughter Kylie is Absolutely A Self-Made Billionaire!
After attending the banquet at Jim's school together, the two teenagers still couldn't be separable and later went on to spend four more hours together at Michelle's place where they read the Bible and discussed spiritual stuff.
It wasn't long after that, the two realized they developed feelings for each other and began a romantic relationship.
Jim and Michelle Ties The Knot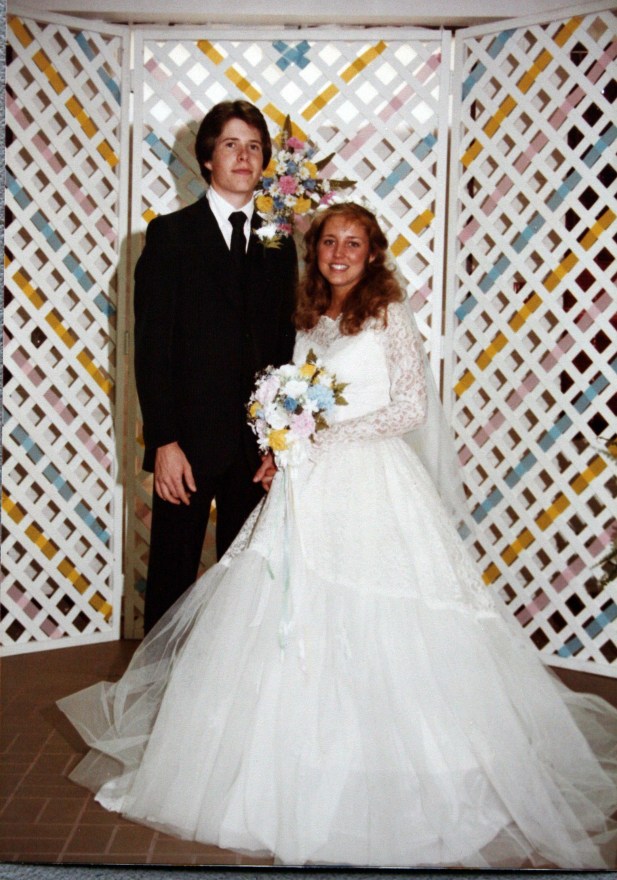 Jim and Michelle Duggar on their wedding day in 1984.
SOURCE: Pinterest
Between the year 1983 and 1984, Jim and Michelle are still taking their relationship seriously just like they take their religion. In favor of their relationship, Michelle even quit the cheerleading squad at her school because the cheerleaders would often party together with the footballers, and it happens to be something for Michelle, a strict Christian did not want to involve in at all.
As likey for Jim, he had to wait until marriage to even get a handshake or side-hugs from Michelle. As they both knew they were meant to be together for the rest of their life, didn't hesitate to get married and took a big step in their relationship.
Michelle walked down the aisle and exchanged her rings with the man she was head over heels in love for the last two years in 1984. As a matter of fact, Michelle was only 17 at the time whilst her groom was 19.
In other news: 'World's Hottest Gran' Shocks Followers By Announcing She's Just Turned 40
Their wedding simply took place at a gymnasium since their church underwent a process of renovation in the meantime. With the presence of nearly 200 guests and light snacks, their wedding was simple but yet dreamy and joyful.
Fast forward today, thirty years later, Jim and Michelle are still happily together with 19 children and tons of grandchildren.
Since you have scrolled down so far till the end, learn more about the ever growing family timeline of Jim and Michelle Duggar, here.
-->