Kailyn Lowry Plastic Surgery — Everything You Need to Know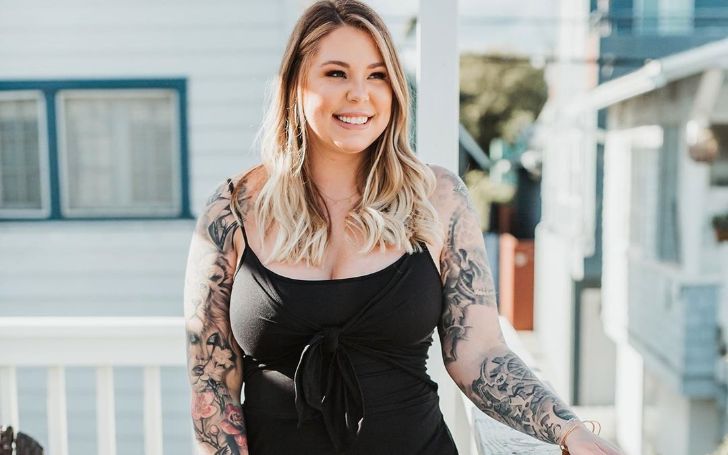 Over the years, the teen mom's transformation has caused quite a stir. Kailyn Lowry looks nothing like she did when she first started in reality TV series, '16 and Pregnant', in 2010.
Kailyn is a mother of three children, son Isaac Elliot Rivera (b. January 18, 2010), son Lincoln Marshall Marroquin (b. November 16, 2013), and the youngest son Lux Russell Lowry. Kailyn is now expecting her fourth child.
With spending nearly a decade in the television industry, teen moms are bound to face some beauty issues. There are multiple rumors of the mom's plastic surgery. Let's get a detailed look at them.
First Plastic Surgery Procedures: Gum Reduction and Dental Work
Like any other kids, Kailyn also spent a considerable amount of time with braces during her adolescence period.
Teen mom Kailyn says, beauty alterations provide her with a sense of confidence.
Source: The Hollywood Gossip
In 2014, The teen mom got herself a gum reduction surgery. A gum reduction generally ranges from $100 to $3,000. It led to creating a noticeably substantial smile by exposing more of her teeth. It looks like the mama wanted some more improvement after getting off her braces.
You May Also Like: Did Christina Aguilera Get Plastic Surgery?
Lowry, being the transparent woman that she is, took to Snapchat to casually explain going to the dentist to get her veneers done. They are super thin veneers. There's no prep, no-drill, and no pain in this process.
Lip Fillers
Just about a year later, in 2015, rumors surrounded Kailyn when fans spotted differences in her lips. In her pictures, the TV star's lips looked noticeably plumper compared to her previous images.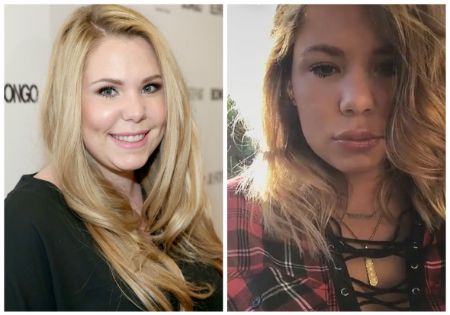 We can't help but agree, the mom definitely looks better without better with her original smile.
Source: In touch weekly
When asked about it, the television personality initially denied it. However, she was busted later on while admitting to having an adverse reaction due to Botox. The actress also confessed her overly full pout was a result of Botox. However, fans are speculating; there's some more work done to her face.
Also See: Meet Lady Gaga's New Boyfriend, Michael Polansky
In June 2016, also a writer, Kail received lip injections again, showing her plumped lips on 'Teen Mom 2' reunion special in June 2016. The mom wrote on twitter, "Tried to get lip fillers and had a reaction. You should've seen them without lipstick."
Full Body Surgery Including Tummy Tuck & Brazilian Butt Lift
Kailyn made some pretty drastic changes to her body, like her co-star Briana DeJesus in 2016.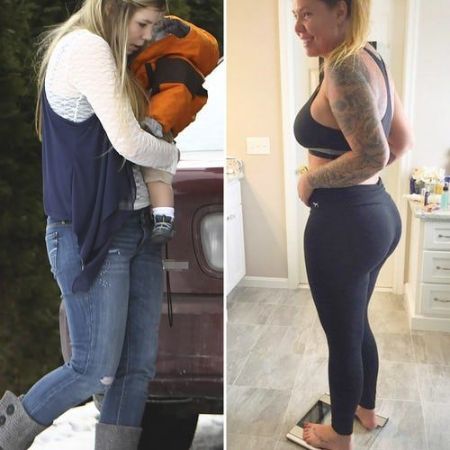 Before and after pictures of Lowry, getting butt lift.
Source: Intouchweekly
The beauty put her faith in remarkable and known Dr. Miami for her surgery. Unlike other actress who doesn't like to disclose this sensitive news, Lowry opened up about her surgery in her book named 'Hustle and Heart.'
The beautiful celebrity poured her heart out by saying how she struggled with an eating disorder while being self-conscious about her weight.
Breast Implants
Well, there's no confirmed news regarding the lady's breasts, whether it be by her or her plastic surgeons. It's quite a thought-provoking topic.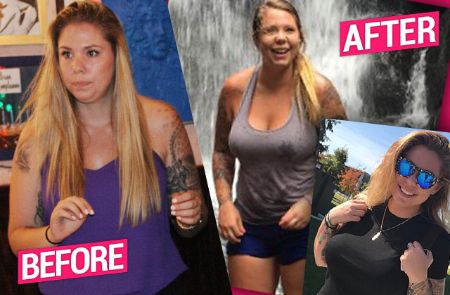 There's no serious proof regarding Kailyn getting breast implants except her before and after pictures.
Source: Radar online
There are fans constantly wondering if Kailyn got breast augmentation. Her posts are leading to numerous gossips regarding the matter.
Went to Miami for Liposuction & Boob Job
Lowery exclusively told her Twitter fans in January 2018, about her decision to get a new plastic surgery. She wanted to get a boob job and liposuction as well.
Miami vacation of the Teen Mom with her three kids.
Source: The Stir Cafemom
The drama queen flew to Miami for her beauty alterations from celebrity doctor Michael Salzhauer but backed out at the last minute. She later explained why she decided not to get plastic surgery via Twitter.
"I won't lie to y'all, I came to Miami for lipo & a boob job. But hours before my surgery I decided I don't want to go through with it," she wrote in a tweet. "When I get home I'll use the money I was gonna spend on surgery for a nutritionist & get back into working out."
Clearly, the latter part of that tweet is now missing, leading to weird questions being asked around.
Tune in to Glamour Fame more of these interesting news related to Entertainment, Lifestyle, Beauty.
-->