Meet Lady Gaga's New Boyfriend, Michael Polansky; Facts about the Investor
Published Wed Feb 05 2020 By Sea
Las Vegas apparently has been Lady Gaga's favorite place to be dating these days. And things seem to be moving faster than usual for her with her new beau.
After coming out of the Hard Rock Stadium in Miami together following Kansas City Chiefs' win over the San Francisco 49ers in Super Bowl LIV, there was nothing that could stop her from denying she's got a new man in her life.
So, to put things to rest, the 'Born This Way' singer posted an intimate photo of the two hanging out on a boat in Miami on Instagram. Now, everyone's gushing over the new man, identified as CEO and founder of the 'Parker Group', Michael Polansky (our apologies for calling him by 'Michael Polanski' in our earlier post).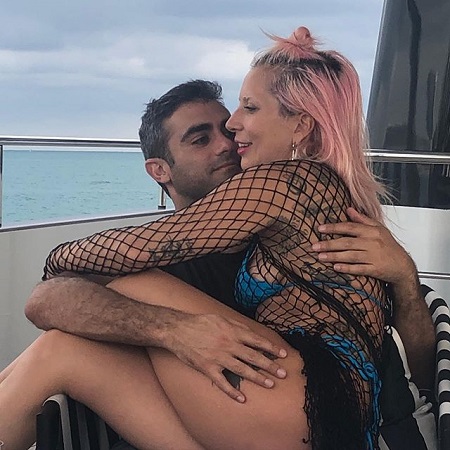 Captioned, "We had so much fun in Miami. Love to all my little monsters and fans, you're the best!"
Source: Lady Gaga, Instagram
First thing's first, how the relationship went down.
Five Weeks Ago, People Were Wondering Who the Guy Kissing Lady Gaga Was
The first time the public saw Lady Gaga and Michael Polansky was at a New Year's Eve party at Park MGM in Las Vegas. The singer gave a memorable performance inside the Park Theater and then went to the NoMad Restaurant for more.
The very night, she was seen and photographed kissing the guy just before the clock struck midnight, after spending the evening at the Bavette's Steakhouse & Bar. And despite the invasion of privacy, Gaga has no problems showing off more PDA with her new boyfriend.
It was the perfect way for the two to start the New Year. At the time, only his first name was known as Michael. They left the concert venue holding hands together.
Then More PDA
Ahead of her performance at the AT&T TV Super Saturday Night show on February 1, Gaga was seen getting really cozy and planting a kiss on her beau on the balcony of a Miami hotel. Page Six released the photos of the two just chilling out.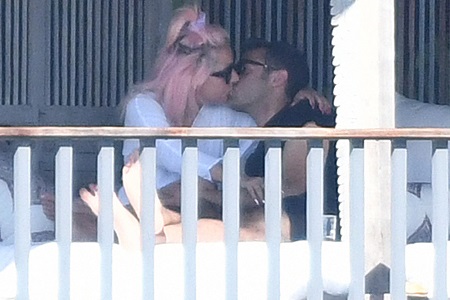 It's like they were posing for the photographs.
Source: MEGA
During the performance, Polansky was seen talking with her mother, Cynthia Germanotta, on a VIP balcony at the Meridian at Island Gardens. It was confirmed by then that his name was Michael Polansky.
Recommended: The Untold Love Story of Edward Norton and Wife Shauna Robertson
Then, ahead of her pre-Super Bowl concert, they were again photographed kissing on the balcony of Gaga's rental Miami mansion. Guess, balcony's their "spot". Then came the boat ride.
How They Met and Hit It Off
While it hasn't been long that people started seeing Lady Gaga and the philanthropist together, they did bond quite some time ago. It was reportedly Polansky's business associate, Sean Parker, who was the medium for the two meeting each other.
'Parker Group' is the umbrella organization of Facebook Co-Founder Parker's, which runs his businesses and charitable endeavors. During one of the events at his mansion for his self-titled foundation, the two love-birds apparently met.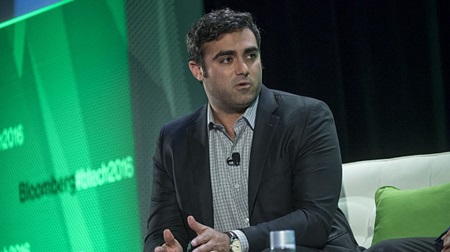 Polansky's worked with Parker for over a decade.
Source: David Paul Morris/Bloomberg via Getty Images
The two might've hit it off right away as they met again during Parker's birthday party in December. Since then, the two haven't been able to keep their hands off of each other.
Entertaining: Story of Heidi Klum's Daughter Helene Boshoven Samuel
"Michael is a really smart guy, a very serious guy, who has always been low key," a source claimed. "People are saying Gaga would have met him through events Sean Parker has hosted at his house, including the launch and other events for the foundation. Sean also had a party for his birthday in LA in December and both Gaga and Michael were there."
Michael Polansky's Profile: He's a Harvard Graduate
It's not the rumor-mill as much as it is his LinkedIn profile, but Michael Polanski graduated in Applied Mathematics and Computer Science from Harvard University in 2006. After graduation, he worked for Ray Dalio's Bridgewater Group as an Investment Associate.
Polansky is a Harvard Graduate.
Source: Michael Polansky, LinkedIn
Polansky then acted as the principal of the Founders Fund and became a board member at Wishbone.org in 2010. He later also was a board member of Brigade.
More Connections with Sean Parker
While at Founders Fund, Polansky worked with Parker and Peter Thiel, but he'd already become the CEO of the Parker Group in 2009. He'd apparently been working with Parker since 2008 to build a large portfolio of private technology companies across the internet, life sciences, and advanced technology.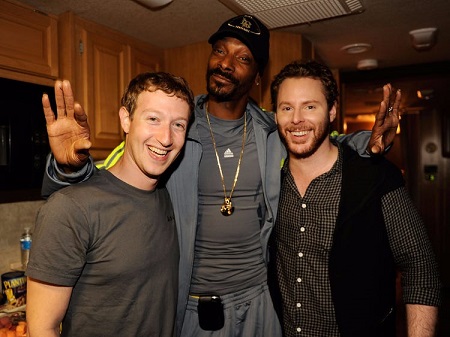 Sean Parker (right) is the co-founder of Facebook and a partner of Polansky.
Source: Kevin Mazy, WireImage/Getty Images
In 2013, he co-founded 'Able', as well as the 'Economic Innovation Group (EIG)', a bipartisan public policy organization. In 2015, he helped Parker co-found and launch the Parker Foundation. It's a $600,000 private philanthropy vehicle that was originally formed in 2010.
Find Out: Who Is Kiernan Shipka Really Dating?
A year later, Polansky co-founded the Parker Institute for Cancer Immunotherapy, a collaboration between the country's leading immunologists and cancer centers.
Stay tuned and connected to GlamourFame for more Entertainment content. Keep checking out for more.
-->