People are Calling Kaitlan Collins a "Hypocrite" for Removing Her Mask!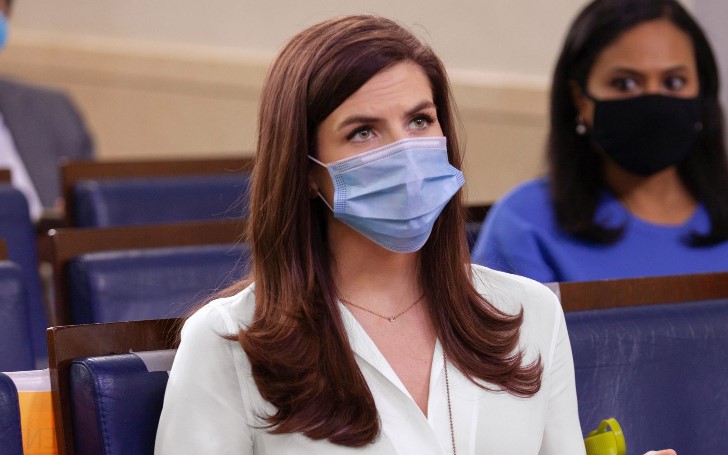 Kaitlan Collins' adds one more to her lists of controversies; this time, she is in trouble for removing her mask, but there's a twist as well. Stay tuned to know.
Kaitlan Collins (born Kaitlan L Collins) is an American journalist who is better known for her position as White House Correspondent for CNN. Prior to working with CNN, Kaitlan used to work for a website, "The Daily Caller."
The Daily Caller is the website co-founded by Tucker Carlson; however, Tucker sold all his ownership stake from the company this year. Coming back to Kaitlan, the 28-year-old served a fair share of her time reporting for the website.
Collins' who joined 'The Daily Caller' in 2014 as an entertainment reporter, was promoted as White House correspondent the following year she joined the media outlet.
After serving nearly about three years on her previous company, she left 'The Daily Caller' in 2017 and joined CNN in the same post, a White House Correspondent. Since then, we all know Kaitlan, as she is so frequent on our television screen.
Also, See: Who is Jason Lata? Some Facts to Know About the Alleged Assaulter
Moreover, she was traveled a little around a dozen countries with President Donald Trump. But as we all know, from the Spiderman movies, of course, with great power comes great responsibility;
When you are famous, every detail, big or small, are capable of making news. So, we should be cautious with our words, especially. But for Kaitlan, that part has been missing a little. She has come under fire time and again for her action and words, and this time, it's all about the mask.
Kaitlan Collins Bashed President Donald Trump For Removing His Mask
Well, if you are here, we assume you know the latest development on this story. Indeed, you guessed it right. A few hours earlier (For people who are reading it in a future, the date was October 5, 2020), Kaitlan tried to bash Donald Trump for not wearing his "MASK."
The journalist took to her Twitter to tweet "how insensitive it was for the president to not wear a mask even after testing positive for the coronavirus."
Certainly, it was a big issue, the guidelines for social distancing and wearing a mask are for everyone to follow during this time of the pandemic, and it applies to the president as well, and top of that, Donald tested positive for the coronavirus!
Also Read: SNL Season 46 Premiere: Chris Rock's Trump Joke Infuriates Donald's Supporters
Kaitlan on her post wrote,
"Only days into his diagnosis, the first thing President Trump does when he gets back to the White House is takes his mask off."
Whatever Kaitlan said or wrote makes sense, but why are people are calling her a hypocrite. Well, Collins is under fire because some people dug real good to find out Kaitlan Collins' is not much of guidelines following citizen herself.
Kaitlan Collins Removed Her Mask as Well
Following her tweet, her replies are filled with videos and photos where she was caught removing her mask when she taught the cameras were off after the recent White House briefing, all during the presence of other people.
Her tweet is filled with replies, where people are slamming her for slamming maskless Trump but not following the safety protocols herself.
Kaitlan Collins did a oopsie!
Here's what people are saying. One Twitter user wrote,
"Hey Kaitlan, it seems you pull your mask off when the cameras stop rolling. Is that just raw hypocrisy on your part, or liberal virtue signaling? Or both? #FakeNews #Hypocrisy"
Another one noted,
"You are without a shadow of a doubt, the Karen of all Karen's. A pic of you is literally in the dictionary beside the word Karen. Get a life moron."
Well, someone is real mad!
Indeed, Kaitlan has been labeled 'Karen' following the incident. Here's what another Twitter user wrote,
"[Kaitlan Collins] wins the Karen of the year 2020 award 😷 except when that fraud is busted taking off her own mask in a closed press room. She should lose her credentials. Fake media."
You May Also Like: How Much Kaitlan Collins Earn on CNN? A Brief Overview Of Her Salary and Net Worth
For more information on your favorite celebrities' and lifestyle, stay tuned to Glamour Fame, and don't forget to sign up for the newsletter.
-->