Kardashians Slammed For Promoting Weight-Loss Shake
Published Mon Jan 07 2019 By Tess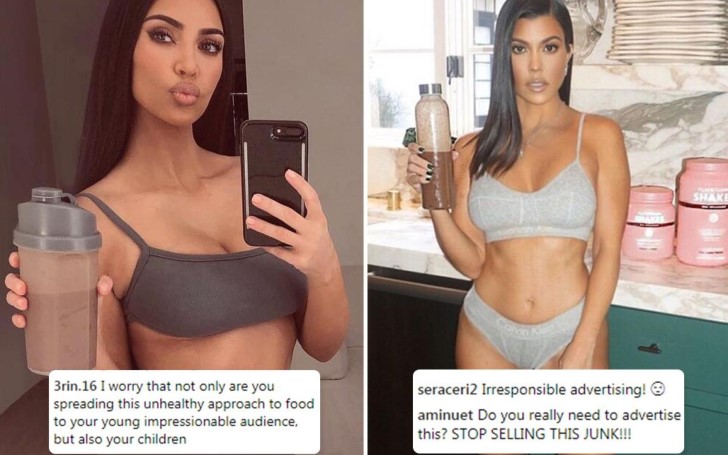 Kim and Kourtney Kardashian leave fans fuming with their new Instagram post.
Kardashians' recent post on Instagram garnered a ton of backlash from the fans and fellow celebrities. The Kardashian sisters are subjected to frequent controversies and backlash time and often. Apparently, their latest Instagram post promoting meal replacement shake further managed to infuriate and disappoint their fans.
On Wednesday, Kim Kardashian and Kourtney Kardashian posted a picture showcasing their flat stomach on each of their Instagram accounts. At the first glance which looked like a usual selfie of the camera-obsessed stars was, in fact, the promotion of supposed meal replacing brand of shakes, Flat Tummy Co.
Posing in activewear, holding the shake in one hand Kim Kardashian claimed she was taking the weight-loss product to give her a kick in the right direction after Christmas.
"These meal replacement shakes are so good and they're helping me get my tummy back to flat. I'm already feeling amazing and I'm so excited for the next few weeks."
"Because they're all about getting women back on track … they've got a 20 per cent off sale going on right now, so if you want to start 2019 off right … trust me, you're going to want to check them out."
But her fans weren't keen on trying the product instead it infuriated them earning her more than 17,000 negative remarks.
The criticism, however, didn't deter the promotion. Furthermore, Kourtney Kardashian went ahead to post yet another similar photo with the product within an hour after Kim's post which also equally managed to garner harsh criticisms.
You may also like: Khloe Kardashian and Boyfriend Tristan Thompson Relationship Timeline
Recently, Kardashians are actively promoting the meal replacing shakes of Flat Tummy Co.
Similarly, Khloe Kardashian also promoted meal replacement shakes to her followers. As it came just days after claiming she didn't want people to idolize her recent weight-loss her fans took it as a shock pointing out the inconsistencies in the 33-year-old's message and argued that her 76 million followers deserve more from her.
Read more: Khloe Kardashian Kissing Boyfriend Tristan Thompson To Welcome 2019 on Midnight of New Year's Eve
Along with the daughters, their mother Kris Kardashian was also spotted advertising the shake on her Instagram post earlier this week.
Their posts outraged numerous fans who claim the posts are dishonest and misleading and can have the wrong impression on people who look up to them for inspiration.
Moreover, one of the furious commentators also questioned whether they would give it to their children as a meal supplement.
This isn't the first time the Kardashians faced backlash for promoting the brand's product. Earlier this year, Kim Kardashian was forced to delete a post advertising the brand's appetite-suppressant lollipops after facing harsh criticisms from her fans and fellow celebrities.
Also read: Drake Unfollowed Kim Kardashian's Instagram After Kanye West Called Him Out
Jameela Jamil was among the stars who lashed out, with the presenter branding Kim "terrible and toxic".
Currently, The Good Place star Jameela Jamil is leading criticisms against celebrities promoting weight-loss products on social media.
-->