Here's Everything You Should Know About Kate Silverton's Weight Loss in 2020!
Here's what you should know about Kate Silverton's weight loss in 2020.
Kate Silverton is an English journalist who is known for her stint on BBC. Kate works as a leading and relief presenter for the network and often is seen presenting shows like 'BBC News at One,' 'BBC News at Six,' 'BBC News at Ten,' and 'BBC Weekend News.'
Silverton is the current Deputy Presenter of the BBC News at One and also makes occasional appearances on the BBC News channel and World News.
Well, it wouldn't be wrong if we say there's another reason for her popularity. We agree entirely she is excellent in her work, but the broadcaster came into prominence for her appearance on celebrity dance competition reality show, 'Strictly Come Dancing.'
Not only got fame for her appearance on the show, but it worked like a charm for her health as well. The news presenter shocked the world with her impressive body transformation following the show.
Also Read: Mark Wahlberg Weight Loss - Learn the Secret to His Diet!
Silverton dropped two dress sizes following the show, let's find out how she lost weight.
Kate Silverton's Weight Loss in 2020
Whatever we are going to cover here is not entirely from the year 2020, but still, we thought it's important to mention what led to Kate Silverton's impressive weight loss. We have some updates from this year as well, but let's know what happened in 2018.
Kate Silverton with her two kids, daughter, Clemency, and son, Wilbur.
Photo Source: Agency/GF
As we suppose, everyone is aware of the fact that Kate was one of the contestants on 'Strictly Come Dancing' in 2018. And the news presenter revealed the show helped her get back to her pre-baby weight after dropping two dress sizes.
Kate seemed elated to find herself fitting in her old clothes following the weight loss. Silverton, while talking with The Sun, recalled she even surprised her husband by getting into the wedding dress she wore on their big day, which was ten years ago.
Also Read: Melissa McCarthy Weight Loss - Learn the Total Pounds She Shed and the Secret to Her Diet!
Here's what Kate said,
"My pre-baby weight, really. I'm absolutely thrilled. I feel like I've won already. We've had such a good time. I don't want it to end at all."
How Did Kate Silverton Lose Weight?
We all know the "Strict" training the contestants of "Strictly Come Dancing" have to go through. But the way Kate Silverton explained her experience on the show put everything on the perspective.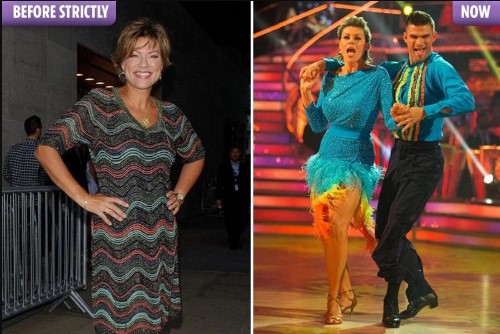 Kate with her dance partner, Alijaz. The change is impressive following the show.
Photo Source: Agency/GF
Kate, who revealed she is back on her pre-baby weight, said,
"I think I've lost a stone already [during the show]; it's the [Alijaz Skorjanec] school of weight loss. And my husband is pleased about that; I feel liberated too! I was looking at my thighs today, and I'm getting so much definition."
According to the reports, Alijaz is one of the most talented pros on the show, is known for his hardcore training session. As Kate puts it, 'it's the school of Alijaz school of weight loss,' so you can pretty much imagine how hardcore the training must be for Kate.
You May Also Like: Ruben Studdard Weight Loss - The Complete Details
For more information on your favorite celebrities' lifestyle and health, stay tuned to Glamour Fame, and don't forget to sign up for the newsletter.
-->