Katy Kellner Net Worth - How Rich is the Fitness Coach?
Katy Kellner is a name gone famous after her rocky love affair with ex NFL player Shannon Sharpe who is a co-host of American sports talk show 'Skip and Shannon: Undisputed' on Fox Sports.
Kellner and Sharpe's relation was in public attention after they publicly announced their engagement in the media. However, the marriage was later called off due to personal reasons. As of now, there is no explanation for the sudden news. Though fans do speculate the reason as Sharpe's fiance getting pregnant by another man named Marlon Byrd just as they announced the wedding.
Besides all the rumor and drama, Katy is an American educationist and a fitness coach in Float Fitness Studio and also the senior master instructor at the cycle bar. Initially, she started out her career as a subject tutor at the County Public School and later on followed her passion for fitness.
A Little About Katy Kellner
The buff lady likes to remain tight-lipped about her social as well as private life. However, we do know that Kellner was born in the year 1981 to her parents in Atlanta, where she spent most of her childhood.
Katy Kellner was a teacher for 10 years before she followed her passion of fitness.
Photo Source: Foto Log
The beautiful trainer is a student from Elmhurst College, where she studied got herself an Arts degree. After the completion of Bachelor Katy went on to obtain her Master's degree from Troy University in Alabama in Instructional Technology. Due to her completion of studies, she moved back to Atlanta and became a teacher in Fulton Public School for about ten years.
Katy Kellner's Relation Status Quo
Katy first met her ex-fiance, Shannon Sharpe, in 2013 in the Thousand Oaks Gym. The pair got close through their mutual love for gymming. Eventually, after a couple of brief dates, the couple indulged themselves into a full-blown romance. They dated for about two and a half years when they made things official and got engaged in 2016.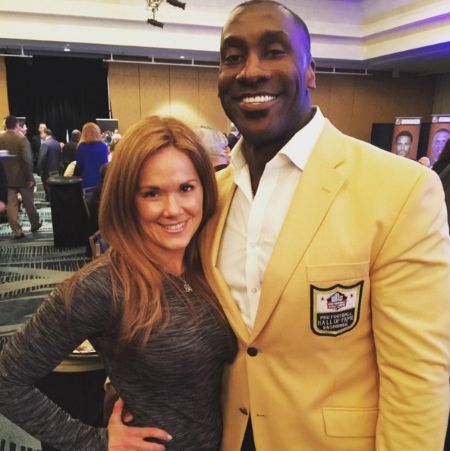 Katy and Shannon dated from 2013 and ended their relation after engagement.
Photo Source: Sports Gossip
The blissful couple were enjoying the time of their lives when things went sour in 2017. The 'it' couple announced their break and went separate ways. For which no one knew the reason to. It was like before a week they were lovey-dovey and the next thing we know, there's break-up news.
You May Also Like: Former NFL Star Shannon Sharpe - Full Details of His Relationship History!
Adding fuel to the fire, intentionally or not, we saw Kellner posting a picture with her swelled baby bump. It was natural for people to assume the kid was Shannon's, however major shock of the day was when the news surfaced that it was actually Marlon Byrd's. The newfound couple Byrd and Kellner announced the birth of their kid Jayden in December 2018.
Katy Kellner's Net Worth
We know full well that Kellner was previously a teacher for ten years. Her salary didn't really contribute much to her net worth, which is perhaps why she decided to pursue her own passion.
Katy Kellner is the holder of a million dollar net worth as of 2020.
Photo Source: Twitter
Katy is now the regional director of Flywheel sports and also partially owns the Thousand Oaks Gym alongside her partner and baby's father, Marlon Byrd. Through our speculations, we can say that the fitness lover's net worth is a staggering $1 million as of 2020.
Also See: Shannon Sharpe Net Worth - Grab Full Details of His Wealth
For similar content, do follow and subscribe to the newsletter of Glamour Fame.
-->