Shannon Sharpe Net Worth - Grab Full Details of His Wealth
Published Wed Dec 25 2019 By Matthew
Shannon Sharpe, named one of the greatest tight ends during his time, is now the co-host of the American sports talk show 'Skip and Shannon: Undisputed' on Fox Sports. Born on June 26, 1968, in Glennville, Georgia, brother of Sterling Sharpe, Shannon played twelve seasons for the Denver Broncos and two seasons for the Baltimore Ravens, winning three Super Bowls during his career.
Watch: Skip Bayless reacts to Dallas Cowboys' Week 16 loss to the Philadelphia Eagles | NFL | UNDISPUTED
The former NFL analyst for CBS Sports grew up poor in his hometown of Glennville before going on to become one of the most notable players in the NFL history. As far as NFL player rags to riches stories go, Sharpe probably has the most influential one. As the first tight end ever to amass over 10,000 receiving yards, he was inducted into the Pro Football Hall of Fame on August 6, 2011. With such a fantastic football and TV career, how much exactly is his net worth today?
Shannon Sharpe's Astonishing $24 Million Net Worth
The 51 years old former tight end Shannon Sharpe's net worth is estimated to be around $24 million.
Shannon Sharpe holds the net worth of $24 million.
Source: The Sports Daily
Shannon, however, is yet to give out any official information regarding his asset level.
Also See: Former NFL Star Shannon Sharpe - Full Details of His Relationship History!
Compared to other retired NFL players, it's safe to say that Shannon has acquired quite a comfortable position financially. His $24 million fortune is the result of 14 incredible seasons of NFL and TV personality career.
14 Seasons of NFL Career
Shannon Sharpe spent 13 years of his life playing 14 seasons of National Football League as a part of Denver Broncos and Baltimore Ravens.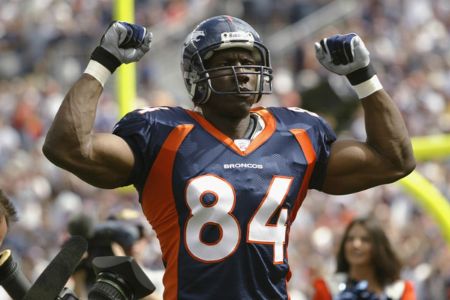 Shannon Sharpe spent 12 years playing for Denver Broncos.
Source: Mile High Report
As reported by The New York Times on July 17, 1997, Shannon was re-signed by Denver Broncos with a three-year contract worth $7.2 million, making him the highest-paid tight end of that time. His base salary in 1996 was $1.35 million.
Also See: Shannon Sharpe's Ex Wife-To-Be Katy Kellner - When did They Split Up?
Departing from the Broncos in 2000 for a short time, Sharpe was coaxed into joining Baltimore Ravens. ESPN reported on February 21, 2000, that the former player signed a four-year, $13.8 million contract with a $4.5 million signing bonus. He, however, returned to Denver Broncos after two years without completing his deal with Baltimore.
New Contract With Fox Sports
Shannon's NFL career is a ship that sailed a long time ago. The former Broncos tight end is now a popular TV personality appearing beside Skip Bayless in the Fox Sport's 'Skip and Shannon: Undisputed.' Sharpe was working without a formal contract with Fox Sports after his previous contract expired back in July 2019.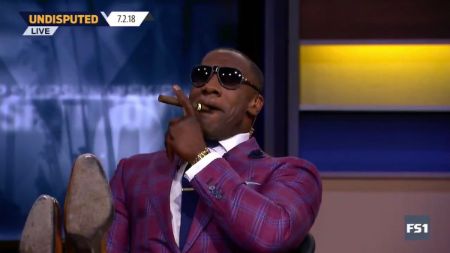 Shannon Sharpe is the co-host of Fox Sport's 'Skip and Shannon: Undisputed
Source: Twitter
The co-host must've taken in a long breath after he found out that he would be signing a new contract with Fox on September 27. A multi-year extension was drafted and signed, but the financial details of the agreement were not revealed. As for Skip Bayless, Sharpe's partner was reported to have a $5.5 million earning annually, according to Richard Deitsch of The Athletic.
Also See: Does Sterling Sharpe Have a Wife? Learn Details of His Romantic Life and Daughter
From a tight end player to a TV personality, Shannon Sharpe has made quite a smooth transition between careers. As a triumphant TV star, Shannon's wealth shows no signs of lowering down any time soon.
For more celebrity net worth, visit the entertainment section over at Glamour Fame.
-->