Sean Gilmartin - Some Facts to Know About the American Pro Baseball Pitcher and Kayleigh McEnany's Husband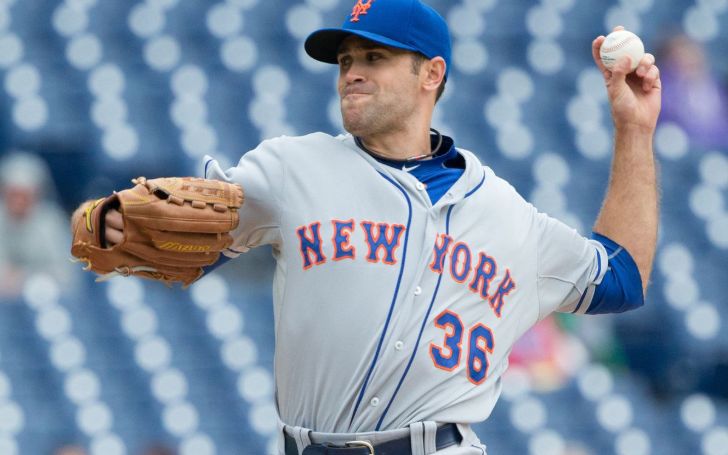 Sean Patrick Gilmartin is an American professional baseball pitcher for the Tampa Bay Rays. He was previously known for playing in Major League Baseball (MLB) alongside internationally recognized teams like New York Mets and the Baltimore Orioles.
Gilmartin gained popularity for his killer abilities on the pitch by playing for the Tampa Bay Rays. Before that, he was the 28th overall selection for the 2011 MLB Draft by the Atlanta Braves. Sean is not only famous for his exceptional baseball career, but he's also renowned through his wife Kayleigh McEnany, who is a White House Press Secretary. Yup, you heard that right. So, today we discover some of the similar interesting facts about the pro baseball pitcher, Sean Gilmartin.
Sean Gilmartin Rejected Offer From San Diego, 2008 MLB Draft At The Start of His Career
The pro athlete was born in Moorpark, California, on May 08, 1990. He was brought into the world by father, Paul J., who is a chiropractor and mother, JoAnna Gilmartin. In his early years, Sean attended the Crespi Carmelite High School, located in Encino, California.
Sean throws a fastball, changeup, curveball and occasional slider on the pitch.
Photo Source: Sports Yahoo
Gilmartin found his breakthrough opportunity right after high school when he was selected from the San Diego Padres in the 31st round of 2008 Major League Baseball Draft. However, that's not what happened as our player rejected the offer from San Diego in order to further his study in college.
You May Also Like: How Did the Young Girl Charlotte Figi Inspire CBD Movement? Her Story in Full!
Fresh out of high school, Gilmartin then attended the Florida State University in 2009, with a hefty scholarship in college baseball for the Florida State Seminoles baseball team. If we look it this way, rejected San Diego was a win-win situation for Sean as he got his scholarship while still getting to play.
Gilmartin Career Into Six Different Professional Baseball Teams
Sean made his MLB debut through the New York Mets back on April 20, 2015. His first game was against the Braves, which ended at a 5-3 loss. After that, the athlete made his primary Major League stat by throwing five innings against the Phillies team. Before his MLB debut, he was drafted by the Atlanta Bravers.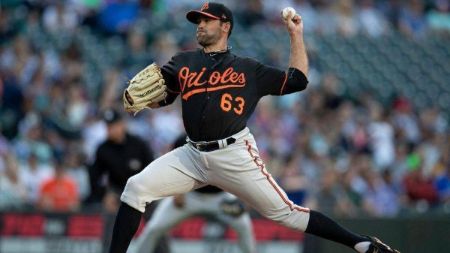 Sean Gilmartin is currently signed with Tampa Bay Rays.
Photo Source: Baltimore Sun
Gilmartin signed the deal while receiving a massive $1,134,000, as a signing bonus. After that, he went to the Minnesota Twins on December 18, 2013. In that period he pitched for teams like New Britain Rock Cats, and Rochester Red Wings in 2014.Then came New York Mets, which led the player to the World Series in 2015, however on June 11, 2017, again, he was claimed off waivers by the St. Louis Cardinals and released on July 02, 2018.
Also See: Lindsay Hubbard Boyfriend - Is the TV Personality Dating Anyone
Finally, in 2018 the baseball player signed a minor league deal with the Baltimore Orioles, which he left for the Tampa Bay Rays. Sean's latest agreement with them was signed on February 08, 2020.
Sean Gilmartin Married Life With White House Press Secretary, Kayleigh McEnany
Coming to Sean's personal life, he is married to the beautiful blonde, Kayleigh McEnany. The power couple started their dating journey when Sean was still a rookie with the New York Mets in 2015. After two years of courtship, the pair made things official on November 18, 2017.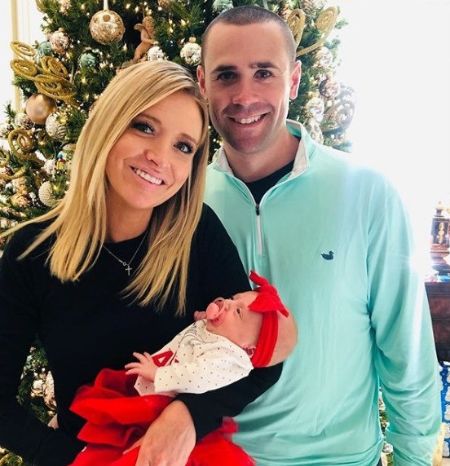 Kayleigh and Sean with their baby Blake.
Photo Source: The Sun
Both the husband and wife tweeted the news on Twitter and shared the lovely pictures of the day. The pair welcomed their firstborn together on November 25, 2019, named Blake Avery Gilmartin. With both of the parents busy with their careers, they juggle between their daughter and their married life.
Interesting: Evelyn Penn Willis - Some Facts to Know About Bruce Willis Daughter
Hope you enjoyed the article and for more of these content sign into Glamour Fame.
-->