Kelly Clarkson's New Music Video for 'Broken & Beautiful' Features Her Daughter River Rose
Published Fri Apr 26 2019 By Eden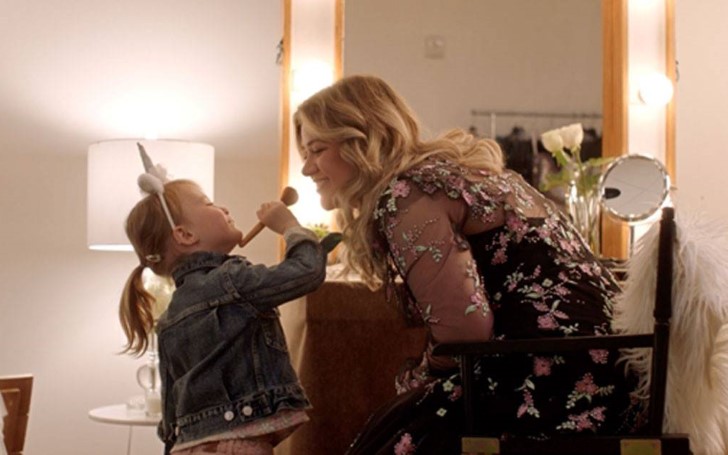 Kelly Clarkson's daughter stars in her mom's latest music video!
Clarkson's latest song from Atlantic Records for the upcoming film, UglyDolls, dropped the music video for "Broken & Beautiful" on Thursday. The video for the empowering, peppy anthem is a fun mix of live action and custom animation. It features Clarkson's eldest child, River Rose along with some very special guests - the UglyDolls themselves.
The music video shows Clarkson's adorable 4-year-old child watching her mother getting ready to perform. Clarkson is seen belting out the powerful lyrics wearing a stunning black gown with floral detailing while her daughter River Rose helps her mom with her makeup, and the two share a dance.
You Might Like: Kelly Clarkson Was Mistaken For A Seat-Filler At The 2019 Academy of Country Music Awards
Meanwhile, Moxy - the UglyDoll Clarkson voices in the flick, attempts to sneak into the venue and River Rose even spots her.
Moxy eventually joins other UglyDolls by making it to the stage where one of them is made to look like DJ Marshmello, who co-produced the track. In amidst this, River Rose looks on proudly as her mom performs, sporting a jean jacket, pink pants, and silver shoes.
Clarkson is scheduled to perform the song live when she hosts the Billboard Music Awards on Wednesday, May 1.
Watch: Kelly Clarkson - Broken & Beautiful (Produced by Marshmello & Steve Mac) [Official Music Video]
Speaking to ET's Kevin Frazier, Clarkson joked about landing the leading role in UglyDolls. She said, "My whole life, I've wanted to do a princess' voice, and I was like, 'Of course, I get UglyDolls.' But, like, it's awesome."
"It definitely brought out the musical theater kid in me," she added.
Also See: Is Khloe Kardashian Still Obsessing Over Tristan Thompson?
The singer also hilariously opened up about how her kids are no longer in awe of her success. "They do not care anymore. They're not impressed," she said. Kelly then revealed that River Rose even offered up a brutal critique at one of her recent rehearsals.
"I wasn't singing full out because it's, like, three days in a row and then we have four days in a row for the show, so I was holding back," she explained. "She was like, 'Mommy, you know when you're on stage and you were singing?' And I was like, 'Yeah, baby.' I was thinking like a compliment was about to come. She was like, 'Yeah, I was really bored.'"
"I was like, 'Oh. Damn. ... Well, that was sweet honey. Maybe don't tell people that when they get off stage,'" Clarkson recalled. "But they don't care, they're over it. They see it all the time."
Also Read: Selena Gomez Attended Her First Red Carpet Event In 10 months
The UglyDolls Original Motion Picture Soundtrack debuts on Friday while the movie hits theaters on May 3.
-->