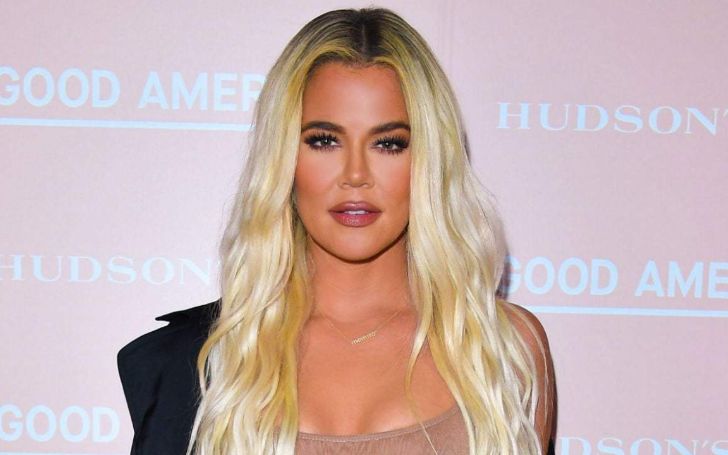 Check out the fascinating wardrobe collection of Khloe Kardashian.
Kardashian sisters the name which matches us to imagine their luxurious filled lifestyle with expensive dresses and toys. Our wardrobe wouldn't be complete without listing Khloé Kardashian on the list.
So here we present you with all the fab Khloe Kardashian wardrobe collection starting with her latest trends,
Khloe Kardashian Style - Denim Jumpsuit and Printed Sneakers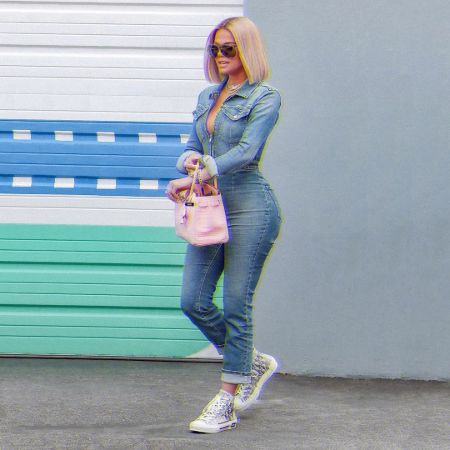 Kill you with the vibes.
Image Source: Instagram
The glam fam recently caught everyone's eyes leaving the studio in a casual yet attractive fashion in a golden bob cut hair.
Khloe opted for Denim jumpsuit, a cool pair of Christian Dior B- 23 High Top Sneakers converse which costs $1,180 (Buy Here) - too expensive from the budget, you can buy similar type substitute Converse Chuck for $85 USD on Amazon for and completed the looks with Porsche P8478 Sunglasses at Amazon for $399. (Buy Here)
Accessorized it all to find the perfect style.
Image Source: SHR
Coming on the feature of the denim jumpsuit features a front zipper closure with long sleeves, collar, with pockets on the chest side and back pockets. The dress is made up of 72% Cotton, 11% Modal, 7% Recycled Cotton, 9% Elasterel- P, and 1% Elastane.
Check Out: Check Out the Wardrobe Collection of Kim Kardashian
When it comes to the price tag, the Good American's denim jumpsuit is available at the price of $179. (Buy Here).
Khloe's Puffer Coat, Black Leggings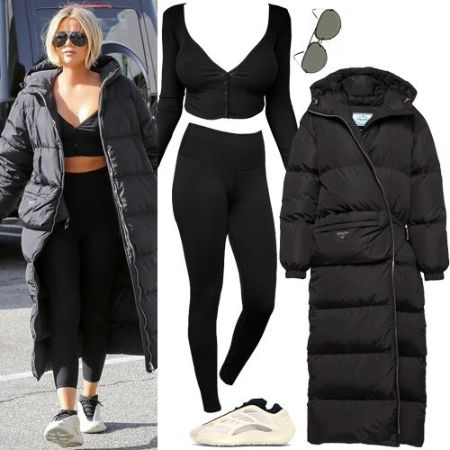 Black is never a bad choice.
Image Source: Dressmeup
Khloe headed out with the urban looks while filming out in Woodland Hills. Talking about the dress first, Khloe was on the Good Waist Seamless Legging which is available at the price of $79 (Buy Here).
The 35 years old model wore it with matching Staple & Hue Ivy Cardi which sprinkled sexiness to the combination. Coming at the crop inner designs, it features full sleeves with 'V' Neck designs with buttons on the middle with Adidas Yeezy 700 V3 Azael at $515. (Buy Here)
Recommended: Check Out Coco Draya Owner/Designer Draya Michele Wardrobe Collection
It's available at a price of $89. (Buy Here). Adding more vogue, the KUWTK star embraced it with a Porsche Design Titanium Sunglasses which costs $399. (Buy Here), too expensive! - we've got a similar design at a cheap price of $10 - Buy.
Black Jumpsuit with Lace-Up Boots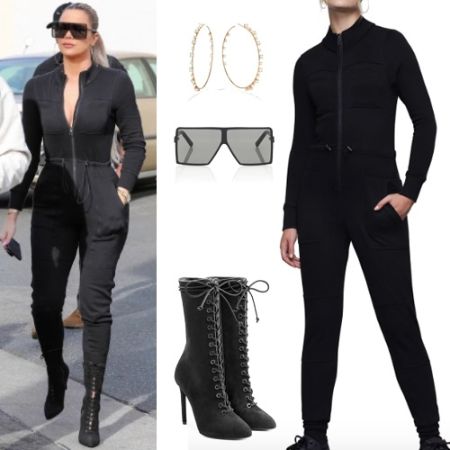 Bold Looks.
Image Source: Steal her Style
Coming on to the other collections, the KUWTK star rocked the military type solid look while heading out to Follow Your Heart Cafe.
Khloe rocked her looks wearing Good American Good Fleece Cozy Jumpsuit which features front zip closing. The best part about the dress is its flexibility. You can get the jumpsuit at $139. (Buy Here).
Find Out: Stylish Supermodel Kendall Jenner Wardrobe Collection
Similarly, Khloe added charm to the dress with Yeezy Lace-up Suede Boots, which is currently out of stock. Might be good news, as saved a lot of money; anyway here we've brought you a similar type of boot, however, at a cheap price of just $27. (Buy Here)
Pinstripe Jacket and Skirt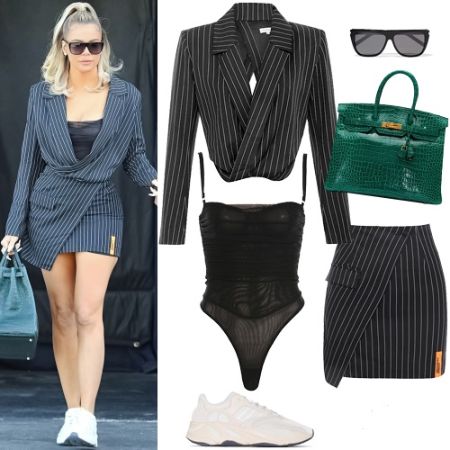 My Sassy Girl!
Image Source: Dressupme
Khloe wore the sexy classic turned urban dress while leaving the studio in Calabasas. The unique fusion of classic coat tuned one-piece type dress is the dress you can wear for formal parties to some lavish gettogether.
Khloe opted for the dress while leaving the studio in Calabasas wearing a 'Dictate Pinstripe Draped Jacket' with a classic dress fabric with a pencil skirt. The draped jacket is available at a price of £59.00. (Buy Here). Similarly, the matching mini skirt from Believer is available at £45.00. (Buy Here).
Don't Miss: A Tour at Kylie Jenner's Arresting Wardrobe Collection & Fashion Trends
Similarly, she added more charm with Saint Laurent D-Frame style Sunglasses ($355.00) and yeah another Yeezy 700 Sneakers ($285.00).
We hope you enjoyed the article, stay tuned with Glamour Fame to find more Celebrity Wardrobe collection.
-->