Check out Stylish Supermodel Kendall Jenner Wardrobe Collection
Published Sun May 10 2020 By Chester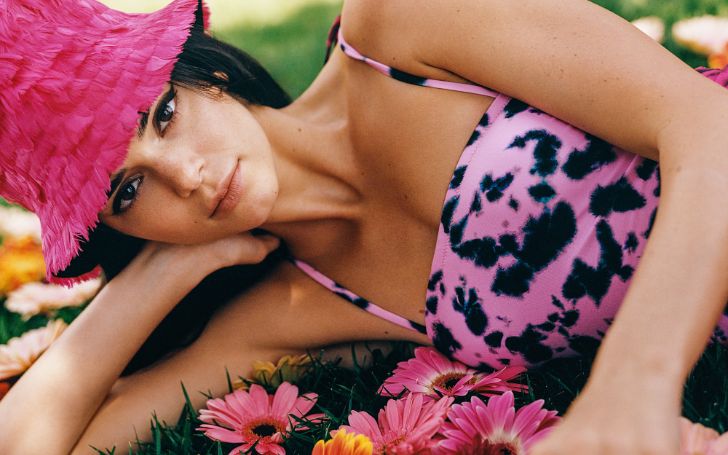 Check out the lavish yet stylish wardrobe collection of Kendall Jenner.
We all've been stunned and fan of Kendall Jenner's stylish getups, amazing wardrobe choices, which is also one of the reasons Kendall was selected as the world top-notch modeling agency victoria secret.
So we can't resist but cover her wardrobe choice of the stylish Kardashian Sister who are known for their fashion and styles. Before we proceed we would like you to check on some of the wardrobe choices we've covered to date, starting with stylist sister Kylie Jenner's arresting wardrobe, fashion model and Jenner's BFF StassieBaby, fashion house Coco Draya owner/designer Draya Michele, and the stunning and voguish fashion influencer Alexis Ren wardrobe.
Kendall Jenner Birthday Party Dress Shinning Silver Sequin Dresses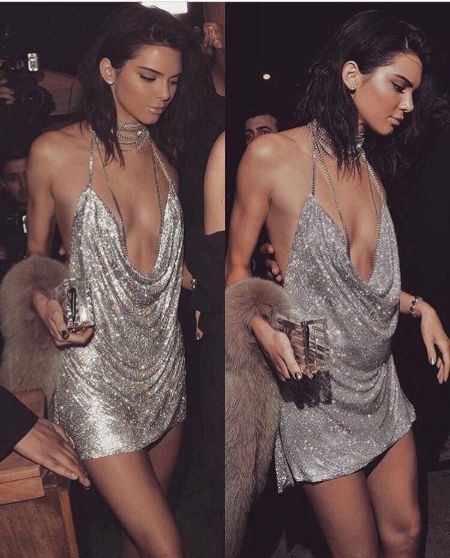 Shine on you crazy diamond.
Image Source: Daily Mail
If you are a Kardashian fan then you might have seen the Kardashian sisters wearing the shiny silver sequin dress on numerous occasions. And Kendall too rocked the attire while attending her 21st birthday party.
Well, the dress is quite popular amongst celebrities as it has also been seen on Miley Cyrus' 'Slide Away' music video which she released after he split with Liam Hemsworth.
Backless Mini Vestidos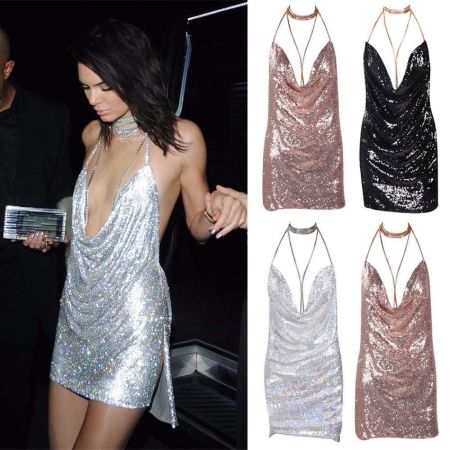 Dress Features: Shinning Silver Sequin.
Image Source: The Celebrity Dresses
Coming on the feature of the dress, the Knitted dress shares a V-cut neckline, sleeveless design with spaghetti strap. You can rock the dress for evening party, nightclub, wedding, red carpet, cocktail, runaway or at the place where you've to have to impress with your sexiness. The hollow cut dress shares an open back design with hollow out decoration.
Check out: What Is Color-Blocking? Learn Some Do's And Don'ts To Color Block Your Outfit Effortlessly.
Coming at the price of the dress is available at an affordable price of $63 (But Here), and at $57 in Ali Express. The dress is available at gold, black, and silver color.
Kendall Metallic Jumpsuit and Perspex Sandals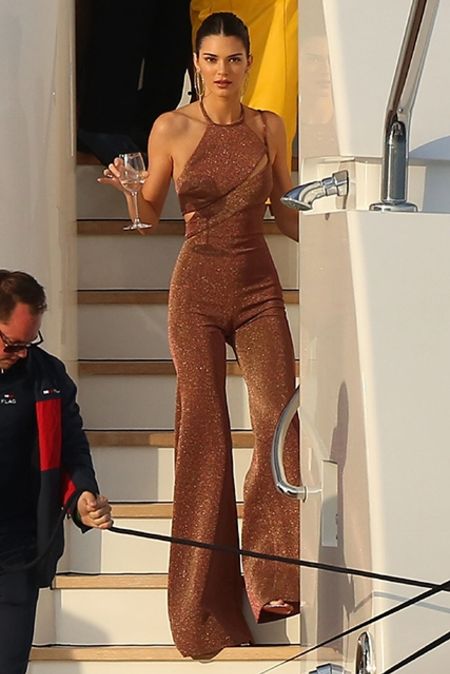 Long Legs!
Image Source: Instagram
The stunning chocolate brown jumpsuit is one of the luxury fashion collection of Kendall with Tommy Hilfiger. Kendall was seen deboarding the Hilfiger Jumpsuit in a yacht in Monaco.
The sleeveless dress features halter cut out design on the crop part of the dress. Due to its over attractive looks the retro glitter jumpsuit is already out of stock on eBay, however, the cutout jumper is available on the celebrity dresses at an affordable price of $139. (Buy Here)
Perspex Sandals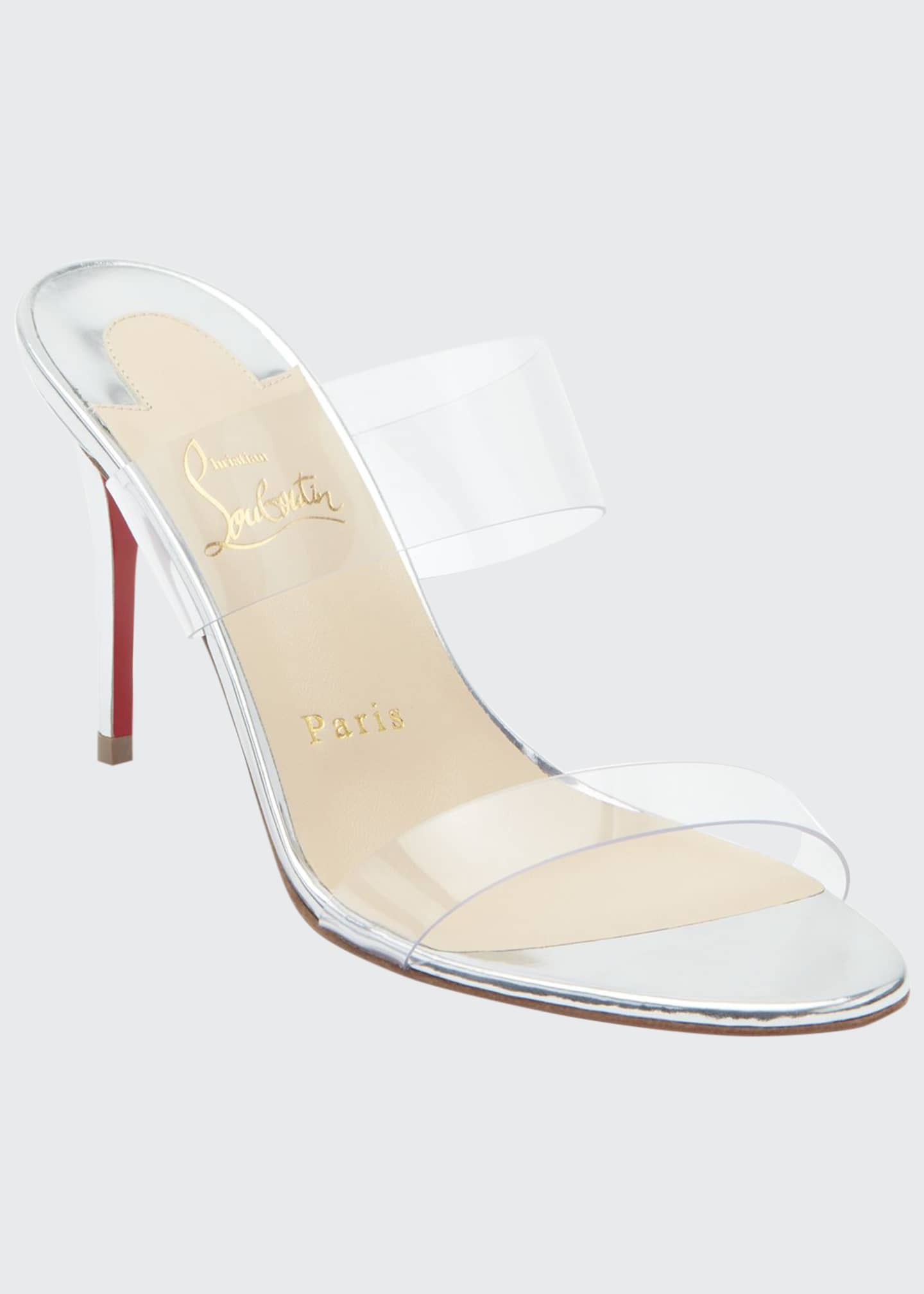 Shows reflects your personality.
Image Source: Bergdorf Goodman
Kendall rocked the look with designer Christian Louboutin 'Just Nothing' Illusion Red Mule Sandals which is available at the of $675.(Buy here) Too expensive hold on as you can buy a similar type cheap version here at $45 (Buy)
Kendall Jenner Bright Yellow Suit & Pants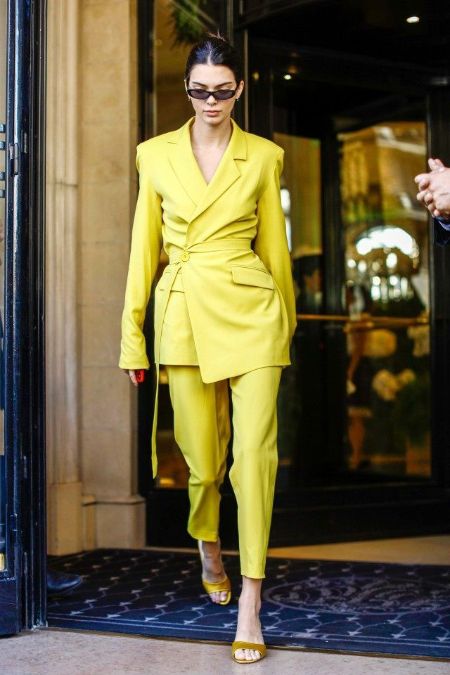 You're the Sunflower.
Image Source: TMZ
Pretty little sunshine isn't it! The dress worn by Kendall is considered as one of the best dress worn by Jenner to date and has even made fans copy her styling. Well, it seems ravishing on her it's a no brainer.
Check Out: Kendall Jenner Wows In Lace-Up Dress For The Cover Of Vogue Russia
Anyway coming to the dress design, the suite features a side an edgy overcoat feel with a lack on the belly part. And the pants are short cut straight pants where you can welly blend your style. You can rock the dress for special official meetings, parties, and even ceremonies. But before you try this dress make sure you'll be able to handle all the attraction the dress will bring you.
Kendall Jenner Bright Yellow Suit & Pants Set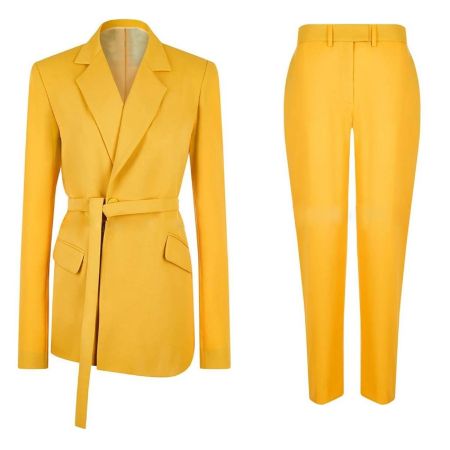 Dress Feature: Classic look with modern blendation.
Image Source: thecelebritydresse
Coming at the price of the dress is available at the price of $169 (Buy Here). Well, don't worry about your investment as the dress is made out of nice fabric and the color doesn't fade away too. That's it for today, we'll shortly be updating the list, till then stay tuned.
Kendall Jenner Red Denim Jacket and Jeans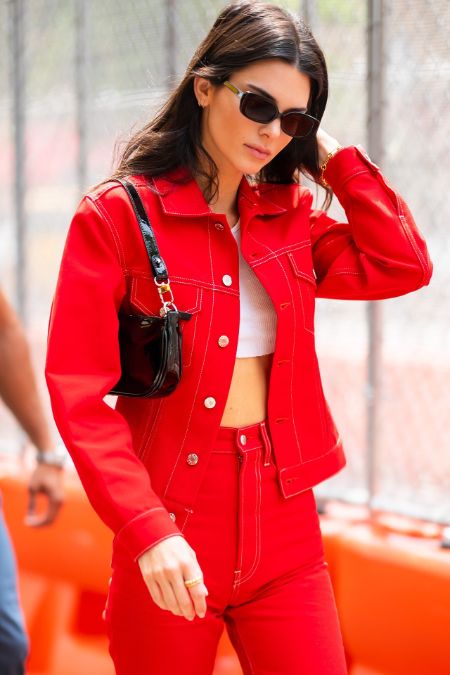 Ravishing Red.
Image Source: Daily Mail
The classic yet poppy looks the 1.79m tall model rocked was while she was leaving her hotel in New York. The ravishing red denim look dress can be rocked on various occasions, whether it be a friend get together, a meeting, or vacation you can rock the dress on any occasion.
Coming on the trendy jacket can is available at a reasonable price of $43, this the best price you can get on the market. (Buy Here) You can even try the dress with different combinations of shirts, crops, and so forth.
Denim Jacket and Jeans Full Set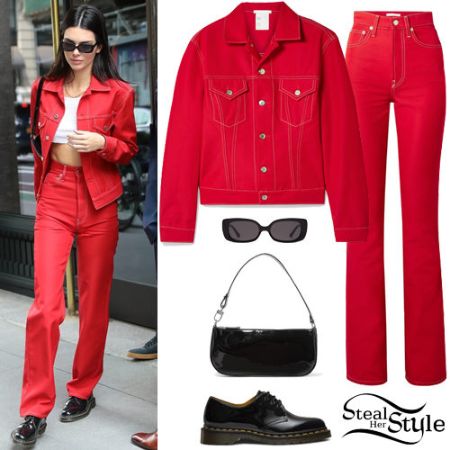 Dress Feature: Urban Looks
Image Source: Steal the Style
Coming on the other set, the KUWTK star nailed the urban look with high rise slim leg jeans which costs around $116 (Buy Here), similarly, she rocked the looks with Dr. Martens 1461 Patent Oxfords which is available at $99 (Buy Here), Velvet Canyon Zou Bisou Sunglasses which costs around $260 (Buy Here), and Rachel Patent- Leather Shoulder Bag which costs $350 (Buy Here). So that's it you are all set to rock the looks.))Buy HereBuy He
You May Like: What Is Color-Blocking? Learn Some Do's And Don'ts To Color Block Your Outfit Effortlessly.
We hope you enjoyed the article, stay tuned with Glamour Fame to find more Celebrity Wardrobe, Fashion article.
-->