Kylie Jenner Best Friend and Fashion Model StassieBaby Wardrobe Collection
Published Wed May 06 2020 By Chester
Check out the wardrobe collection of stylish model & fashion influencer StassieBaby.
Anastasia Karanikolaou better known from her Instagram handle StassieBaby is one of the renowned faces in the Glamour field for her savvy and eccentric dress sense.
StassieBaby also is known as the best friend of Kylie Jenner and were good friends since they were young. Today we've brought you with the wardrobe collection of savvy StassieBaby and before we proceed we would like you to check Kylie Jenner Wardrobe collection and Coco Draya Owner/Designer Draya Michel Wardrobe collection too.
Stassie x Missguided Brown Leopard Print Coord Oversized Blazer (Trending)
Got eye of the tiger.
Image Source: Misguided
A perfect dress if you are heading for any party, gettogether, or a special function.
The dress features a long length blazer featuring an all-over leopard print with pockets - yes they come with a pocket, pretty handy right! Similarly, it shares the double-breasted button.
Brown Leopard Print Co-ord Oversized Blazer Side View
Dress features: Real tiger skin alike and comfy.
Image Source: Misguided
It's soft and comfy to wear made with 100% polyester fabrics. And the outlook can give you look as if you are wearing a real tiger skin.
Check Out: The Best and Worst A-List Outfits For This Week
You can rock the looks with jeans shorts, cotton plants (black preferred), heels, sneakers, The dress is available at the at a cheap price of $57.34 or €53. (Buy Here)
Tiffani Ruched Midi Skirt (Front View)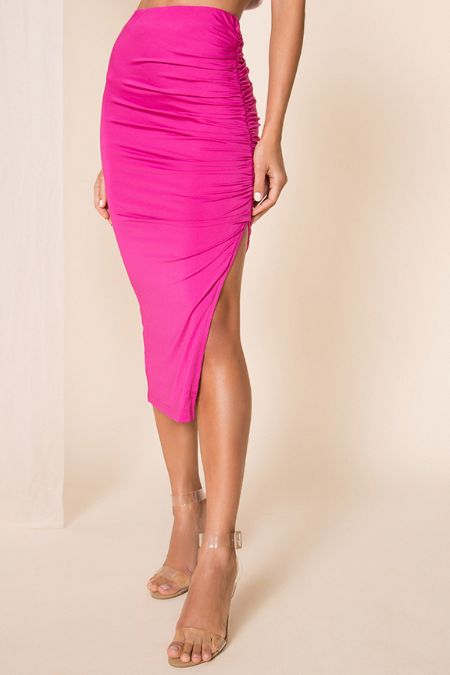 Sexy Long Legs.
Image Source: Super Down
If you are looking for something different from Anastasia wardrobe then here's a piece you would like to try on.
The ruched mini skirt is made up of 95% poly and 5% spandex and is completely washable. And the best part is it doesn't shrink and fade.
Ruched Midi Skirt Back View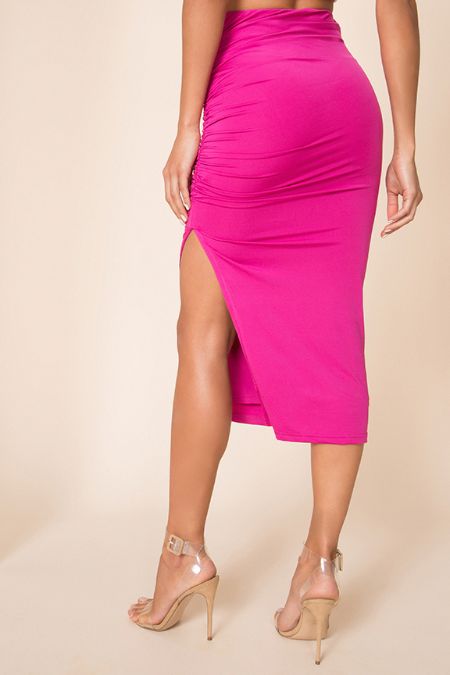 Dress Feature: Skit cut and ruched style.
Image Source: SuperDown
Some of the highlighting parts of the dress is skit cut, banded waist and ruched side with fully lined. The skirt is fitting to all body sizes due to its flexibility so it makes your body more attractive and sexy.
The dress measures approximately 76 cm in length and is available from Small to Extra Large Size. The dress is available at a reasonable price of $56. (Buy Here)
Champagne Satin Corset Top and Ripped Jeans
Grunge not Dead!
Image Source: Misguided
Feeling like having a grungy look, then this product right here is perfect for you. The blue wash jeans feature a straight leg style which gives stability unlike any other stretchable jeans you see on the market, it's quality is 100% the good old cowboy times.
Check Out: Choose Your Best Brand: Denim Pants Are On Trending
And it's high waisted jeans so you can rock well with crop t-shirts, hoodies, jumpers and lots of other cool matches.
Jeans Feature: Good material and raw edge.
Image Source: Misguided
The jeans reflect more 80's fashion but with some grunge vibes with a slash and rip details finished with raw edge hem.
Coming to the denim material, it's made up of 86% cotton and 14% polyester. It's available from 32 waist size to 46. The jeans costs around $45 around €42.00. (Buy Here)
And coming at the top it's sold separately which comes in the size from 32 to 46. It costs around $29.14 around €27. (Buy Here)
Stassie x Missguided Pink Shawl Collar Faux Fur Coat
Feel like cuddling all day.
Image Source: Instagram (@stassibaby)
If you want to give yourself a little hasel taste with some unique peachy color then you can operate this fashion.
You can be stylish wearing these clothes in a cropped t-shirt and even goes well with t-shirts, Kurtis, and a lot of other variations. The good thing about the fur coat blends perfectly with urban style to a shady classic.
Collar Faux Fur Coat Back Part
Dress Feature: Cozy Faux Fur.
Image Source: Instagram
Some of the best features of the coat is its unique shawl style and it contains a soft finish which causes no irritation.
The sizes come from 32 to 44. The dress furry coat is available at a cheap price of €75. (Buy Here)
Stassie x Missguided Petite Black Ruched Font Sweetheart Neckline Crop Top
Killing 'em with the vibes.
Image Source: Misguided
One of the top-notch crop-top on the line. This top is perfect for you if you want to give a new taste to your normal crop attire.
The best part about the dress is its ruched front sweetheart neckline with full sleeves, one of a kind. The dress best matches denim jeans and leather pants. If you are looking for a short sleeve version then you can check it here at the cost of only $16.
The ruffle design dress is made out of 95% polyester and 5% elastane and the dress is completely stretchable.
Petite Gold Ruched Back Sweetheart Neckline Crop Top
Dress features: Ruched design and neckline.
Image Source: Misguided
The dress is now available in two colors black and gold, and the above one is the snippet of gold. The gold shares a shiny style with an open square back with drape arm design.
Coming to its quality part it's completely handed washable and the color doesn't fade at all. The size its available from 32 to 42 and the price of the dress is $32 or €30. (Buy here)
Black Pointed Toe Lace Up Barely There Heels
The Hill have eyes.
Image Source: Misguided
Since we've been on listing dresses and pants here's a trending heel from StassieBaby collab with misguided.
The best part of the heel is that it contains stylish lace straps and a heel of 11.5 cm/4.5" with an open toe design. With a tall height, it offers its super comfy to wear too, despite having a 4.5" heel.
Black Pointed Toe Lace Up Upper View
Shoe Feature: Comfortable with 11.5 cm heel.
Image Source: Misguided
The product is available from the 36 to 41 size and the fashion company Missguided assures its customers long lasting durability.
You May Like: 10 Beautiful Stylish Footwear For Woman
Coming to the price range the heel is available at an affordable price of €38 or $41. (Buy here). If it's out of your budget then you can also try a dozen of lace heels offer from Amazon.
So that's our trendy collection for today from the stylish and stunning StassieBaby. We hope you enjoyed the article, stay tuned with Glamour Fame for more Celebrity Wardrobe collection.
-->