Kinsey Wolanski Models For A Steamy Photoshoot - You Don't Wanna Miss This!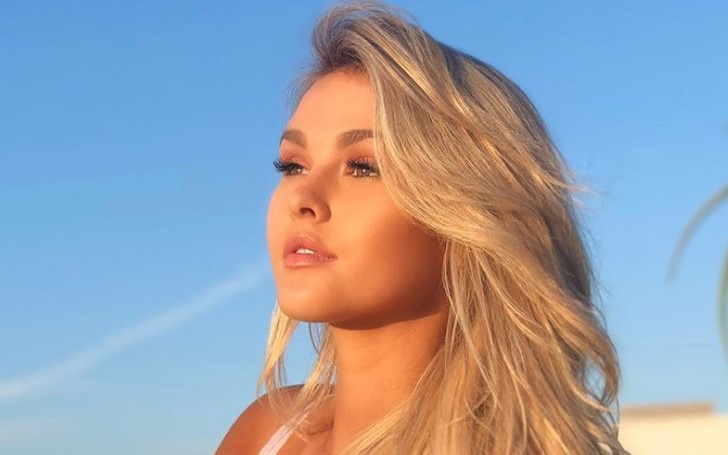 Kinsey Wolanski took to her Instagram and gave us a glimpse of her new upcoming steamy pictures from recent photoshoot.
Kinsey Wolanski, the Russian-born American model, is the most sought model, who rose to fame after her pitch invading act during Champions League Final in 2019.
The 22-year-old model, who mesmerized her fans on red strapless top, has a massive 3.3 million followers on her Instagram, and more interestingly, the star never fails to amaze her fans.
Kinsey took to her Instagram and posted a series of video on her story, where you will see the star talking about "being a model" for her latest photoshoot.
The star who has recently released the most adorable prank - 'Invading Personal Space' says, "So, I usually don't model, but today, I am being a model."
The star further adds, "So, watch out, these photos are gonna be hotttt..."
On the next story, Kinsey is seen standing near a glass-condo near the poolside clad in leopard print bikini.
The star is in the pool clad in a black bikini, while the photographer is busy taking some steamy photos, as seen on the third story.
The fourth story saw, Kinsey wearing a two-piece white bikini and rocking a rather luxurious sun-glasses, and there's boombox on the side.
Well, by the look of it, the photos are going to be breathtakingly hot. However, Kinsey did not give many details about the photoshoot. We hope Wolanski will update her fans about when the photos shall be released.
But one thing for sure, Kinsey looked hot as lava on those outfits, and can't wait long for the photos to come out. Till then, all we have these videos to rejoice for.
-->