Lady Gaga Responds To Bradley Cooper Romance Rumors
Published Thu Feb 28 2019 By Tess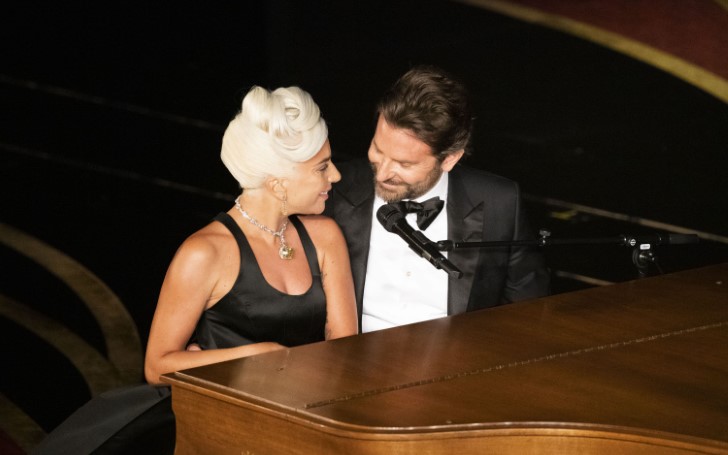 Lady Gaga finally responds to Bradley Cooper romance rumors after her steamy performance at the 91st Oscars.
On Sunday, A Star Is Born co-stars Lady Gaga and Bradley Cooper took the Academy Awards stage to perform Shallow which later won Best original song title.
The actors' steamy intimate performance of their song 'Shallow' earned them huge appraisal and a standing ovation from the crowd present at the Dolby Theatre.
Immediately, their chemistry filled performance caught the attention of different people including a comedian Dave Spade who took to Instagram to comment " Is there any possibility the two aren't fucking?" to which Bradley's ex-wife Jennifer Esposito also responded.
Amidst the dreamy dating rumors of the singer and the director, Lady Gaga clarified the confusion.
While appearing in an interview with US TV host Jimmy Kimmel the singer addressed the currently steaming topic about her dating rumor after The host Jimmy brought up the topic.
"You had such a connection with Bradley that, instantly, and I guess this is a compliment, people started saying, 'Oh, they must be in love."
The Oscar-winning songwriter gave a massive roll before proceeding to explain her duet was just an act similar to a role play in a movie.
"First of all, social media quite frankly is the toilet of the internet and what it has done to pop culture is abysmal."

"And people saw love, and guess what, that's what we wanted you to see. This is a love song, the movie is a love story."
Gaga went on to clarify the seemingly obvious chemistry is up to the demands of performing love songs.
"From a performance perspective, it was so important to both of us that we were connected the entire time. Look, I've had my arms wrapped around Tony Bennett for three years touring the world. When you're singing love songs, that's what you want people to feel."
Concluding with a note about her commitment to her work, she said, "I'm an artist, and I guess we did a good job — fooled ya!"
Shallow, co-written by Mark Ronson, bagged Grammy, Golden Globe awards, and most recently the Oscars.
Don't miss: Engaged but then Dis-Engaged! Lady Gaga and Partner Christian Carino Calls of their Engagement
A Star Is Born is in theaters this week for its exclusive re-release, which includes 12 additional minutes of footage and a brand new duet.
-->