Laura Ingraham Tries to Mock Nipsey Hussle; Uses Pic of Wrong Guy
Published Wed Apr 17 2019 By Jessica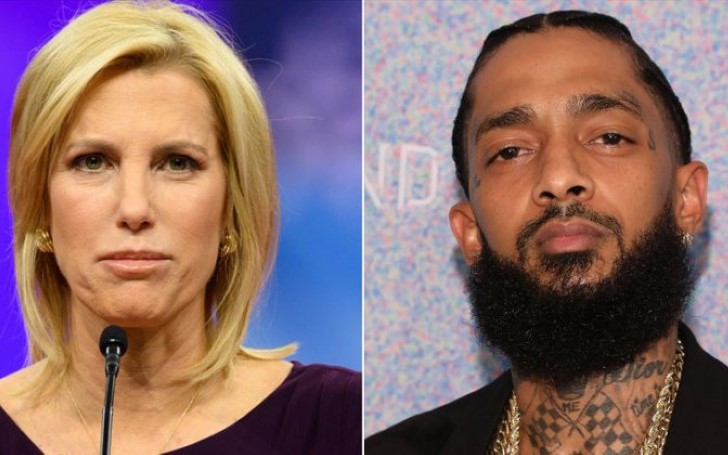 Laura Ingraham uses a wrong picture of the late Nipsey Hussle and blatantly mocks him.
Whilst the rest of the world mourns the death of the beloved late rapper, Nipsey Hussle, Fox News host, Laura Ingraham unbelievably decides to mock him.
Following the day of the service memorial of the late rap artist and social activist, The Ingraham Angle host shamelessly degraded Hussle as she used a short portion of the show which appeared to be a tribute at first.
Recommended: Fans of Netflix's 'Sex Education' Are In For A Treat As Exciting News Follows About Season 2
Ingraham plays a wrong image of another black man on the screen and goes; "Yesterday in L.A., thousands lined the streets to say goodbye to rapper Nipsey Hussle."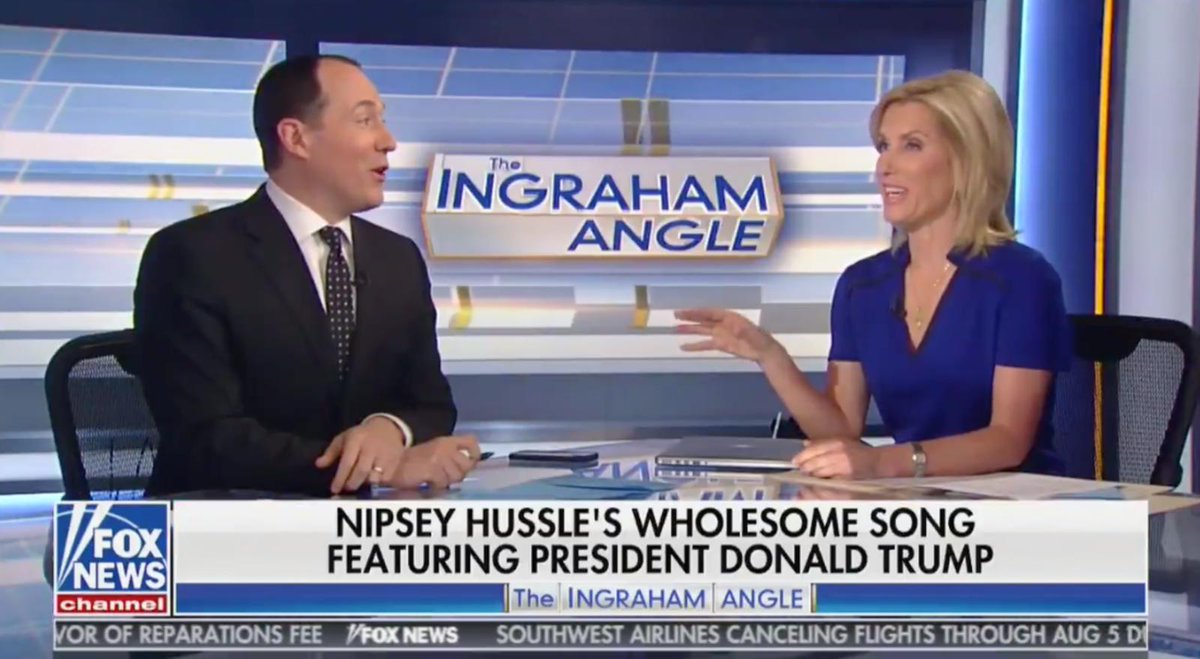 Laura Ingraham mocks the late rapper Nipsey Hussle on her show.
SOURCE: FOX News TV
Continuing her insensitivity remarks, the host sarcastically adds: "Now this dear artist recently released a song called 'FDT'."
Laura begins explaining that 'FDT' stands for 'F*** Donald Trump', as the screen then plays a short clip of the song's music video. The show, however, displayed zero visual or the part of the rapper's verse on the song.
The screen only shows fellow rapper YG. And to begin here, Nipsey was only a feature in the song that originally belonged to YG from one of his albums titled 'Still Brazy' released more than TWO years ago in 2016.
The song is in fact nearly three years old, and Laura labels it as a 'recent' song by Nipsey.
Was she serious? But again, who are we to kid, right? This came from the same person who once made fun of David Hogg, one of the Parkland shooting survivor.
Unsurprisingly, the members of KKK have applauded and praised Ingraham for her remarks. But, on the contrary, the 55-year-old TV reporter is facing loads of backlashes from the public including celebrities for her insensitive comments regarding Hussle's death on her Friday show's episode.
Don't miss: Son Sues Parents For $87K After They Destroy His Porn Collection
Some of the rappers are even strongly against Laura and in demand for the boycott of her Ingraham's show.
Fellow rapper T.I. took to his Instagram on Sunday where he left a long statement expressing his disgusts at Ingraham. In his words, his statement read:
"This is Disgusting! You both are vile despicable, poor excuses for people.
My expectations have already decreased so much for mankind in the past couple weeks that this hardly surprised me... especially from @foxnews But rest assured that sooner than later you'll BOTH see... WE ALL GET OUR TURN TO LIVE THROUGH OUR OWN PERSONAL TRAGEDY... and watch how many people dance in the streets,laugh and crack distasteful inappropriate jokes when it's YOUR TURN!!!!"

"Karma is constant & the laws of reciprocity ARE IN ORDER!!!! Neither of you WILL EVER know or experience the level of love, appreciation and respect that Nip has... EVEN IN DEATH!!! So let that sizzle in ya lil hateful,demonic spirits. And with that... I'm logging off IG at least a month or so..."
T.I. ended his statement with a middle finger emoji.
Another fellow rapper, The Game similarly shared his opinion on the recent Ingraham episode. The LA-based rapper stated:
"So lemme tell you what's going to happen here.... @foxnews fires this disrespectful cunt by tomorrow, Monday morning or you will lose millions of viewers one person at a time until it drastically effects your ratings, views etc... if our demographic doesn't effect that we will STOP support of ALL SPONSORS immediately !!! We are NO LONGER laying quiet while you continuously disrespect our brother, culture African Americans as a whole. I will use my platform & call on my peers to do the same."

"Nips passing nor his legacy is to be taken lightly as there will be consequences for any disrespect now or in the future as long as I have a voice !!! I'm asking all of my followers, fans, friends & family to spread this video with demands of #LauraIngrahams termination immediately !!!!! This is not a game & my brothers untimely demise has noticeably shifted the world & brought people from all ethnicity's together in mourning."

"There is a power in that, that will be used & action will be taken from now going forward. We will not be accepting any apology from her... we want her fired, PERIOD !!!!! #TheMarathonContinues🏁🏁🏁 DO NOT LET THIS SLIDE MY PEOPLE. I know you can feel the energy NIP left all of us.. I know you feel it !!!!!"
The Game's Sunday post earned fellow rapper Snoop Dogg's attention who weighed in the comment section saying: "I'm in 💙"
Previously, rapper Kanye West paid a tribute to the late rapper in one of his recent Sunday Service ceremony.
Hussle was gunned down by a fellow acquaintance named Eric Holder outside his LA clothing store after the two encountered a disagreement.
In other news: Danielle Cohn's Mother Jennifer Revealed That Her Pregnancy And Married News Were Fake
Holder who did not plead guilty is behind prison for the murder of the late rapper and for injuring two other men he shot alongside Nipsey.
-->