Lena Headey Wrote a Beautiful Message to Emilia Clarke About Her Brain Aneurysms
Published Sun Mar 24 2019 By Tess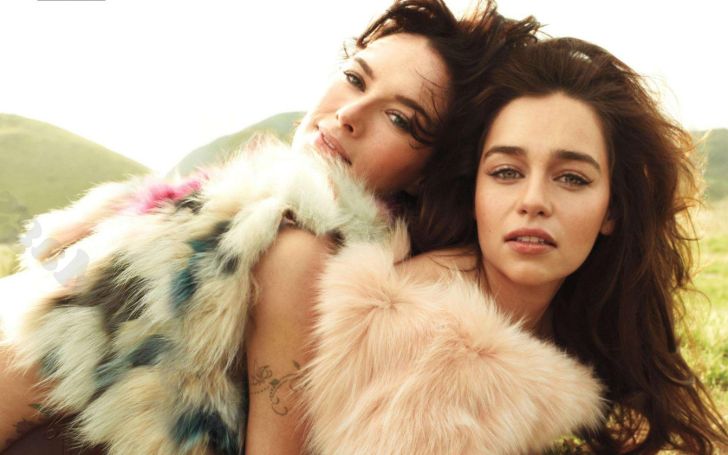 Lena Headey responds to Emilia Clarke about her Brain Aneurysms surgery through a beautiful message on social media.
Game of Thrones star Lena Headey wrote a beautiful, supportive message to her costar, Emilia Clarke after Emilia revealed she suffered two brain aneurysms while filming the hit HBO show in a New Yorker essay on Thursday.
Lena took to Instagram posting heartfelt appraisal of Emilia Clark's strength with the caption, "It took me a while to know this woman (there are 64000 of us after all). Not until she spoke to me about her experience did I fully realize the warrior she truly is (MOD for real x209840000) she does really great things for causes that deserve it. She's kind and determined and funny and aware. #Thursday's MVP ... Here's to @emilia_clarke 💪💪💪💪💪⭐️⭐️⭐️💗."
The 32-year-old actress, Emilia, wrote an essay for The New Yorker, published on March 21st, in which she revealed her emotional journey through two brain aneurysms, writing,
"I've never told this story publicly."
In the story, Clarke gave a detailed account of her first aneurysm which occurred on February 11th, 2011, after Season 1 of Game of Thrones wrapped up filming.
Emilia was 24 at the time and working out with a trainer when she felt a "bad headache" coming on. As per Clarke, it eventually felt like an "elastic band" had snapped inside her head. She later vomited and came in and out of consciousness on the gym's bathroom floor.
"At some level, I knew what was happening: my brain was damaged."
The actress was rushed to the hospital, where she was diagnosed with a Subarachnoid Hemorrhage, a type of stroke caused by an aneurysm also known as a bulge in an artery which ruptures causing bleeding into the space around the brain.
In order to seal the ruptured artery, she underwent surgery, after which doctors found another aneurysm for which doctors warned Clarke it could "pop" if it got too big. Recovery was extremely difficult, and the actress described the toll it took on her while filming.
"On the set, I didn't miss a beat, but I struggled. Season 2 would be my worst. I didn't know what Daenerys was doing. If I am truly being honest, every minute of every day I thought I was going to die."
Emilia also revealed the stroke initially affected her ability to speak, and she knew if she couldn't speak, she couldn't work at the very moment when her dreams were finally starting to come true.
"In my worst moments, I wanted to pull the plug. I asked the medical staff to let me die. My job—my entire dream of what my life would be—centered on language, on communication. Without that, I was lost."
Clarke regained her ability to speak after a few weeks. The actress further underwent surgery for the second aneurysm in 2013, but the procedure failed, and she had to have another, more invasive surgery to correct it.
Don't miss: Emilia Clarke Has No Regrets Over Her Nude Game of Thrones Scenes
After surviving the nightmarish experience, Emilia decided to keep her health battles a secret even denying she had surgery when directly asked by reporters.
"But now, after keeping quiet all these years, I'm telling you the truth in full. But please believe me: I know that I am hardly unique, hardly alone. Countless people have suffered far worse, and with nothing like the care I was so lucky to receive."
The actress additionally revealed she developed a charity, called SameYouth to benefit young adults dealing with brain injuries and strokes.
Emilia further put another video on her Instagram to thank all the overwhelming responses she received from fans for her story in The New Yorker.
Emilia Clarke plays Daenerys and Lena Headey plays Cersei Lannister on the highly acclaimed Netflix series Game of Thrones.
The final season, Season 8 for the show is due to premiere on April 14, 2019.
-->