Lil Xan is Expecting First Child With Girlfriend Annie Smith After Noah Cyrus Breakup
Published Tue Feb 19 2019 By Jessica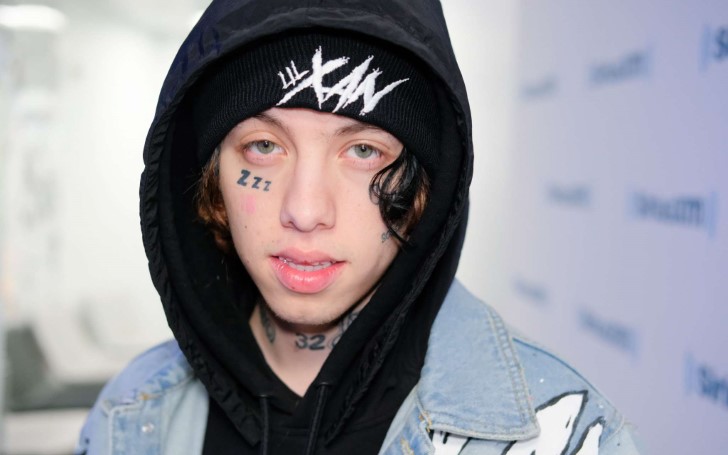 American rapper Lil Xan and his girlfriend Annie Smith are expecting their first child together and might be getting married soon too.
A baby on the way for US rapper Lil Xan.
On Sunday, the popular American rapper announced on his social media that he and his girlfriend Annie Smith are expecting a baby soon.
The 22 years old artist whose real name is Nicholas Diego Leanos shared a photo on his Instagram account. The image included of him embracing his partner on a balcony in Downtown Los Angeles with skyscrapers and cloudy weather clearly apparent in the background.
Lil Xan announces he is expecting a child soon with girlfriend Annie Smith
SOURCE: Lil Xan Instagram
Moreover, the couple happens to be wearing matching clothes; a brown hoodie and a brown sweatshirt. And following his signature style, this time too, the rapper can be spotted in a red beanie on his head.
You may also like: Here's The Reason The Voice UK Coaches Never Change Their Clothes
Sharing the happy news to his five million Instagram followers, the 'Betrayed' singer wrote in the caption:
"i wanted to wait but i just can't leave my fans in the dark,it's official im going to be a father 😭💔 i love you guys so much and hope you stay along for this crazy journey and i've never felt more happy in my life💔"
Excited to break the news, the rapper also claimed his fans were all invited to his baby gender reveal party.
The rising star continued:
"all of you are invited to the gender reveal party i promise ! Cant wait to show the world everything i've been working on at youtube space and my official sophomore album "BE SAFE""
Not forgetting to express his love for girlfriend Smith, he concluded the caption by saying:
"and to my baby my angel my sunshine @anniiesmith i love you with all my heart ❤️ thank you for saving me i love you more then words could describe 💌👼🏼💔💔💔💔💔💔💔💔💔💔"
Soon after Xan dropped the picture, all of his fans flooded the comment section with tons of positive messages and well wishes.
Also read: Phoebe Bridgers Released New Statement in Response To Allegations of Alleged Abuse Made Against Ryan Adams
One of his supporters wrote:
"Congratulations Bro Love you and your baby Be Safe ❤️❤️❤️"
Another one commented:
"CONGRATULATIONS DADDY DIEAGO !!!!!"
Likewise, another sweet comment read:
"Their love is so cheesy its cute 💕😭"
On the other side of girlfriend Annie's Instagram, same picture but in a different angle can be seen too. Annie's picture comes from the day of Valentine, in which she paid a tribute to display her love for her rapper boyfriend.
Lil Xan's girlfriend Annie Smith wishes the rapper on Valentine's day
SOURCE: Annie Smith Instagram
In the picture from the same place and day, Lil Xan is seen leaning his head close to Annie's so he could embrace her in a kiss. Displaying his hand tattoos, the rapper's sweetly grabs his girlfriend's face.
Apparently, from looking at the picture caption, it seems like the young couple is already engaged. In fact, they might be getting married soon too.
Annie wrote in the caption:
"happy valentine's day my love. i could go on and on about how beyond grateful and lucky i am to have you by my side in life. but today to keep it simple and honest, i love you to the moon and stars, always baby."
She continued:
"i cannot wait to call myself your wife soon♥️♥️♥️ p.s i love matching with youu"
Well, a huge congratulation to the couple.
See too: Reese Witherspoon Enjoy her Evening with Husband Jim Toth At The Harlem Globetrotters Game
Meanwhile, Lil Xan's current relationship with Smith comes after his fling with Noah Cyrus ended last year in September. Xan and Cyrus dated for nearly four months.
The pair publicly called out on each other by accusing one another of being unfaithful in their relationship.
-->