Linda Evangelista Returns to Modeling After Her Last Botched Cosmetic Surgery
Linda Evangelista relaunches herself since the last cosmetic procedure that left her disfigured: Complete story here!
Supermodel Linda Evangelista is grateful to return to modeling. The former supermodel is collaborating with the iconic high-end brand Fendi as she posts a stunning picture of herself for Fendi's latest campaign. It is Evangelista's first modeling gig since her failed cosmetic surgery last year in September.
In her caption, the 57-year-old writes, "on September 9, 2022, @Fendi will host a special fashion show in New York City to celebrate the 25th anniversary of the #FendiBaguette, designed by @silviaventurinifendi, and two years since @mrkimjones joined the Maison as artistic director of couture and womenswear." Linda adds, "I'm so grateful," and tags all the crew members involved in the project.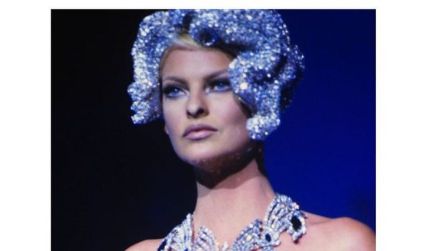 Linda reveals she is grateful to restart her career.
Photo Source: Instagram
Once regarded as one of the most influential models of all time, Evangelista's career has been on hold for a while now. The Canadian model revealed a botched cosmetic surgery last year. When questions and speculations about her long MIA on social media and in public started surfacing, Evangelista was left with no other choice but to reveal the mishap. Linda detailed the cosmetic nightmare on a post and also told the aftermath repercussions of the disaster.
"To my followers who have wondered why I have not been working while my peers' careers have been thriving, the reason is that I was brutally disfigured by Zeltiq's CoolSculpting procedure, which did the opposite of what it promised," Linda writes. The model shares that the sculpting procedure left her permanently disfigured, even after two painful, corrective surgeries and only increased her fat as opposed to what it promised.
Evangelista sued the CoolSculpting's parent company for $50 million. Photo Source: Instagram
Linda further shares, "I've developed Paradoxical Adipose Hyperplasia or PAH," a risk of which I was not made aware before I had the procedure. PAH has sent me into a cycle of depression, profound sadness, and self-loathing." The Canadian native sued the clinic's parent company, Zeltiq Aesthetics Inc, for $50 million, alleging that she suffered major financial losses since the procedure.
Don't Miss: Jennifer Lopez and Ben Affleck are Married.
Born on May 10, 1965, in St. Catharines, Ontario, Linda attained supermodel status in the late 1980s and held the coveted spot throughout the early 90s. Evangelista, along with Naomi Campbell, Christy Turlington, Cindy Crawford, and Tatjana Patitz, shaped the 90s supermodel Era. In a statement to People, Linda shared how she feels the supermodel in her is gone.
"I don't recognize myself physically or as a person," says Linda. Source: The Hollywood Reporter.
"I don't recognise myself physically, but I don't recognise me as a person any longer either. She [the supermodel] is sort of gone," the distraught model said, adding, "I hope I can shed myself of some of the shame and help other people who are in the same situation as me. That's my goal." Linda shares a 15-year-old son, Augustin James Evangelista, with her ex-partner, French billionaire François-Henri Pinault.
Stay connected to glamour fame for more.
-->