Who is Luke Sandoe? (WIKI) Find Out About His Wife, Daughter and Son
Published Fri May 08 2020 By Eric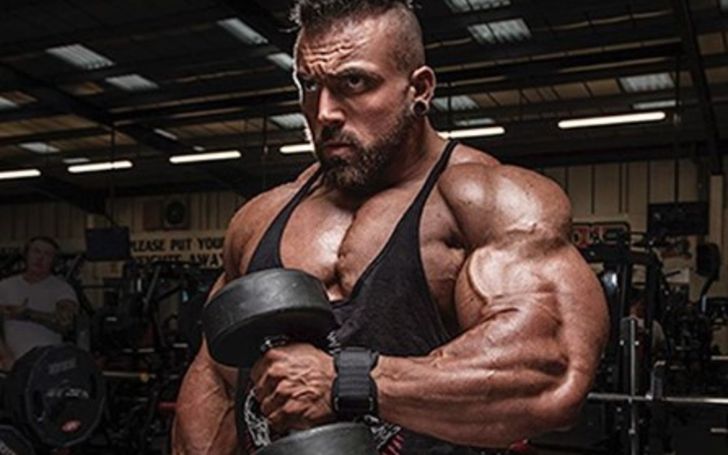 Who is Luke Sandoe? He was an upcoming professional bodybuilder, businessman, fitness guru, but before all of those things, he was a loving father of two beautiful children.
After years of hard work and effort, Sandoe was climbing great heights in his professional career, which unfortunately came to an end due to his sudden death at the early age of 30. However, he left a legacy for those who wanted to make a career in the fitness industry.
Sandoe became a legend for many due to which his unexpected demise broke their hearts and raised curiosity to know what happened. Further, people became anxious to get insight on his early life and current family status, which brought us in today's article. We will share brief details about Luke Sandoe, so let's begin.
Luke Sandoe Wiki/Bio
The professional bodybuilder Luke Sandoe hails from Christchurch, in the south of England. Though he became a celebrity with his strength and athleticism, his early life is still outside of the spotlight. Due to that reason, there are no details about his father and mother.
Late pro bodybuilder Sandoe was born in the south of England.
Photo Source: Instagram of Luke Sandoe
However, Sandoe is a well-educated man, according to Heavy; he studied illustration and human biology in his college days. They also claim Luke used to play drums when he was young but halted after he pursued becoming a professional bodybuilder.
He is the Father of Two Children
Before we break down the details about Luke Sandoe, children let us tell you guys that the English-born powerlifter wasn't a married man. He welcomed his children with his girlfriend.
Luke Sandoe enjoying himself with his daughter ad son.
Photo Source: Instagram of Luke Sandoe
Further, there something more interesting on this topic; in one of the virtual sit down, Sandoe even confirmed his elder daughter, Louise, is about to be 15-years-old which affirms he became a father at an early age of fifteen.
Recommended: Zandy Reich and Lea Michele are Expecting - Here's Something to Know About Their Beautiful Relationship
In the same interview, Sandoe also shared his young son, Leo was 7-years-old. Meanwhile, he also praises his daughter's mother, saying how young and phenomenal she was; however, he doesn't provide her name in the sit-down.
According to E Daily Buzz, Luke welcomed his son with his former lover Caroline Foulkes. Still, there are no further details about his ex-girlfriend in any media.
Click To Read: Former Bad Company Singer Brian Howe Dies at 66
Nevertheless, if we have to conclude Sandoe relationship with his children, then he was a great father. He always made leisure time from his busy schedule to spend it with his son and daughter. Therefore, the vacuum left by Luke's death will be felt more by his lovely children.
"The Juggernaut" Sandoe, IFBB Pro Bodybuilder Professional Journey
The IFBB Pro Bodybuilder Luke Sandoe garner a tremendous success in his short life span, becoming the UK fan favorite and earning the moniker Juggernaut, which perfectly suits his gigantic physique.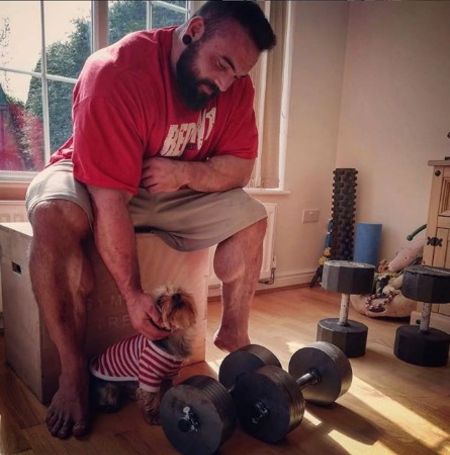 The IFBB Pro Bodybuilder Luke with his dog and workout kits.
Photo Source: Instagram of Luke Sandoe
Luke journey in the fitness industry began in his early 20s when he focused his energy to be one of the greatest through bodybuilding life.
Also See: Modern Family Actress Sarah Hyland Opened Up About The Death of Her Cousin, Trevor Canaday
As per the Sandoe website, he quickly climbed the amateur ranks from his debut show and won in 2012 as a junior. Subsequently, in the same year, he even garnered the second place in the UKBFF British finals in a men's class.
Late LUKE SANDOE - THE JUGGERNAUT - TRIBUTE VIDEO
After then, Luke went on winning the sixth position in the super heavyweight division in 2015. Though he accomplished to be in the finale, not getting the first place fueled Luke to hustle even harder, soon with his Daly intense workout routine the Juggernaut got pre qualified after a year. In October 2016, he took the Superheavy and overall British title, becoming a new pro in the fitness field.
The Juggernaut Sandoe became IFBB Pro Bodybuilder.
Photo Source: Pinterest
Further, Luke also compete in the Arnold Classic and the Arnold Classic Australia plus went on collecting the top three positions at the 2018 Indy Pro.
Click To Know: Riverdale Pays Tribute To Luke Perry in First Episode Since Actor's Death
After gaining tons of knowledge on body fitness, Luke also began to guide his fans to obtain a well-built physique. He used to share his tips with his followers through his YouTube channel, online class, and from other sources.
Luke Sandoe Death - He Passed Away at Age 30
Like we mentioned earlier, the bodybuilder Luke Sandoe legacy came to an end after his sudden death. He passed away at an early age of thirty, leaving a massive hole in the hearts of his family, friends, and fans.
Sandoe, with his fitness career, won tons of followers, due to which everyone is anxious to know the reason behind his death. His untimely end raises lots of speculation in the mass, but the main reason is still behind the curtains.
Recommended: Co-founder of Kraftwerk Florian Schneider Dies at 73
However, we will update you guys with the real reason behind the heartbreaking incident as soon as it hit in any media.
For more update on your favorite celebrities, visit Glamour Fame.