MAFS: Jessika Expresses 'Regret And Remorse' Over 'Hurting Mick'
Published Sun Apr 21 2019 By Ruby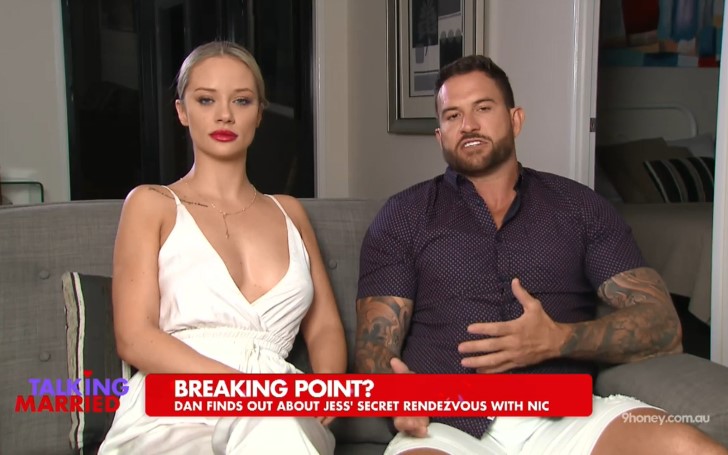 MAFS' Jessika says she was 'too immature and selfish' over the way she conducted her relationship during the social experiment.
Jessika Power, 27, and Mick Gould, 31, had a fair share of ups and downs in their affair on MAFS as it faced a sudden downfall after she swapped her husband to Dan Webb.
The reality star expressed her regret on how she treated her former husband Mick during the show.
Jessika lamenting on her behavior with Mick.
Jessika intentionally kept Mick, a farmer, on the show so that she could get closer to Dan. When the actual reason of keeping Mick came to light in the final episode of the season in the commitment ceremonies, Jessika wanted Mick to end up as friends.
Jessika Power dedicating her ex-husband via Instagram post.
Jess who broke up with Dan earlier in April mentioned her strange dedication to Mick when images of him cozying up with former Bachelor star Kayla Gray surfaced in the media.
Mick enjoying with ex-Bachelor contestant Kayla Gray in April.
Married At First Sight's Jessika Power, took to Instagram and posted photos and videos regreting her treatment towards ex-husband Mick.
Discover: MAFS's star Luke and Kate reportedly had Sex Numerous Times Despite Luke Claiming He Felt Dead Inside After Their First Kiss
One of her posts began,
'I have a lot of regret and remorse with the choices I made In the experiment. The biggest regret was hurting Mick'

'He is one of the most genuine, funniest, kindhearted and down to earth guys you'll ever meet and I was too immature and selfish to see any of that. I went into the experiment thinking I knew it all but really I knew nothing!'

'Since the experiment I've started to learn more about myself and have started to mend the parts that aren't very nice, I've become more humble and learnt to appreciate those around me.'
Earlier, she re-uploaded a video with Mick where the two were seen at the peak of happiness.
She wrote on the video,
"As crazy as it sounds Mick and I used to have a lot of fun together and get along"
She concluded her words with laughing emojis,
"We both knew the relationship was over but that never stopped us from taking the p**s out of each other"
It seems Jessika is nothing but jealous of Mick and his new love interest. The new pair were pictured together at the Goondoowindi Picnic Races in Southern Queensland as they were enjoying moments together on 6th April.
You May Also Like: MAFS: Martha's Too Scared To Go Outside As She Receives Death Threats
Previously, Mick and Gray were spotted enjoying a drink at the Plush Waterman Business Centre in Melbourne last month.
Once the Happy Pair Mick and Jessika.
Jessika, the admin officer, who is now single, mentioned that she has learned a lot since observing back her actions.
Meanwhile, the reality star credited Mick for helping her through her journey on the show.
-->