Mandie Taketa - Top 5 Facts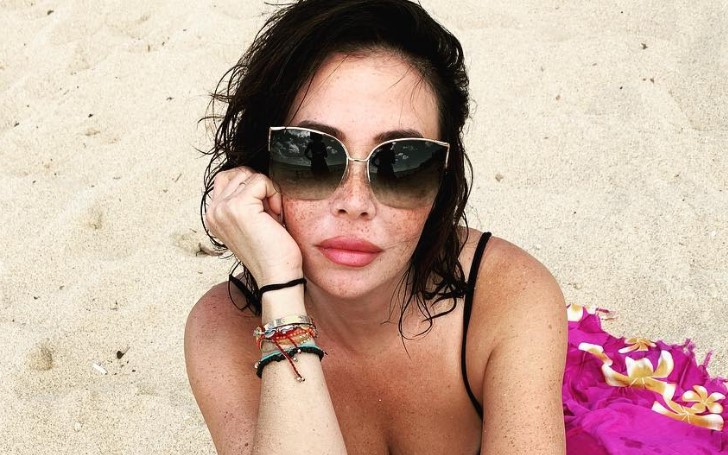 Mandie Taketa is one of the renowned American actress whose roots belong to Hawaii as she was born and raised there; however, she completely misses the Hawaiian ancestry as she is part Japanese and part Caucasian.
Knowing more about Mandie, we found out she was born on March 3rd of 1976, which makes her 43 years old as of 2019. The actress's most known work in acting career is 'Manband! The Movie' in 2007, and 'Unsung Hollywood' in 2014. There are some intriguing facts we gathered about the actress, which we thought you might be interested in giving it a read. So, here are the five facts you should know about the actress.
5. Mandie Taketa was Previously Married to Wayne Brady
Watch: 2015 Voice Awards Event: Mandie Taketa
Mandie Taketa is single now. Still, previously she was married to American actor Wayne Brady, who is better known for his stint in the famous comedy show, 'Whose Line Is It Anyway?' Moreover, the actor was the host of 'The Wayne Brady Show,' and is also known as the original host of Fox's 'Don't Forget the Lyrics.' According to the reports, Mandie Taketa and Wayne Brady first met in 1996 in Hawaii itself, the hometown of the 43-year-old actress. Despite a few years gap between the age between the former couple, the two find love and decided to take their relationship to the next phase.
Also Read: Hilary Duff Is Married! The Secret Wedding with Boyfriend Matthew Koma Revealed by Duff Herself
Then 19-year-old Mandie fell hard for then 23-year-old Wayne, and the former couple decided to get themselves an apartment in Los Feliz, Los Angeles, just after three months of dating. The previous pair, after a few months into their relationship, decided to get hitched on 3rd April 1999. The former couple, however, could not keep the romance alive for too long and decided to part their ways after nine years of their marriage. The couple divorce was finalized on 14th April 2008, the same month they got married back in 1999.
4. Mandie Taketa Shares a Daughter with Wayne Brady
Watch: Watch Wayne Brady's Proud Reaction to his Daughter Maile's Daytime Acting Debut!
The former couple who fell in love, could not stay in the marriage for too long. However, their daughter became the reminiscence of their romance. The former couple shares a daughter, Maile Masako Brady, who they welcomed on 3rd February 2003. Maybe, Mandie Taketa and Wayne Brady, always knew their relationship wouldn't last for too long, let's call it a gut feeling, the two never tried to have another baby again, as Maile is the only child of the former couple.
Also See: Scarlett Johansson Tattoos - Learn The Story & Meanings
There is something fascinating about the former couple, though. Despite the two parted their ways way back in 2008, the two still seem to be in good terms, and this one is hard for Maile, we suppose, but the 16-year-old is still on strict surveillance of her parents. One of the media outlets reported all the social handles of Maile are monitored by her parents Wayne and Mandie. Very protective, we suppose, but we can't argue as parents know best for their child.
3. Mandie Taketa Helped her Former Husband Wayne Brady, Fight Depression
Watch: Inner Space: Actor Wayne Brady & Ex-Wife Mandie Taketa On Family & Depression
As we know, Mandie Taketa was born and raised in Hawaii, and she is quite accomplished in her own right. After falling in love with TV personality, Wayne Brady, she moved to LA, and the former couple after a few months into their relationship tied the knots. Sadly, their relationship did not last too long, following which Brady was left alone, and news of the death of his fellow comedian, Robin Williams, hit Brady hard, and ultimately became a victim of depression. The TV personality admitted his ex-wife helped him fight depression.
The 43-year-old actress bought a house in LA in Wayne's neighborhood just to help him fight his issues. Despite their divorce, Mandie never left Wayne's side during his worst time. Wayne said, "It's an understatement to say she's my best friend in the world," explains Brady. "I've got a woman who may not be my wife, but I've got a woman at my back that says, 'If you touch him, I will cut you.'"
2. Mandie Taketa is an Entrepreneur
Watch: Actor Wayne Brady & Ex-Wife Mandie Taketa On Co-Parenting
Mandie Taketa proved her acting prowess, and we don't doubt her skills, but there's more to her career, which we thought you should know. Mandie owns three companies, 'Anything Everything Productions,' 'Adell Body Works,' and 'This Lifetime.'
Moreover, she is a bikini model, she earns a fortune from numbers of brand endorsement, and it seems she is kind of enjoying what she is doing right now.
1. Mandie Taketa Still Supports her Ex-Husband, Wayne Brady in Every Step of His Life
Watch: The Fox Is Unmasked: It's Wayne Brady! | Season 2 Ep. 13 | THE MASKED SINGER
Earlier, we discussed how Mandie Taketa and Wayne Brady still manages good connections even after their divorce. We also discussed Mandie bought a house in Wayne's neighborhood to support him through his battle against depression, which we found kind and appreciable gesture by the 43-year-old actress. Since Brady is out of depression, Mandie never stopped supporting him. Recently, Wayne Brady won 'The Masked Singer,' and the first people who popped in his mind were his daughter, Maile, and ex-wife, Mandie Taketa.
Recommended: Who is Amy Klobuchar's Husband? Details of Her Married Life
Brady said, "The very first people that I told immediately was my daughter, Maile, and my best friend, who is my ex-wife, Mandie. I had to tell them first because I asked my daughter's permission." The actor continued, "My daughter and I are kinds of talent snobs. Any show that starts with 'celebrity,' we go, 'Hell no!' Because, in my mind, people tune into those things — like Dancing With the Stars or celebrity ice skating or whatever it is — not because they want to see the talent, but because they want to see the train wreck. I don't like the train wreck."
Brady added, "I like the talent. But I saw how good the show was when I watched last season and I said, 'I've got to do this.' So, I asked Maile, and then her mom and those were my two people. The whole circle that's known throughout the entire time has been limited to maybe six people in my camp. My daughter and her mom were really my teams."
So, you can clearly see. Despite their divorce, the former couple is still best friends and seems like they will go a long way. And we don't want them to stop being together.
For more information on your favorite celebrities' lifestyle, stay tuned to Glamour Fame, and don't forget to sign up for the newsletter.
-->