Scarlett Johansson Tattoos - Learn The Story & Meanings
Scarlett Ingrid Johansson (better known as Scarlett Johansson) is an American actress better known for her role as 'Lucy' in the 2014 American sci-fi thriller, 'Lucy.' But Marvel fans know the 35-year-old actress as 'Black Widow' in the epic Avengers saga. Moreover, her solo Marvel movie, 'Black Widow,' is hitting theatres in early 2020.
Well, no wonder, Black Widow has a huge fan following, and as a fan, one wants to know everything possible about their favorite celebrities. So, we are a few of those fans, and since we were curious about Scarlett Johansson's tattoos, we decided to get little details on them.
So, without further ado, let's dive into the details and know about all the tattoos of Scarlett Johansson, and also try to unravel the real meaning behind all the tattoos. We managed to get the details of eight tattoos on Scarlett, here they are.
8. Avengers Logo on Her Inner Biceps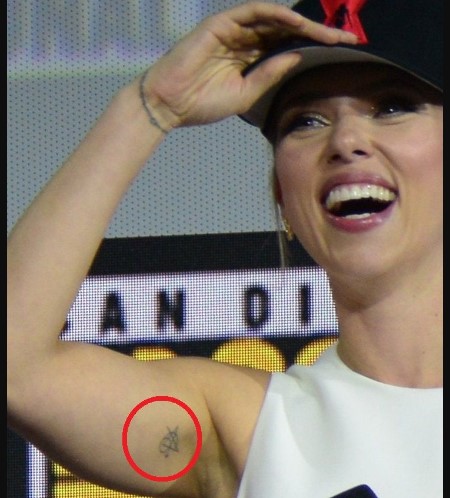 Scarlett Johansson's 'Avengers Logo' in her right inner bicep. It was Johansson's plan to get a Avengers logo tattooed.
Source: Art Guru
First and foremost, a subtle, but holds a tremendous importance/respect for Marvel fans. Scarlett Johansson got a 'Avengers' logo tattooed on her inner biceps. Not only Scarlett, but other big stars like Robert Downey Jr., Chris Evans, Jeremy Renner, Chris Hemsworth, all also have the same tattoo.
The most exciting story behind the tattoo is, it was Johansson's idea all the Avengers cast members should get the same tattoo. The one who got away, and managed to escape the tattoo idea was Mark Ruffalo; he was kind of against the tattoo itself than Johansson's idea, so we guess it's okay.
7. Angel's Wing on Scarlett Johansson's Lower Ribs Cage
Angel's wing on Scarlett Johansson's right rib.
Source: Art Guru
Well, it's pretty unclear, and it will be obscene to ask the actress to show her this tattoo because, well, it's right under the actress's right bosom. But from what we have seen, we assume it is some kind of wing.
Also See: Get Every Detail of Jason Momoa Tattoos
Since wing tattoos are highly associated with Angels, we think Scarlett Johansson also got an angel tattoo because why not. From the picture above, we can pretty much make out the actress inked a wing, followed by three stars at the tip of the feather.
It is believed, the person with a wing tattoo often finds inspiration, and is more inclined to spirituality. As many myths suggest, the tattoo is not something you go to a tat-parlor and ask them to draw it on your skin; it is something you have to earn. (It was in the past, so, if you want a wing tattoo, of course, you can get it.)
6. Peek-a-Boo, We See a Rose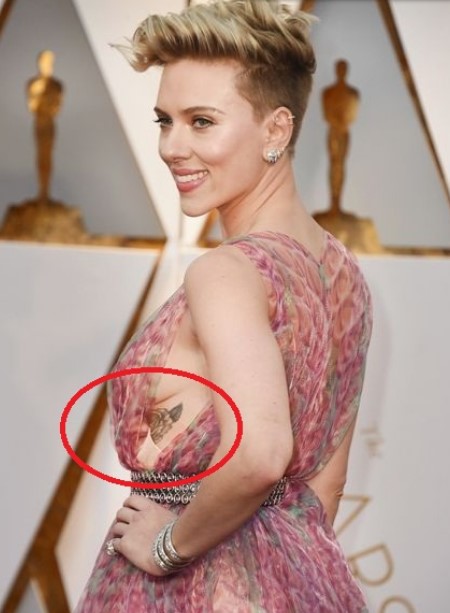 Scarlett Johansson has a rose tattoo under her left bosom.
Source: Art Guru
Well, it is somewhat clear to you by now, Scarlett Johansson's body is art canvas. From the picture above, we found out the Avengers' actress got a rose tattoo on her left ribs, just under her left bosom.
This one was not hard to guess, it was more apparent than the previous feather one, but still, we had to go a few rounds before we found out this was really a rose. As you can see on the picture above, there's a leaf underneath a flower, which is a classic, or should we say, a cliche way to portray a rose.
According to tattoo artists, a rose holds a complex meaning to it. A person with a rose tattoo, basically the one who wants to express promise, hope, and new beginnings. Also, since the flower has thorns, it can also symbolize defense, loss, and thoughtlessness.
5. Roses and Lamb on Scarlett Johansson's Back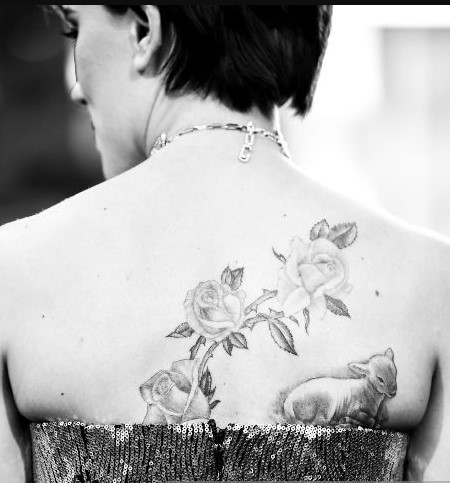 Floral design on the back with a lamb on the shoulder blade of Scarlett Johansson.
Source: Instagram
Well, it seems like the 35-year-old actress has a massive fascination for flowers, more precisely, roses. The actress's whole back is covered with a floral design that features a rose plant blooming at its best, and the tattoo, of course, has everything a rose plant should have, thorn, leaves, and flower.
As we mentioned earlier, a rose possesses a complex meaning. Since Scarlett's back tattoo features thorns too, we assume she is basically trying to portray a life itself. And on Scarlett's right shoulder blade, the actress inked a baby lamb. According to the tattoo artists, lamb symbolizes childhood innocence. It is a way to reconnect to your childhood or to celebrate the purity and beauty of a child in your life.
4. The Bracelet on Scarlett's Right Wrist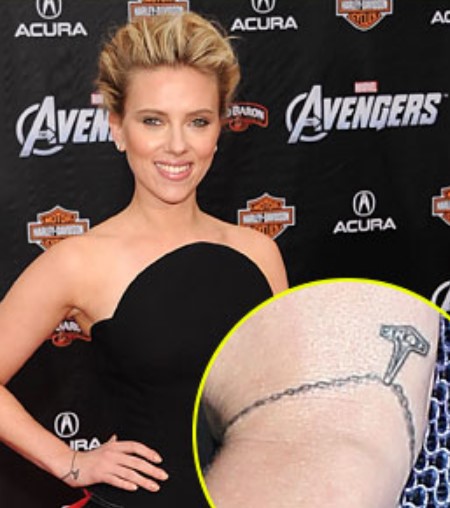 Bracelet tattoo on Scarlett Johansson's right wrist.
Source: Nicki Swift
Art comes in any shape and sizes, and basically any form. 'Natasha Romanoff' colloquially Black Widow of Marvel Cinematic Universe rocks a bracelet tattoo on her wrist. Arts, sometimes, don't need meaning as for some people, the sheer presence of it is enough to make the art lover feel happy.
Since we know, Scarlett Johansson is a great enthusiast of art, as she herself is a living canvas, she fancy small tattoos too. And such a smart way to wear a bracelet it is, you really don't have to worry about losing it, and more importantly, you will barely even notice you are wearing one.
3. An Emblem of Beautiful Scenery on Scarlett Johansson's Left Arm
Scarlett Johansson tattooed an emblem of beautiful scenery on her right inner arms.
Source: Art Guru
Once you get a tattoo, you never really get enough of them. Everything that holds an essential meaning to your life; you just want to ink them on your skin. Similar is the case with our Black Widow.
If you look at Scarlett Johansson's left inner arm, you will see tattoo which is an emblem of scenery with a beautiful sunrise, with a clear blue sky, and a sea. As we can pretty much guess, the tattoo reflects optimism, faith, and novelty. And of course, who doesn't want a great escape from regular life and spend days where the sun is bright, and the sky is clear, leaving all the worries behind.
2. A Horseshoe on Scarlett Johansson's Right Ribs
A horseshoe with texts "Lucky you" on Scarlett Johansson's left ribs.
Source: Nicki Swift
According to myths, a horseshoe holds significant meaning, and it's not just a piece of decoration. People in the country area still believe a horseshoe brings luck and prosperity. The belief is not limited to Christianity, Hindu, Islam, and Buddhism, and all other major religions strictly believe it.
Also Read: Know about late Chris Burrous wife Mai Do Burrous
While we don't know from where she got inspired to get a horseshoe tattoo, Scarlett Johansson made this tattoo as she believes it brings her good luck. Moreover, the upside-down horseshoe features some texts which read, "Lucky You." According to the sources, Scarlett Johansson got this tattoo from a famous French tattoo and graffiti artist, Fuzi Uvtpk.
1. Two Interlocked Circles with Letter A on Scarlett Johansson's Right Ankle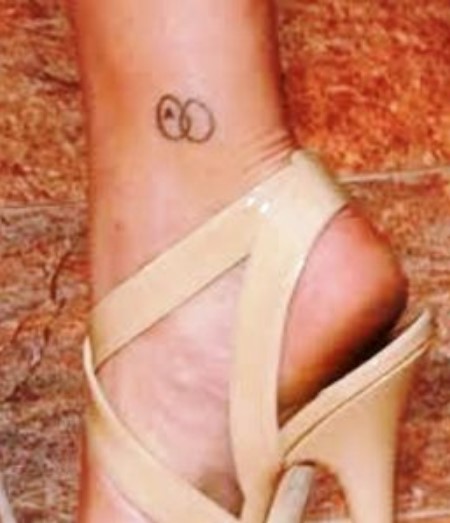 Two interlocked circles with letter 'A' on Scarlett Johansson's right ankle.
Source: Art Guru
Another instance of Scarlett Johansson is a true art lover. Maybe it is one of her first tattoos, we are not sure, but the actress has a small tattoo on her left ankle, which is a "two interlocked circles with letter A."
Since two interlocked circles symbolize infinity, and Letter A is still a mystery, could this be another tattoo for the love of Avengers? (Avengers: Infinity War maybe) Well, we don't know that just yet, but let's hope this tattoo is to commemorate Avengers saga, which she was part of for ten long years.
For more information on your favorite celebrities' lifestyle, stay tuned to Glamour Fame, and don't forget to sign up for the newsletter.
-->