Mariska Hargitay Supports Plastic Surgery But Did She Get One Herself?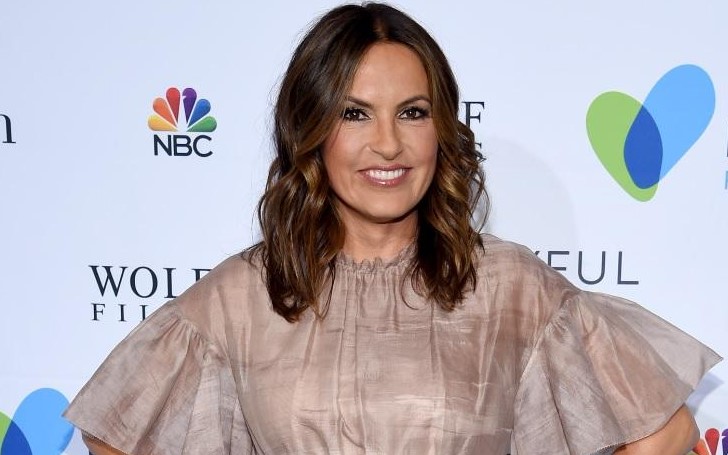 Did Mariska Hargitay get any plastic surgery? Let's find out.
Mariska Hargitay (born Mariska Magdolna Hargitay) is an American actress who is known for her role as 'Captain Olivia Benson' on hit TV show 'Law & Order: Special Victims Unit.' Mariska, who was born on January 23, 1964, in Santa Monica, California, started her career from 1999, and she is the longest-running cast on the show.
The actress has received multiple awards for her role, including Primetime Emmy and a Golden Globe. It's already been more than two decades since the actress is on the show business, and she is on her mid-50s, but still, she looks the same as she was some 15 years ago.
So, this brings us to as questions like if she took any cosmetic enhancement helps for her everlasting youth. Well, to answer those questions, we have compared a few old and recent pictures of Mariska. So, let's find out if she underwent some plastic surgeries or not.
Did Mariska Hargitay Get Any Plastic Surgery?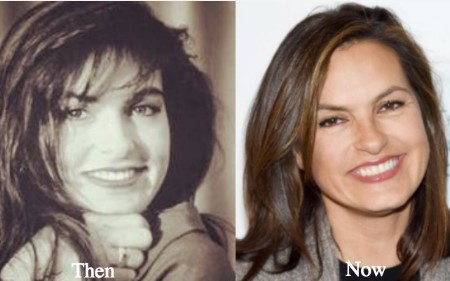 Before and Now comparison.
It's rare people actually spill the truth about their plastic surgery. There are only a few who really admit it; otherwise, most of them just deny the fact of going through any procedures. So in Mariska Hargitay's case, she has never accepted of going under the knife; however, she hasn't denied the claims either.
But still, we have some comparisons to show to you about Mariska's cosmetic enhancement. These are based on people's claims, and we have our judgments too.
Did Mariska Hargitay Use Botox?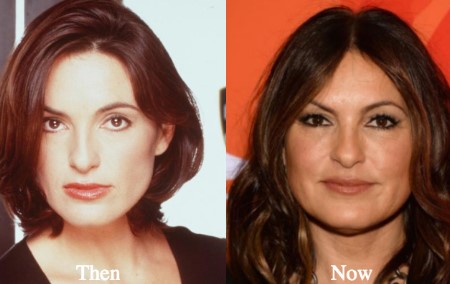 Her Cheeks look different.
Well, Mariska Hargitay is on the mid-50s and still looks the same. People assume she used filler injection for her face as there's no sign of wrinkles or whatsoever. Moreover, there are some changes to her cheeks.
Also Read: Mira Sorvino Sparks Plastic Surgery Rumors Following Golden Globes Party
The cheekbones seem larger; she now has more prominent contour and dimples as well. And surprisingly, no crow's feet even. So, we assume she did get a filler injection.
Mariska Hargitay's Boob Job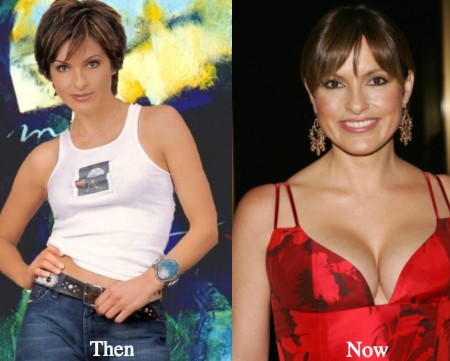 Mariska's breasts are bigger and firmer.
Well, this one is a pure giveaway. We don't think we need to stress the fact Mariska Hargitay got a boob job done. It could be natural as some women develop breasts after the birth of a child.
But the way Mariska's boobs seem perfect and firmer even at 56, which is too good to be real for other women. So, believe us on this, she did get a boobs job.
Mariska Hargitay's Rhinoplasty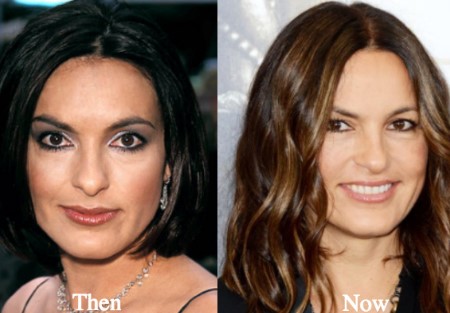 Mariska's nose looks slightly different.
You will have to look really close and carefully to notice the changes. We don't think she made any changes to her nose. But for people who think she did rhinoplasty, we have one point to back your claim.
You May Also Like: Did LaLa Anthony Opt For Plastic Surgery? Her Comparison Pictures Say So
If you look at the tip of Mariska's nose, then you will see more it's more rounded off near the edge than it was before. However, there's no change on its broadness nor the bridge.
Mariska's Chin Augmentation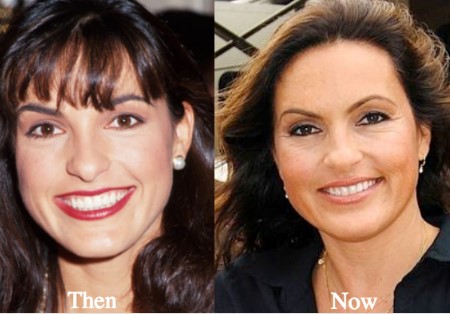 No change on her chin.
We don't think there are any changes to her chin. It's still the same; however, it looks different because of Mariska's face is now a little rounder than it was before, which could be because of filler injection.
Mariska Hargitay's Take on Plastic Surgery
Mariska Hargitay is pretty open about plastic surgeries. However, she was against it in the past because of her dad. She stressed she was raised by a father who did not like makeup even, so it was evident for her to think plastic surgeries are wrong. But coming to this age and time, she thinks it's perfectly alright to get plastic surgery and do whatever you feel like doing.
Watch: The Evolution of Mariska Hargitay | NowThis
Mariska said, "I used to be against it. I think it's because I was raised by a father who didn't like makeup. If I had makeup on, he'd say, 'Honey, you didn't wash your face!' But now that I'm older, I think women should do whatever they want to make themselves feel good. I don't think they should go overboard, and I still think the natural look is the most beautiful. But if you want to do something to help you look more refreshed, I'm all for it."
Also See: Did Mark McGrath Get Plastic Surgery? Get All the Details of His Cosmetic Enhancements
For more information on your favorite celebrities' lifestyle, stay tuned to Glamour Fame, and don't forget to sign up for the newsletter.
-->