Mira Sorvino Sparks Plastic Surgery Rumors Following Golden Globes Party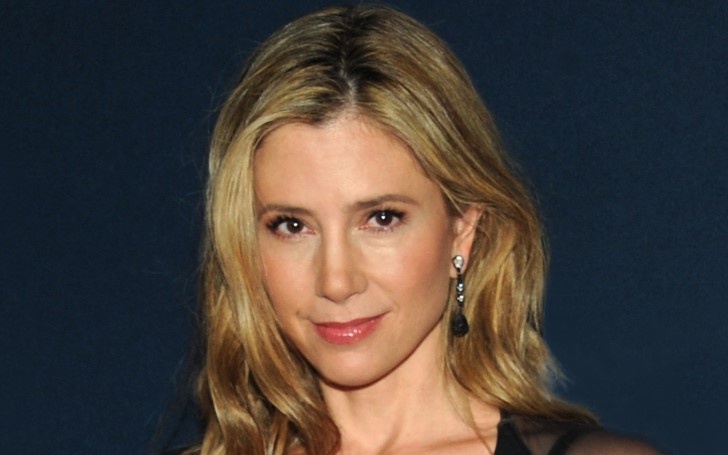 Mira Sorvino sparked plastic surgery rumors following her appearance at the Weinstein Company and Netflix Golden Globes after-party in 2018. But are they true?
Well, apparently if you look at her, you won't see a single sign of aging. Mira was born on September 28, 1967, in Manhattan. Raised in Tenafly, New Jersey, Sorvino began her career as an actress from a small role of factory worker in the 1985 movie, 'The Stuff.'
Sorvino, however, got her recognition from teen television series, 'Swan Crossing,' where she played the character of Sophia Eva McCormick De Castro. Following which she bagged a more significant project of Woody Allen's film "Mighty Aphrodite." She portrayed the character of a prostitute, which won her an Academy Award.
So, looking back at her career from her first appearance on the big screen, which was in 1985, at the age of 18, she now completes successful 35 years on the entertainment business. But last time when we saw her at the Weinstein Company and Netflix Golden Globes after-party in 2018, she seemed she hasn't aged a bit.
Mira Sorvino Sparked Plastic Surgery Rumors Following Her Appearance at Golden Globes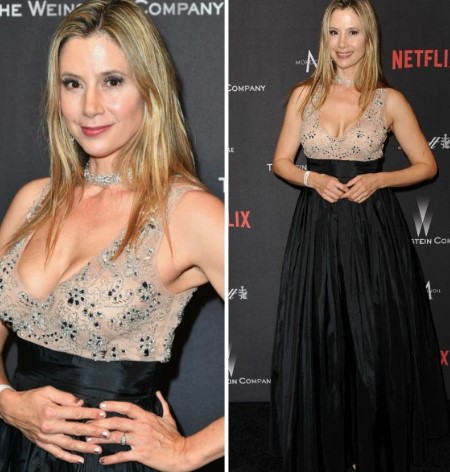 Mira Sorvino at the Weinstein Company and Netflix Golden Globes after-party in 2018.
Mira Sorvino walked the red carpet of Golden Globes after-party wearing a black and nude gown with a diamond choker. She was literally glowing while she walked alongside her husband at the star-studded event.
Also See: Full Details on Dove Cameron Plastic Surgery
The 52-year-old actress facial features looked more defined than her younger self; at least that's what we felt. If you ask us, her jaw seemed more defined, cheek more contoured, the nose more prominent. So, what do you think, did she really go under the knife? Let's find out, and first, let's talk about her nose now.
Did Mira Sorvino Get a Nose Job?
Mira Sorvino's nose seem a bit off on right picture, while her picture from 2018 shows her more prominent and defined nose.
Mira is a kind of person, if she had undergone any procedures, she would tell you without a flinch. Moreover, the actress has always been open about her aging and also denied getting any nose jobs in the past. However, she also admitted of hating her nose.
Sorvino, in an interview, said, "I've always hated my nose. And I always wanted to get a nose job, and I never have, and I don't know why I haven't. There was something in me that wouldn't let me. I felt like it was inorganic that I wouldn't be me."
Also Read: Did Julianne Hough Get Plastic Surgery?
So, it's clear the 52-year-old did not get any nose job, as she thinks it would be very unnatural. But whatever she is doing, working like magic for her. Now let's talk about her cheek contour and jawline.
Mira Sorvino Cheek Contour and Jawline
Mira Sorvino cheek contour was much defined than her younger self.
Mira Sorvino has always been the person who has the best jawline possible for a female. Her sleek, defined jawline is something her fans would kill for, but when it comes to her cheek contour, it is a little different from her younger self.
We tried to compare her two pictures, one from 1994 and another from 2018; then the difference was there. In fact, she seemed younger than before; her contoured cheeks and bone were on fleek. But she denied having any procedures. Moreover, there's no sign of aging around her eyes, as crow's feet start to appear from the late-20s. But no! No single line is visible around her eyes.
Mira Sorvino's Breasts Seemed Firmer
Mira Sorvino breasts seemed more firm than before. (Right picture from 1994)
We hate it when we have to look into these facts, but we gotta do what we gotta do. Since we are talking about breasts already, it's all for the research and nothing more. So, coming to the point, If you compare the two pictures of Sorvino, our point is all there.
It is evident that her breasts seem more firm than before. Well, it could be just a camera or a dress thing that is doing the trick, but normal eyes would tell she did something with her bosoms. But as you know already, she doesn't like it, as it feels unnatural. Still, we think she went under the knife for her breasts, at least.
You May Also Like: Cardi B Revealed That She's Done With Plastic Surgery After Liposuction Complications
For more information about your favorite celebrities' lifestyle, stay tuned to Glamour Fame and don't forget to sign up for the newsletter.
-->