Meghan Markle Favourite Shoe Brands She Loves To Wear
Published Wed Dec 12 2018 By Sarah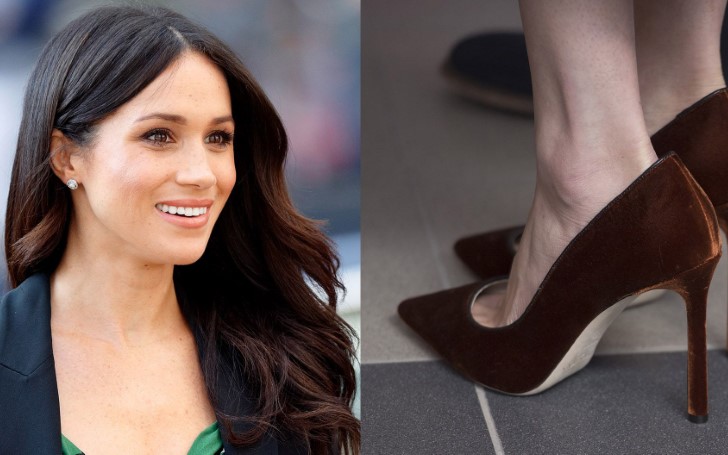 Meghan Markle, the new member of the British Royal Family established herself as a fashion icon. Her outfits are always on point and resemble perfection. Along with the outfit, she also teamed a good pair of shoes that bring an extra touch.
The Duchess of Sussex's style has been on spotlight after she got engaged and eventually married to Prince Harry. And as of now, her style is inspiring people around the globe. Regarding her shoes, she always wears a classy and elegant pair of them in every outfit which enhances her look.
Also Read: Kensington Palace Confirmed that Prince Harry and Meghan Markle are Moving Out, The Real Reason is Here
If you want to know more about Markle's favorite shoe brands which she always wears then read the article:
5. Tamara Mellon
Meghan Markle in Tamra Mellon heels.
SOURCE: Pinterest
The heels designed by Tamara Mellon is one of Markle's favorite shoes. The designer Tamara has been running her footwear line since 2013. Markle has worn shoes by Tamara on different occasions.
4. Veja
Meghan Markle wearing Veja sneakers,
SOURCE: PopSugar
After Meghan's engagement and marriage, we have seen her wearing sneakers only twice and both during the royal tour in October. She wore vegan kicks by Stella McCartney x Adidas and white sneakers by Veja.
Discover: Meghan Markle and Prince Harry Joined Together For his Annual Christmas Tradition
The brand Veja might not be familiar to most but is affordable and looks really good.
3. Manolo Blahnik
Meghan Markle wearing Manolo Blahnik shoes
SOURCE: Footwear News
Her another favorite shoe brand comes to our list is Manolo Blahnik. Meghan owns the pump from the brand in several colors like beige, gray, and black.
Similarly, the pumps were classic pointy-toe wrapped with stiletto heel. The Duchess of Sussex just looks amazing on those shoes.
2. Stuart Weitzman
Meghan Markle wearing Stuart Weitzman boots.

Like many other celebrities, Meghan also loves the shoes by Stuart Weitzman. She wore the shoes on several charity events.
Generally, open-toe heel by Stuart is popular among the celebrities but Meghan prefers the closed-toe pumps in beige. These shoes are again affordable.
1. Aquazzura
Meghan Markle on Aquazzura heels,
SOURCE: Ana Style Blog
We are sure that many of the Markle's fan is familiar with her most favorite brand, Aquazzura. For several important events in her life, she chooses the brand. Moreover, she wore the shoes from this brand on her wedding day on her first Young Leaders Awards Ceremony, and also on her first royal tour.
See More: Meghan Markle Made Surprise Appearance at British Fashion Award
The brand provides several types of shoes from knee-high suede boots to the bow-adorned pumps.
-->